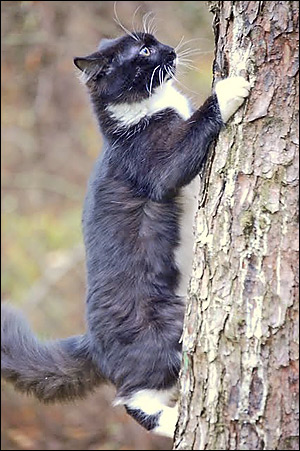 It was not uncommon for Gibson the Cat (above), a handsome tuxie, to leave his Annapolis area home for a day or two while out exploring.
However, when he didn't return home after the 4th of July, his family feared the worst.
The mom of his family, Charlotte Cole, called her vet, Greater Annapolis Veterinary Hospital, to see if Gibson had been brought in, or if anyone had asked about his owners. Cole was told that a woman found a cat matching Gibson's description and had stopped by the hospital inquiring about its owners.
Cole and her family happily expected a speedy reunion. Instead, they're embroiled in a battle to get Gibbie back.
According to Cole, the vet's office would not provide her with contact info for the woman who found Gibson, citing confidentiality. Instead, they called her on the Coles' behalf to tell her that the cat's owners had been located.
The woman told GAVH that she'd given the cat away – and that Gibson's new owners refuse to give Gibbie back.
"Someone has a new black and white cat, and it belongs to my family," said Cole.
GAVH told Cole that its hands were tied. Although they were sympathetic, they claimed that they could not betray their privacy policy. They recommended that she file a police report.
Although an officer came to her home and took a police report, Cole wasn't sure how seriously the officer took her complaint.
"I understand they have bigger fish to fry than my cat," she said. "But this is a big deal to us."
Gibson has been a member of the Cole family for about two years. He was named after the guitar company. 12-year-old Blake Cole claims ownership of Gibbie.
"Blake's pretty bummed out," said his mom. "I myself am trying to muster the forgiveness for whoever took our cat and share that with him."
The cat isn't microchipped, but Cole said Gibson has black fur with distinguishable white markings – like a patch on his neck and a white-tipped tail. The veterinary office has records of Gibson, which could prove he belongs to the Cole family, she said.
Jennifer Weaver, of GAVH said the hospital has given county Animal Control any information it has about the case.
"It's tough; we're stuck in the middle," she said. "We have an obligation to both people." She encourages pet owners to have their dogs and cats microchipped.
In addition, the county requires all dogs and cats over 4 months of age to have a license.
"This could have all been avoided" if Gibson had been microchipped, Weaver said.
Tips to Avoid Cat Theft:
How do you keep what happened to the Cole family from happening to you? Here are some tips:
Keep your cats indoors.
Outfit your cat with ID tags.
Microchip your cat. Save money by checking with local shelters for low-cost microchipping clinics in your area.
Never leave your cat alone in the car. Thieves do break in and steal pets, hoping for a big reward.
If your locale requires it, license all of your pets.
Maintain a good relationship with your vet's office. (My vet would not only immediately recognize one of our cats, but would find a way to get the cat back for us.)
Keep multiple current photos of your cat, taken from all angles.
[SOURCE: HometownAnnapolis.com ]