A lot of the country has seen record lows in temperatures this winter. For many evenings in a row, the national news reported on the Arctic blast that gripped most of the United States with snow, ice, wind and colder-than-usual temperatures. Even in the southern part of the United States, where I live, the temperatures dipped into the single digits for a few nights. This is unheard of since our winters are typically pretty mild.
My feral cats were definitely feeling the impact of the cold weather. Each of them remained near our home all day instead of following their traditional pattern of leaving after breakfast to explore.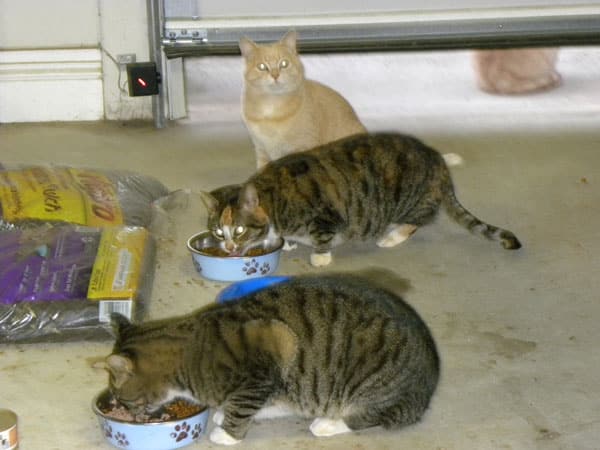 The new routine this winter has consisted of eating larger quantities of food and then crawling back into their heated beds in our garage. Often, we'd find several cats piled into one bed to add that extra layer of cold weather protection. They've not been shy about cuddling and sharing each other's body heat. This even rings true for some of the cats who prefer to spend their time alone.
For Ash, he'll typically visit each night for food and then go off to sleep on his own. However, that's not the case recently. He's even taken up residence in the garage at night and thoroughly enjoys one of the heated beds (though he still prefers not to share his sleeping quarters).
My feral cats seem to have it made compared to other feral colonies nearby. I always make sure our cats have clean beds (most of which are heated) and they have freedom to come and go from our warm garage. At least this serves to give them a safe place to retreat and keeps them out of the winter winds. During the winter, I always make sure they have extra water to keep them hydrated and always place additional food out for them. Other neighborhood cats or wildlife sometimes take advantage of the extra food and water, too. I assume this is because they find it more difficult to find enough food in the winter. I'm sure they also find our garage a nice place to quickly warm up before heading outside again.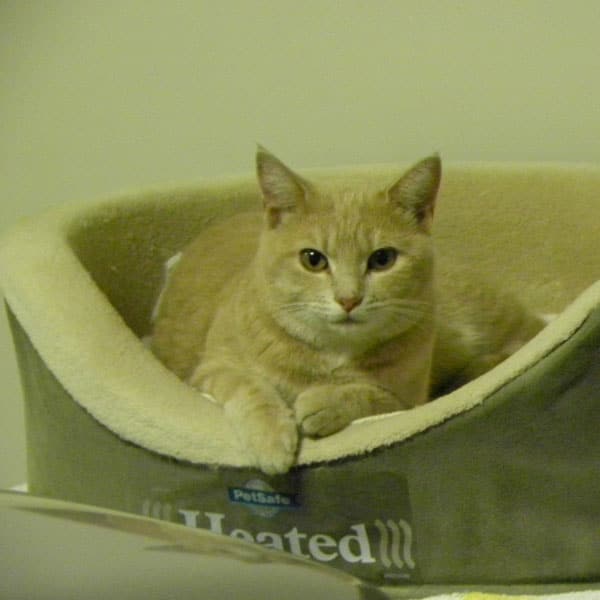 I worked with a feral cat program that was founded when I was the president of a local rescue organization. Our team would feed colonies of cats throughout our town. We also built solid wood combination sleeping and dining structures for the cats. The structures would be placed in discrete areas where the cats were known to visit . They looked like small houses with a roof and an open dining area on top. A thick clear plastic door would protect them from the wind while they ate. It also kept the rain and the occasional snow and ice out. In the back of each unit would be an area where they could sleep if they wanted to. We would line that area of the structure with straw for them. They could crawl inside for a protected and warmer place to sleep. The colony of cats got used to the feeding stations and always knew to visit daily for food. The sleeping areas were seldom used unless the weather turned extremely bad.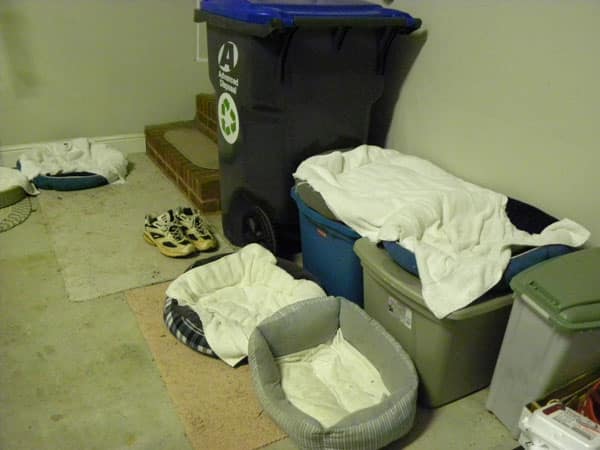 It's very important to keep a closer eye on your cats during the winter. This is true for both feral and indoor/outdoor cats. Make sure they don't stay out too long and get chilled. Make sure their pads are free of any excess snow or ice. Also, check their feet for any salt or sand that has been used do de-ice sidewalks and driveways. Make sure they have a safe, warm and dry place to rest. Lastly, place some extra food and clean water out for them.
The heated cat beds that we've found to work best are made by Pet Safe and K&H Thermo. Both are deep pocketed, round and made of a plush washable material. The cat beds are pressure activated, which allows them to be plugged in 24/7 without using any more than a trickle charge. Once the cat sits in the bed, it begins to release heat and energy. Even then, the amount of increased energy consumption is minimal.
The group Alley Cat Allies recently released a wonderful list of winter weather tips for outside cats. Make sure to review the list for some helpful tips for your cats who venture outside in the winter.
How do you take care of your outdoor cats during the winter? Share your stories in the comments!
Read stories of rescue on Catster:
Read more on cats and wintertime:
Check out these other great articles by Tim on Catster:
About Tim Link: All-American guy who loves to rock out to Queen while consuming pizza and Pinot Noir and prefers to associate with open-minded people who love all critters. Considers himself to be the literal voice for all animals. Author, writer, radio host, Reiki Master, Animal Communicator and consultant at Wagging Tales.