In the span of one week, this was posted to my Facebook page three times: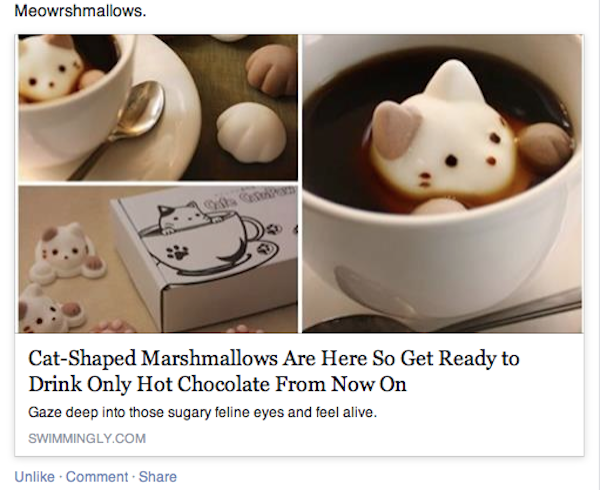 As the arguably "kookiest" of the kooky cat ladies amongst my circle of friends (I'm sure many of you share the distinction — we should make t-shirts) I'm accustomed to finding posts in my social media that start with, "I saw this (cat thing) and immediately had to share it with Louise Hung!"
The weirder, the "kittier," the better. I've yet to meet a molded sugar cat I didn't like.
Because I live in Japan, some of the most unusual and adorable cat-themed items are at my greedy little fingertips. All I have to do is stroll through Yokohama Station, the enormous shopping depot/train station by my home, and simply by keeping my eyes open I'll see cat umbrellas, cat shoes, cat dresses, cat shirts, cat towels, cat stationary, cat slippers, cat silverware, cat beer, and cat-shaped food.
Oh! The cat-shaped food! As a culture of cute, nothing — from dump trucks to dumplings to donuts — is spared. Sure I've seen cat cakes (had one at my wedding, duh) and cat cookies, but the Japanese definitely turn it up to 11.
So having recently fallen down the Internet rabbit hole looking up cute Japanese cat-themed treats because of, uh  journalistic research, here are my findings. Treats so cute you might feel guilty eating them.
There's a kitty in your coffee
What better way to sweeten up your morning coffee?
Japanese candy manufacturer Yawahada makes these little marshmallow cats and cat paws to swim around in your coffee, tea, cocoa, bourbon — anything! — and brighten up your day.
And good news! Yawahada now ships its marshmallows internationally (outside of Japan). The process of ordering might be a little tricky, but rewards look pretty ADORABLE to me.
"Donyatsu"
Animal donuts, specifically cat donuts, became such a craze in Japan that a manga (Japanese graphic novel or comic book) called "Donyatsu" was created. "Nya," the sound a Japanese cat makes, plus "donatsu" or donut, equals "Donyatsu." Meow-nuts.
Cat donuts originated at Floresta donuts, a national chain, and later Animal Donut of Ikumimama, a shop opened by one of the original creators of "doubutsu doonatsu" (animal donuts).
Special "cat doll" donuts are made for special celebrations such as "Girls' Day" or "Hinamatsuri" (also called "Doll's Day") in Japan.
At just less than $10 for four cat donuts, you could get a whole litter of sugary little friends the next time you're in Japan.
"Proud of Cute"
It says it right there on Necomame Cafe's bright pink homepage, "proud of cute."
And the cafe means it. Not only has Necomame Cafe in Nagoya gained fame for its delicately sweet, gourmet baked goods, but it's also known for its unabashed cat-themed cuteness.
If there ever was a cafe that embodied Japan's obsession with all things cute and kitty, Necomame Cafe would be it.
Tea and Cats
In a far-off land called Tokyo lives a woman named Caroline. Caroline blogs about her life, her cat, and her cakes. Such cakes!
Caroline, sometimes with the help of her daughter Laura, makes dainty little tea cakes and treats that have a decidedly feline twist.
Caroline makes her little kitty creations from soft, white bean paste. Her kitties and their friends are 100 percent edible.
You could say I REALLY fell down the cutesy rabbit hole when I discovered the world-renowned Caroline and her simple yet precisely crafted creatures.
She won me over even more when I realized there was an entire section of her blog devoted to her inspiration — her cat!
Do one of these cats look familiar?
You've got to admit, the woman has a sense of humor. This little scene is so delightfully cheeky.
Caroline's work is magic because she really captures the hilarious, often bizarre behaviors cat parents witness from their cats. Beyond cute, I'd wager to say that here is an artist who really understands "cat life."
And I just had to throw this one in for good measure. Not only are her cats lovely, but check out that little bean paste tea pot!
That is but a small sample. Japan is indeed the cat people mothership. There are so many cat themed treats and goods here that you could spend all nine of your lives trying to find them all and still come up short.
Read more by Louise Hung:
About the author: Louise Hung is a morbidly inclined cat lady living in Yokohama, Japan, with her cat, her man, and probably a couple ghost cats. She also writes for xoJane. You can follow her on Twitter or drop her a line at IamLouiseMicaela@gmail.com.