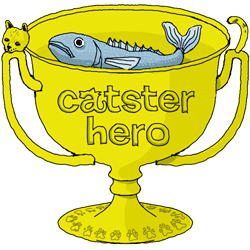 Karn Myers has been a cat person for most of her life. She got to know her first feline friends through her husband, Mark, nearly 40 years ago, and it was love at first sight. But Karn still had a lot to learn about cats and animal rescue – for instance, it never occurred to her that many kitties did not have homes.
That all changed when she started working on special effects for the movie Titanic in the mid-'90s. One day she saw two women outside feeding a feral cat colony. Myers asked who the cats belonged to, and the women told her the cats were homeless.
"It wasn't until I spoke to those ladies that I began to understand the gravity of the situation, especially since the women weren't neutering or spaying the animals," Karn says. "I wondered about that, about how many more were coming into this world to live unwanted."
Karn and Mark did some research, discovering that there were nearly two million homeless cats in Los Angeles alone. That's when the couple decided they needed to step up and focus on getting these animals spayed and neutered – and FixNation, the Myers' nonprofit organization, was born.
A friend of the couple gave them access to VCA hospitals that were closed on Sundays to hold MASH-style spay-neuter clinics, and it hasn't slowed down since. Today FixNation is open four days a week and provides services for approximately 14,000 community cats each year – not including the Saturday vaccine and microchip clinics.
Karn says the work would not be possible without FixNation's seven regular volunteers and thousands of trappers who regularly bring cats to their clinic.
"The work that we do, large-scale TNR in a city and county as large as Los Angeles, requires the work of many," she says. "We are very proud to have helped create this massive network of volunteers and caregivers. There is no way that we could do it without our volunteers."
Naturally, funding is also a must. As a full-on vet clinic with paid staff doing high-volume spay and neuter surgeries, FixNation requires the skills of experienced veterinarians – especially since the work is free for trappers who bring cats to the clinic. Charging a nominal fee to fix, microchip, and vaccinate pet cats during its Saturday clinics has helped offset some costs, but donations remain a vital part of FixNation's success.
"Financial support is key so that these good people can keep caring," Karn says. "As Mark says, we're a charity that needs charity. Securing donations can be tough, but we can't continue without them."
In addition to spaying and neutering more than 115,000 cats over the years, FixNation also works to educate the public on the importance of sterilizing animals. To spread the word, it offers cat colony management and TNR (trap-neuter-return) classes at its clinic and make the public aware of the resources that are available to help homeless cats.
"I think striking a balance between being an animal person and a people person is a great way to protect animals," Karn says. "We need people to help [animals], so we must learn how to work with everybody, how to handle people as well as animals. We're very careful and respectful when we do community outreach, and work hard to be welcoming and kind – but not at the expense of telling the truth. All of our staff and volunteers are always at the ready to list spay/neuter resources and facts."
To anyone thinking of starting (or volunteering at) a similar clinic, Karn has one piece of advice: Do it now! But, she cautions, it is essential to remember to take care of yourself when working with animals, because rescue can be physically, mentally, and emotionally exhausting work.
Even when she's feeling overwhelmed, Karn doesn't want to walk away from animal rescue, especially since FixNation is "Mark's legacy," she says. He was diagnosed with ALS in 2011, "and he has been quite affected by the disease in just a few short years." Spending time with her husband and "living in a grateful state" helps Karn to regain her focus and "recharge her battery."
The rewards, she says, are immeasurable – for cats and volunteers alike.
"The best way people can help us directly is by taking action and getting involved," Karn adds. "If you're able to put in the time and energy and also have the support and stamina to open your own clinic in your area, you will feel rewarded beyond your wildest dreams. It takes a lot of commitment and perseverance, but the results are tangible and monumental."
Do you know of a rescue hero — cat, human, or group — we should profile on Catster? Write us at catsterheroes@catster.com.
Read about more Catster Heroes:
About Angela: This not-crazy-at-all cat lady loves to lint-roll her favorite dress and go out dancing. She also frequents the gym, the vegan coffee joint, and the warm patch of sunlight on the living room floor. She enjoys a good cat rescue story about kindness and decency overcoming the odds, and she's an enthusiastic recipient of headbutts and purrs from her two cats, Bubba Lee Kinsey and Phoenix.