I've always identified myself as a dog person. After all, I grew up with dogs. My dad was allergic to cats and not very fond of them, so I had never really been around cats much until I met the one that changed my mind about cats entirely. Even so, the first pet that my husband and I got together was a dog.
Almost two years after the passing of his my husband's childhood cat, a neighbor had taken in a stray and her kittens. One of them looked similar to my husband's cat, and the rest quickly became history.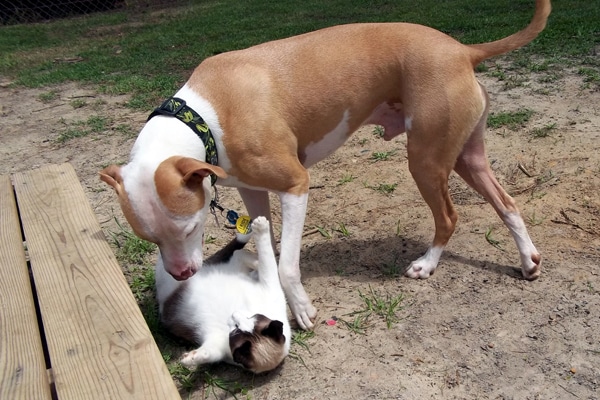 Even with raising the kittens and being surrounded by their cuteness, I still considered myself a dog person. I would refer to myself as being "bipetual," or owning dogs as well as cats, but my heart still belonged to all things dog … or so I thought. If you're a converted dog person, or even a person the least bit bipetually curious, let me warn you -ÔÇô cats are sneaky critters who wrap themselves around your heart before you even know what's happening. You may think you're okay because you've met lots of cats and you still identify as a dog person, or maybe you even claim you don't like cats. But know this: Not all cats are created equal, and you clearly haven't met the "right" one yet.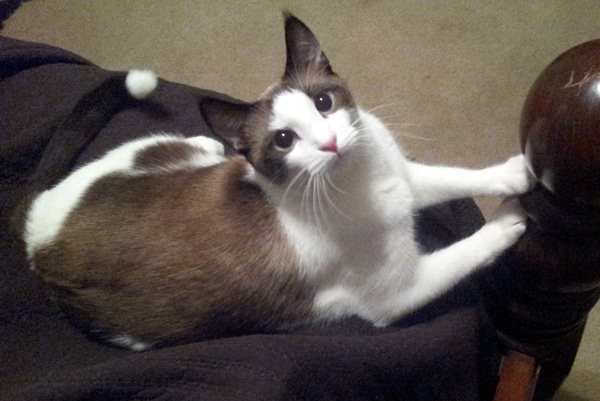 Since I've been expecting our first child, my life has been in an uproar. Outwardly, everything is relatively normal, but internally my temperature is fluctuating, my emotions are on what feels like an eternal roller-coaster, and everything aches. Snuggling up with two dogs (one 70 pounds, one 29 pounds) used to be one of my favorite activities, but these days, it's just too much contact, too much heat, and way too much of an invasion of my space. My cat, Fry, seems to know just how much contact is enough and when it's appropriate to snuggle. He absolutely adores my growing belly and shows it (and me!) lots of attention.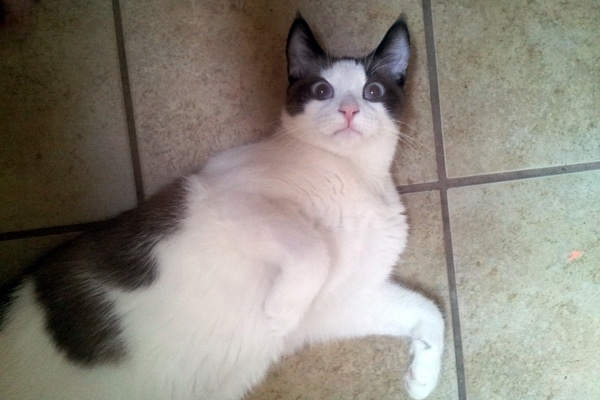 It just warms my heart when he greets me at the door in the afternoons and follows me around the house after he eats his dinner. He'll jump on and off the couch and meow at me, almost as if he's demanding I sit down and prop my feet up. Good call, Fry, as that's a mutually beneficial move! My swollen, achy feet get a break and he gets some quality time with me and my belly. He'll often nudge me until I move the laptop, just so he can curl up around my belly and make gentle biscuits in my shirt. Ladies, remember how I told you not to get rid of your cats because you're pregnant? This awesome cuddle time releases those feel-good chemicals (serotonin and dopamine) in your brain, distracting you from the less-than-wonderful side effects of pregnancy.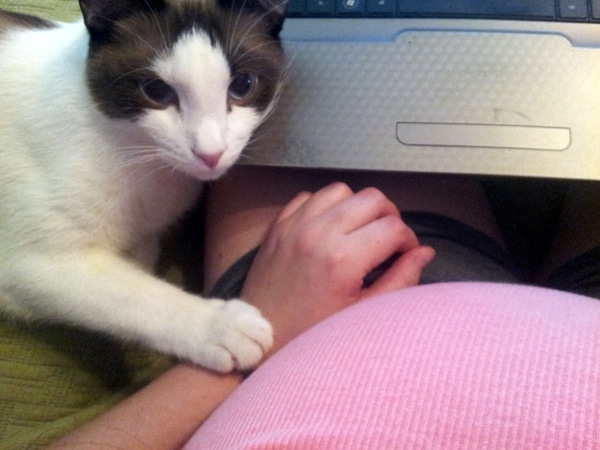 Sure, my dogs are still wonderful creatures, but let's face it ÔÇô- they're a lot more demanding and needy and just don't give back the same kind of attention a cat can. I have to make sure I'm up in time to let the dogs out to go to the bathroom, and have to keep a relatively close eye on the clock to avoid any accidents throughout the day. Fry is quite satisfied with his litter box. The dogs will get antsy indoors and want to go out to run, sniff, and tussle. Fry, on the other hand, is wonderfully happy to just snuggle with me, only moving for the occasional stretch or re-positioning. Oh, the simple joys of lazing on the couch, a warm (but not too warm) and fuzzy cat curled up around you, and not a care in the world.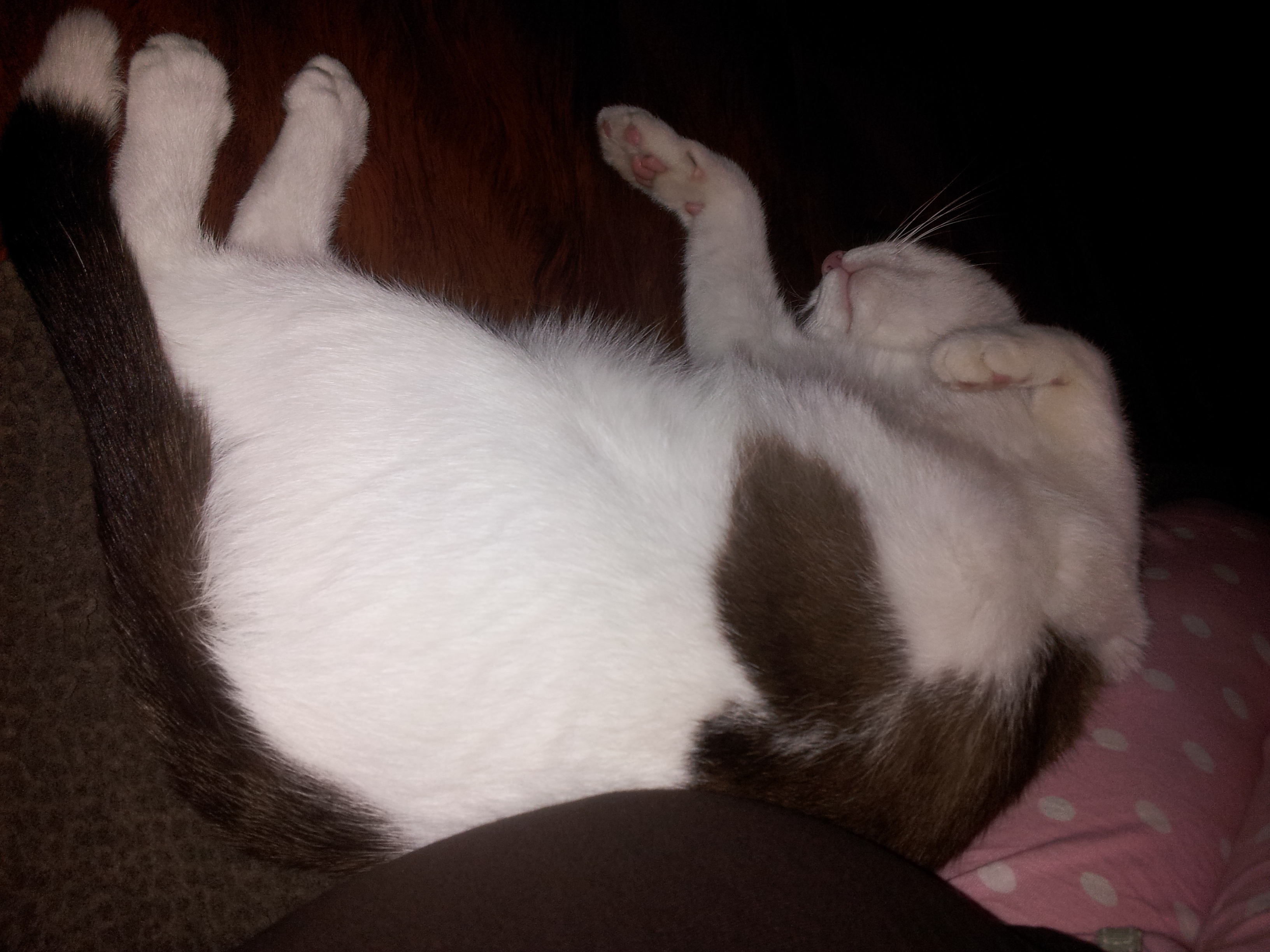 On days when I'm feeling blue or ill at ease with all of the changes in my body, Fry is there to amuse me with his quirky behavior. If that fails, he'll carefully climb over me and get up close enough to rub his face over mine, as though to say, "Don't worry, I'm here." He also listens intently as I tell him about my day, and will often respond in kind. Yes, like Angie Bailey, I talk to my cat. I can't say more than a few words to my dogs or they'll get so excited, thinking I'm saying we're going somewhere or that they're going to get at treat. I don't want you to think I'm hating on dogs, by no means. I still think my dogs are wonderful; however, I think I'd have another cat before I'd have another dog.
Cats are very neat and clean creatures who are always full of surprises. I've never had a cat lick her butt in front of my guests or eat cat poop and stare at me in disbelief as I refuse kisses. I'm sure I'm not telling any of you that already identify yourselves as "cat people" anything new, but it's all new territory for me. How in the world did I not know how awesome cats were before now? What about you? Do you identify yourself as a "cat person" or a "dog person," or are you a bit of both? I'd love to hear what you think in the comments!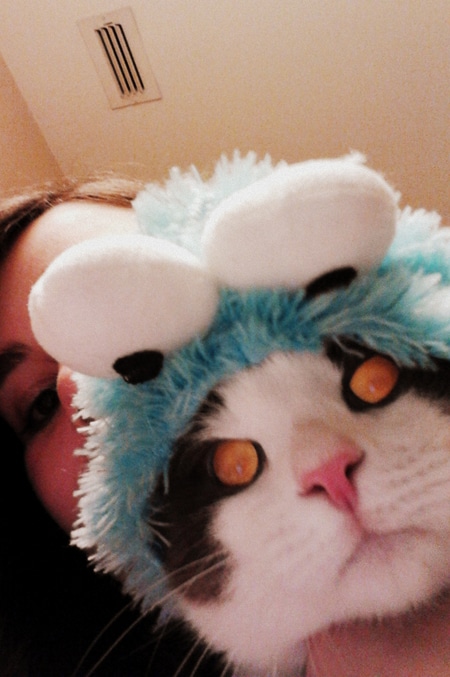 About Meghan Lodge: Fits the Aquarius definition to a fault, loves animals, and is always pushing for change. Loves ink, whether it's in tattoos, books, or writing on that pretty sheet of blank paper. Proud parent of two dogs (one being very dumb) and one cat. I'm a former quiet nerd who's turned bubbly animal-obsessed advocate.