Until a few years ago, every cat I lived with seemed content to stare with silent intensity at birds and rodents that caught their eye. But when I brought Belladonna into my family, things changed: She perched in windows watching her potential prey, creaking and chirping and chattering her head off as her tail thrashed from side to side. This was new behavior in my home.

Bella chirps at a pigeon on a nearby power line. Bear with Thomas and Siouxsie's sound effects in the background at the beginning of the clip. (Can't see the video? Check it out on the Paws and Effect YouTube channel.)
What brought her to such extremes of cuteness? Scientists and behaviorists believe that there are three primary reasons why cats chatter.
1. Anticipation
Cats are hunters by nature, and when they spot their prey, their bodies go into overdrive: Adrenalin starts coursing through their veins, revving them up for the chase. Of course, experienced feline hunters know that they can't expect to catch a mouse if they start making noise and lashing their tails back and forth, so I suspect anticipation-based chattering is found mostly in felines new to the cat-and-mouse game.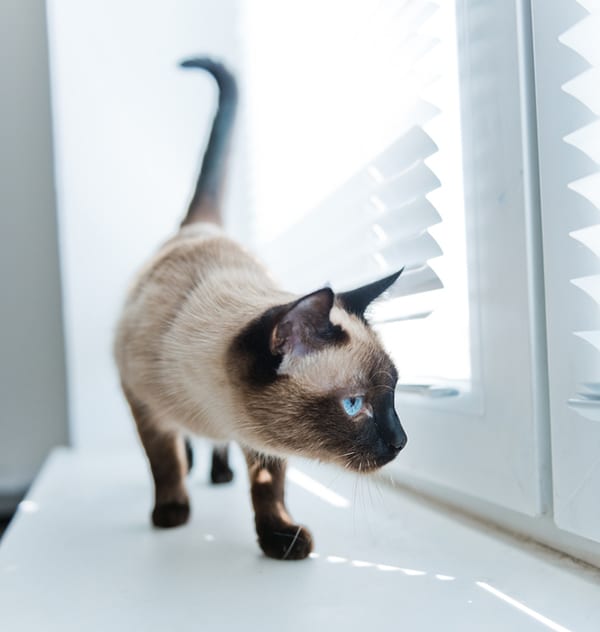 Anticipation is one possible cause of feline chattering. Photo: Shutterstock
2. Frustration
Behaviorally, this strikes me as a more solid reason. If a cat's body gets all wound up for the hunt — heart racing, pupils pinned, adrenalin flowing, and so on — and the poor kitty can't reach the object of her gustatory desires, she probably feels a lot like we do if we're running to catch a bus and we see it driving off just as we reach the exit door of our building. In that case, chattering may be the feline equivalent of cursing.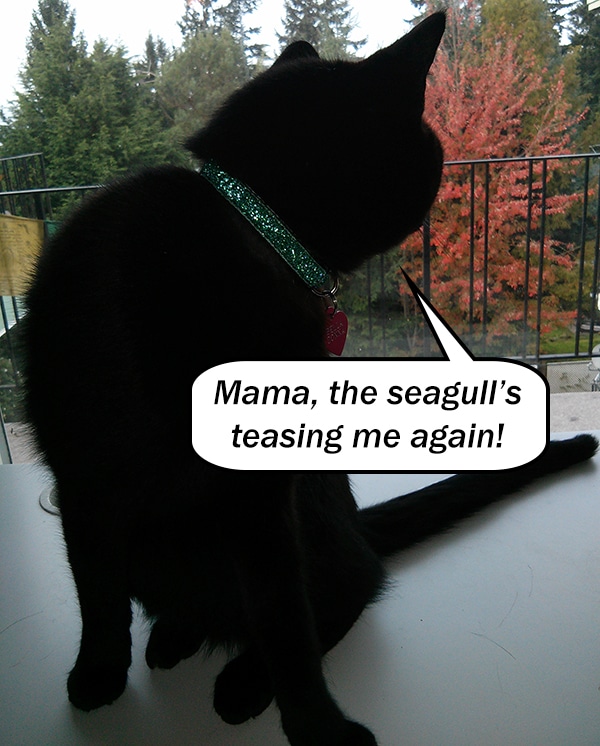 Poor Bella. She just can't catch a break!
3. Prey mimicking
This theory is relatively new in the world of cat science. About five years ago, a group of scientists doing fieldwork in the Amazon forests of Brazil were recording the vocalizations of a group of pied tamarin monkeys, when a wildcat showed up and started making calls identical to those of the monkeys.
Wildlife Conservation Society researcher Fabio Rohe, who worked on the monkey project, said he suspects all cats can copy the calls of their prey, but Rohe's findings marked the first time cats were seen using vocalizations to manipulate their prey, presumably to draw that prey closer and make the hunt easier.
According to this theory, a chattering reaction would begin with a bird loudly chirping near a cat. The cat would then become riveted to the bird, and after about a minute the cat would begin to tweet and chatter, its mouth moving in sync with the bird's beak.
What tasty treat do you think these cats have their eye on? I'm guessing it's a squirrel sitting on a tree branch. Photo: Shutterstock
Does your cat chatter? Why do you think he or she does it? Anticipation, frustration, prey mimicking, or something else? Share your thoughts (and chattering-kitty videos, if you've got some) in the comments.
Read more about cats and science:
About JaneA Kelley: Punk-rock cat mom, science nerd, animal rescue volunteer and all-around geek with a passion for bad puns, intelligent conversation, and role-play adventure games. She gratefully and gracefully accepts her status as chief cat slave for her family of feline bloggers, who have been writing their award-winning cat advice blog, Paws and Effect, since 2003.