It's been almost one year since Ghost Cat came into my life, but she's already given me a lifetime of love and taught me many lessons, not just about cats, but also about myself. As we approach the anniversary of Ghost Cat's adoption date I find myself reflecting on how this cat has truly changed my life in just 12 months.
I still get tears in my eyes when I remember how she looked peeking out of her cat condo at the shelter. My husband and I had come for a kitten, but it was grown-up (well, 11-month-old) Ghost Cat who stole my heart. I can honestly say I became a different person the day I met her.
Anyone who knows me knows that I have no problem declaring my love for Ghost Cat. What I do have a problem with is that so many people are dismissive of that connection.
If I were talking about a dog, admitting that my pet changed me would be more socially acceptable — but I'm talking about feeling for a feline, so people write me off as a crazy cat lady and dismiss the depth and breadth of my relationship with Ghost Cat. Even people who've declared their own undying love for a dog have shrugged off what I feel for Ghosty. The truth is, though, this cat made me a better person and helped me live a better life.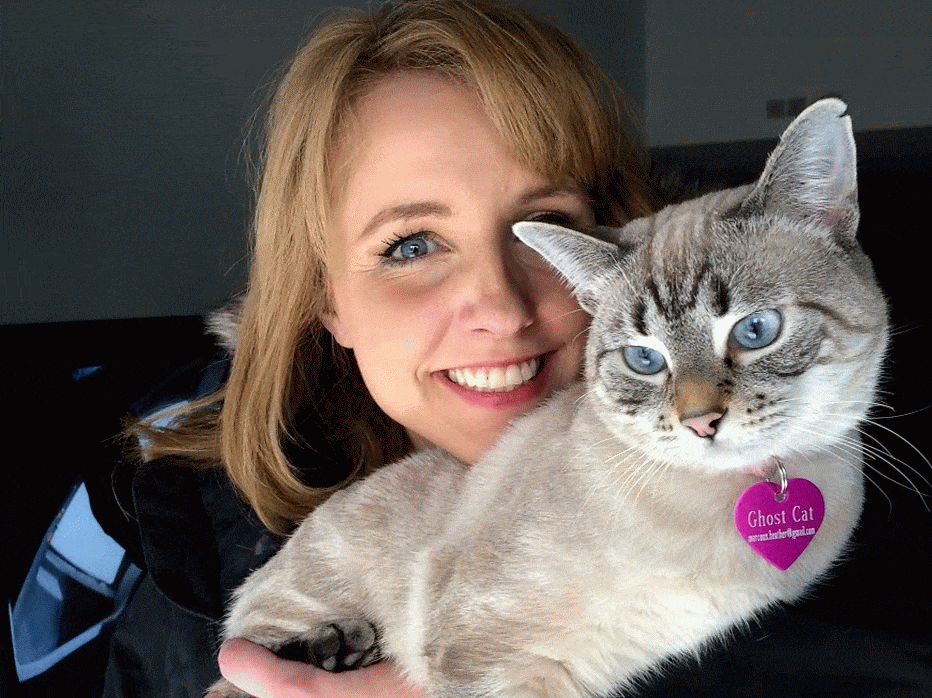 One of the biggest things I've learned from Ghost Cat is to stop putting off my dreams. I'd wanted a cat for a long, long time — but I just couldn't seem to make it happen. In my late 20s I felt like I was finally financially stable enough and had the right lifestyle to offer a kitty companion, but I still didn't have a pet-friendly apartment. I had been busy trying to establish a career for myself in television news and had been moving pretty frequently as a result.
Between 2010 and 2014 I lived in five different apartments across three different provinces (first alone, then later with my husband). My apartment searches would always begin with a pet-friendly place in mind, but in Western Canada most landlords don't want pets. Low vacancy rates, high costs, and the desperation that comes with knowing you have a job to start in another city were all factors that led to me prioritizing just finding a place over finding a place where I could have a pet.
Now that I know the true joy that Ghost Cat has brought into my life, I kind of wish I'd fought harder earlier to find a place that would let me have a cat. When I think about how long I had to wait to get a cat, how many apartments I lived in that wouldn't allow me to have a furry little roommate, I'm angry that the joy of cat cohabitation was out of my reach for so long simply because most landlords in my part of the world have policies against pets.
Now, I certainly could have broken the rules like so many apartment dwellers (including many of my former neighbors) do, but I knew from experience that sneaking a cat into a building where she is not welcome is risky. I would never have been able to live with myself if I had to surrender a cat because my landlord found her.
While I do think it's sad that the joy of cat companionship was out of my reach for so long, I really can't regret having to wait. If I had been able to get a cat earlier than I did, well, that cat wouldn't have been Ghost Cat. One year ago circumstances were perfect for my little love and I to find each other. I was finally in an apartment where I could have a cat, and she was sitting at the shelter waiting for me.
Those early days after Ghost Cat came home gave me a glimpse of what life could be like if I stopped prioritizing what I thought I should want over my real dreams and ambitions. She came into my life when I was dealing with the repercussions of a career move that left me feeling like I was actually moving further away from my goals instead of toward them. I was working as a morning TV news anchor. It was a great job in a lot of ways, but I had moved 300 miles away from the city I really wanted to be in to take it.
To take that job, I'd broken a lot of promises I'd made to myself, and I had asked my husband to make sacrifices that weren't really fair. I knew before I got on the plane that I was making the wrong decision, but I convinced myself to keep chasing the career I'd set my sights on at 23, even though at 28 I was a different person with different dreams (dreams that included animals).
In my heart I knew that what I really wanted to do was move back to a certain town, which no longer had a TV station but had a lower cost of living and a better quality of life. I wanted to move there and buy a little house where I could have pets and write. Getting Ghost Cat made me realize that my happiness did not depend on getting hired by a bigger newsroom. She really was a dream come true for me, and her presence made me reevaluate the authenticity of everything else I was doing with my life.
Eventually evaluation turned to action, and a month before I turned 30 I quit my job. The next day I flew to the city I live in now and made an offer on a house for me, my husband and Ghosty.
Another part of being authentically me was returning to non-news writing. Before Ghost Cat came home with us I had a couple of unfinished novels sitting on my laptop. I would write when I could, but weekdays were hard. I would come home from a day that started at three in the morning, and struggle to get inspired (and stay awake) after writing news all day at work.
When Ghost Cat first came to live with us, I was in a particularly lazy writing slump. Many afternoons I would fall asleep with Ghosty on my lap before I could type a single word. Eventually, though, Ghost Cat became my muse. I started writing again, but this time I was writing about her. Getting her stories out into the world helped prime my mind to write again.
In the midst of all these changes, I worried about Ghost Cat's capacity to adapt, but she proved to me that she could handle anything that came her way. The first month after our big move we stayed with friends while we got possession of our new place, but once she was finally in her new home, Ghost Cat flourished. The next big change was the addition of Specter the kitten. Ghost Cat initially resisted, but quickly fell in love with Specter and eventually found the kitten's presence both amusing and comforting. More recently, GhostBuster the dog has joined our little family.
The addition of these new animals does not diminish my love for Ghost Cat. It was through Ghost Cat that I learned just how much I really am an animal person. I cannot imagine a future without a pet in it. I prioritize my pets over other things because Ghost Cat taught me just how rewarding these relationships can be.
If it wasn't for Ghost Cat I might still be stuck in limbo, wondering if, how and when I was going to make my dreams come true. Every day I try to add to her life they way she has added to mine. If loving her makes me a crazy cat lady, then I'll wear that label with pride.
How has your cat changed your life? Let us know in the comments.
Read related stories on Catster:
Learn more about your cat with Catster:
About the author: Heather Marcoux is a freelance writer in Alberta, Canada. Her beloved Ghost Cat was once her only animal, but Specter the kitten and GhostBuster the dog make her fur family complete. Heather is also a wife, a bad cook and a former TV journalist. Some of her friends have hidden her feed because of an excess of cat pictures. If you don't mind cat pictures, you can follow her on Twitter; she also posts pet GIFs on Google +