As New York City apartment-dwellers, my two cats have extremely limited experience with the outside world, which seems to suit them just fine; they spend a lot of time at our eastern windows chattering at sea birds and watching tugboats chug past them on the river, and I let Steve, our older cat, gallop down our building's interior hallway past the elevator bank when I'm en route to the garbage chute.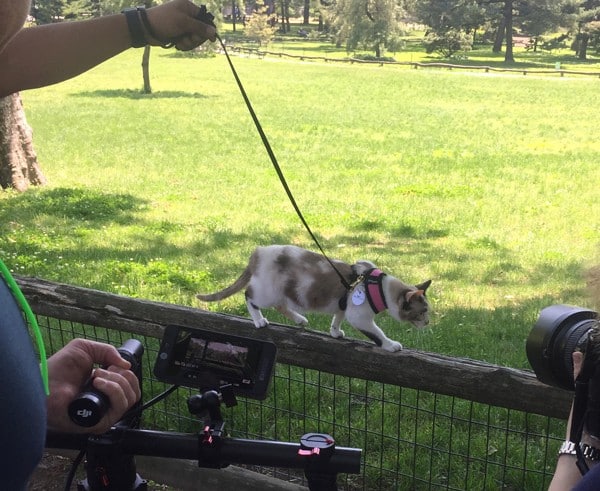 I have never considered either of them a strong candidate — okay, any kind of candidate — for leash training, as Steve is always more than happy to gallop right back inside after sniffing Chinese restaurant menus in the hallway and sharpening his claws on our welcome mat. Matty, our younger cat, disappears when my husband and I have the audacity to let strangers into our home; something tells me he's uninterested in making friends with, say, roller skaters and tourists in Central Park.
I offered regrets on my guys' behalf, then, when I met with park-loving people and cats on a sun-drenched afternoon at Norman's Landscape in Central Park last week. Purina Pro Plan has joined forces with Adventure Cats (a group that offers resources to cat people who want to want to enjoy the outdoors with their furry friends) to declare June 15 National Take Your Cat on an Adventure Day. I was invited to come along and see how it's done. So, how is it done?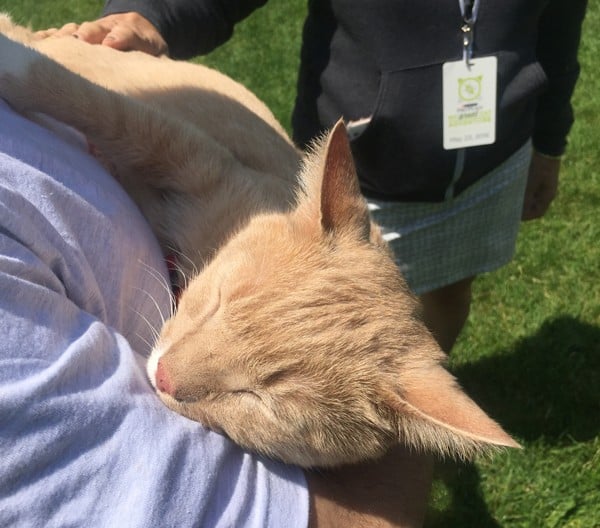 Well, having a Broadway star's professional aplomb doesn't hurt. Vito Vincent is a feline actor: He played Holly Golightly's cat in the stage production of Breakfast at Tiffany's. He's also a trained therapist. As a participant in animal-assisted therapy, he helps provide relief for humans in physical and psychological pain. Vito reclined in his human's arms in the middle of the big city without a care in the world. His outgoing personality and comfort with new people and situations makes him an excellent match for outdoor activities. (Read more about typical "adventure cat" characteristics here.)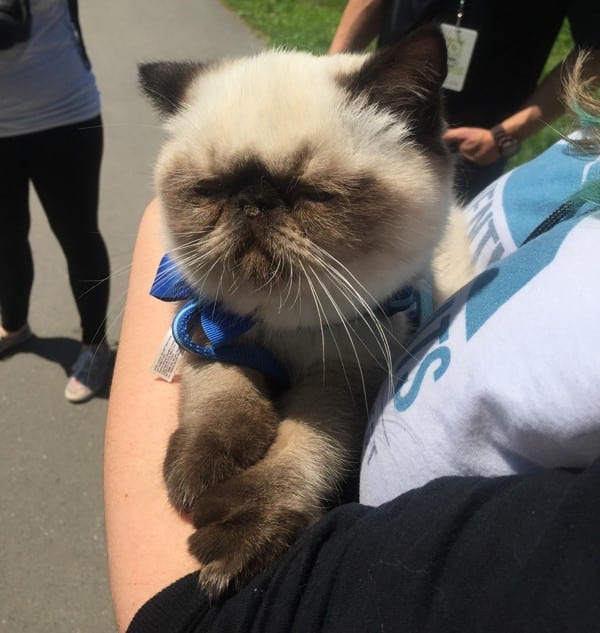 Being a little guy can also be helpful; several of the people in the park with us explained that they had introduced their cats to harnesses when the cats were young. Pazzo, a five-month-old Exotic Shorthair, was already accustomed to his harness, and he cruised around at the end of his leash with confidence. (Learn how to introduce your cat to a leash and a harness here.)
Laura Moss, Adventure Cats' co-founder and editor-in-chief, emphasized the importance of carrying a harnessed cat to and from the outdoor area he or she will explore with you (as opposed to letting them dart between your legs, as I do with Steve in our interior hallway). Door-dashing is not a behavior you want to reward.
She did not tell me I shouldn't let Steve steal the neighbors' takeout menus (for I didn't tell her that part).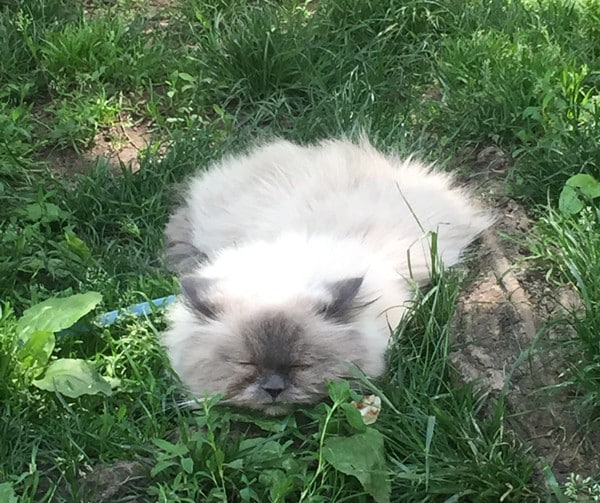 I'm no scientist, but I also noticed that many of cats in the group had long, luxurious hair (and seemed to take great pleasure in intermingling that hair with grass and dust). So much for the idea that fluffy felines aren't interested in getting their paws dirty, though I suspect that most people who know long-haired cats from cohabitation rather than from children's books and animated movies have probably known that stereotype was nonsense for quite some time.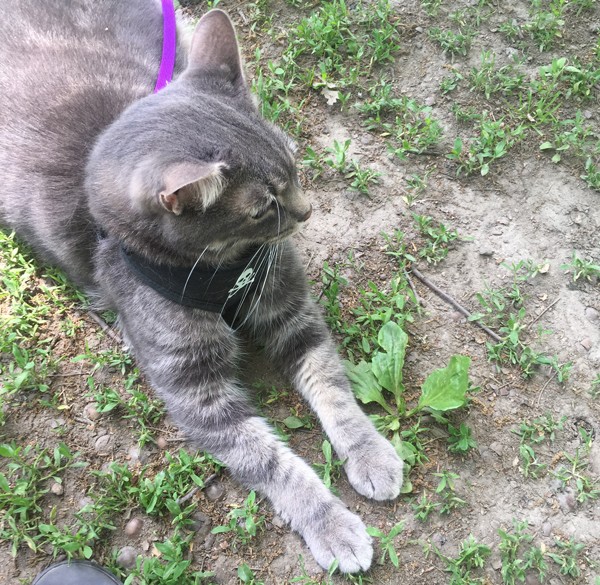 So, have I reconsidered inviting my cats to, say, camp with me? Absolutely not — I couldn't convince my air-conditioning-addicted husband to go on a camping trip, to say nothing of our city kitties. Other pets (and partners) could be up for it, though, and National Take Your Cat on an Adventure Day seems like a fine time to start figuring out what sort of new, living-nine-lives-to-the-fullest experience might interest yours. Let us know what you learn, eh?