Looking for a creative way to say "I love you" to the cat lover in your life? This Valentine's Day, say it with chocolates — cat-shaped chocolates, that is! Here are 10 of our favorite finds for that special person in your life.
This napping black truffle cat is made from extra-bittersweet ganache. Her pointy ears have been delicately fashioned from sunflower seeds.
Complementing the bittersweet ganache is a rich coating of dark chocolate. Get your paws on a box of 18 cat truffles from Moonstruck Chocolate.
Give a yummy love bite with these chocolate cat pops. Each cat pop is a half ounce of decadent deliciousness.
Available in three chocolate flavors, you won't be able to resist bringing home a bouquet of these adorable kitties.
For cat lovers on the other side of the ocean, Lilybanks Sweet Shop offers scrumptious chocolate cats that would be a bonnie companion to a cup of tea. They're available individually or by the kilogram so you can stock up your Valentine's cupboard.
It's not just cats who love boxes. The cat lover in your life will be overjoyed to receive this adorable cat box with a single Teuscher Swiss truffle inside.
This little kitten will have you licking your lips in anticipation of a velvety smooth chocolate bite. It's made with organic cane sugar by Chocolates by Bernard.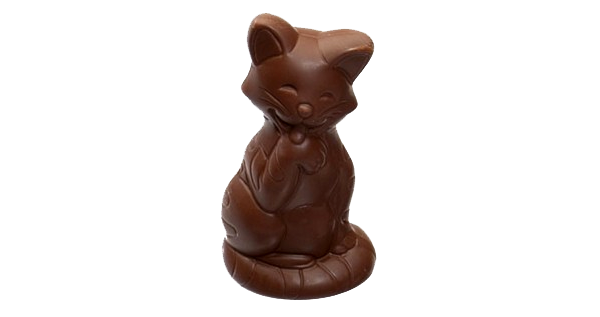 You can order this chocolate kitten online and have it shipped anywhere in the United States.
Here's a hefty kitty weighing in at a full half-pound of gourmet dark chocolate. This artisan cat is handcrafted by Compartes Chocolatier and guaranteed to please the palate of discerning chocolate connoisseurs.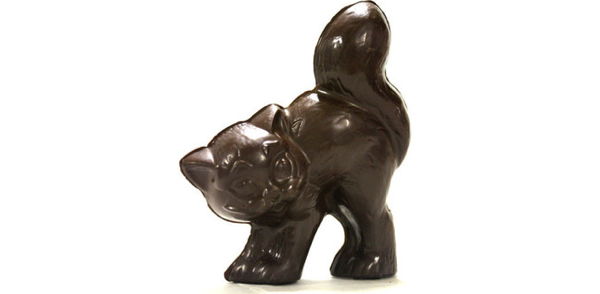 If you're handing out a stack of Valentine's Day cards and you want to send along a small treat, then these milk chocolate kitty cats are the perfect accompaniment.
They're individually wrapped in foil and come in a party-sized box of 60.
If love is measured by the pound, then these chocolate cats by Kr├Ân are worth their weight in solid gold.
Available in dark or milk chocolate, each cat is a solid seven ounces of pure chocolate heaven.
What happens when world-renowned Belgian chocolatier, Jean Galler, joins forces with cartoonist, Philippe Geluck? The results are these fun and fanciful cat tongues.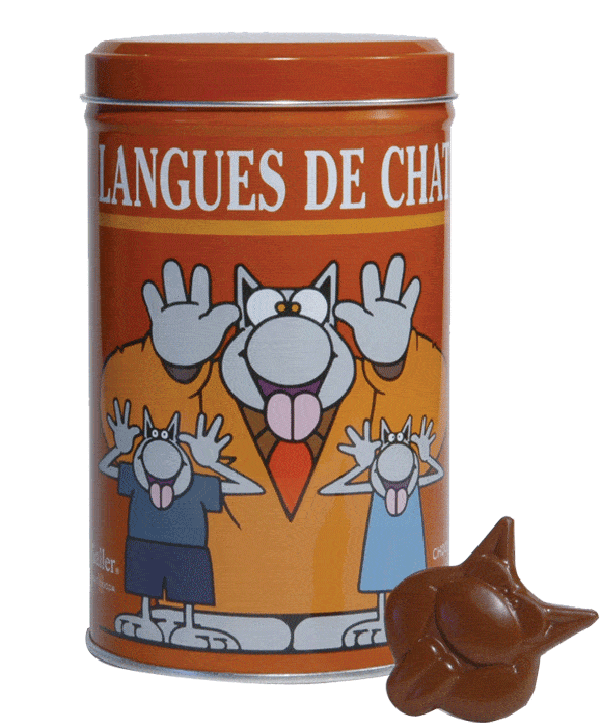 They're available in white, milk, or dark chocolate and filled with a luscious hazelnut praline.
Nothing proclaims "I love you" more than taking the time to lovingly craft a handmade gift. You can create your own cat-shaped chocolates with this professional quality chocolate mold. It's also the right size for baking bite-sized cake pops, too.