Dental diseases in cats are common — but hard to diagnose. While agonizing pain might get you to run to the dentist, cats in pain just carry on. For a cat to signal "my mouth hurts," the pain has to be over-the-top excruciating. At this point, many cats refuse food, but it's not because they're finicky — it's because eating hurts.
"That's probably where the idea that cats are finicky comes from," said Bloomington, Minnesota, veterinarian Dr. Kate Knutson, a past president of the American Animal Hospital Association.
She said when there's bacteria at and around the gum line, that bacteria soon travels through the cat's system, potentially affecting kidney and even heart function. Certainly, it's not healthy to have an unhealthy mouth.
There are many types and variations of dental disease in cats; veterinary dentist Dr. Jan Bellows of Weston, Florida, immediate past president of the American Veterinary Dental College, says three dental diseases in cats are especially important to know about.
1. Tooth resorption in cats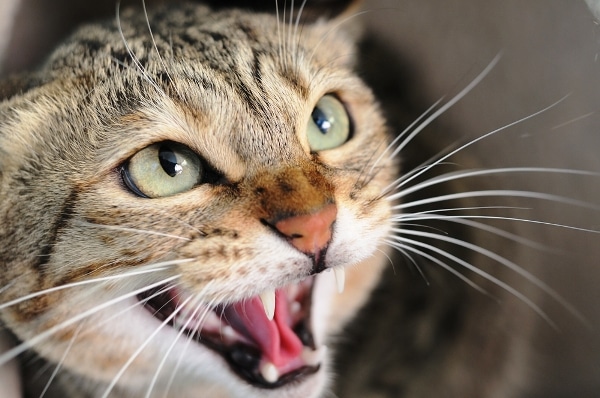 Cavities (common in people) are created from the outside in. Bellows explained that tooth resorption begins at the root and travels up.
Leave it to cats to be different. Tooth resorption is rare in people; it's increasingly diagnosed in dogs (mostly because veterinarians have begun to look for it and have X-ray equipment to find it), though the issue is far more common in cats.
Bellows said that unlike so many illnesses in cats, this is one owners might be able to diagnose: "While cats aren't going to typically tell you, 'It hurts,' take a [cotton swab] and gently go over the gum line. If the cat winces, it's a good guess tooth resorption is going on."
Prevention is best — except that no one knows how to prevent it. At one time, diet was thought to be responsible, but that's not the case. One thing we know: Cats who've had the calici virus are predisposed to tooth resorption.
If one tooth is affected, Bellows said, there's a 75 percent chance that at least one other tooth and often several teeth are affected. Obviously a wincing cat is a hurting cat. The only way to effectively remove the pain is to remove the affected teeth.
2. Stomatitis in cats
Again, leave it to cats. This condition occurs when cats seem to become allergic to their own teeth. Despite the fact that stomatitis is common, relatively little is known about this immune-mediated disease.
"It's crazy how these cats develop a hypersensitivity to their own plaque," Bellows said. "Even when owners brush, the reality is that no matter how often and how carefully you brush your cats' teeth, there will still be some plaque. I believe in dental care, of course — but it won't prevent stomatitis (or tooth resorption) for cats that are predisposed."
Stomatitis is often diagnosed by veterinarians observing a crazily inflamed bright red mouth. Some veterinarians deal with the inflammation using steroids and an antibiotic.
"This can temporarily make a cat more comfortable, but it's hardly a very long-term solution," Bellows said.
Before long, the cat requires a higher steroid dose to control the inflammation and eventually can develop diabetes (as a side effect of the steroid). And some cats become resistant to one antibiotic, so another has to be tried.
To resolve stomatitis, the right treatment is full mouth extraction, Bellows said: "After the teeth are gone, the pain goes away, and miserable cats are happy again. They eat fine without teeth, actually often preferring dry food to moist."
3. Periodontal disease in cats
This is all about prevention so not nearly as much plaque, tartar and accompanying bacteria form. Bellows conceded that while brushing cats' teeth is helpful, most guardians aren't about to do that. However, there are myriad products that are easy to use. Here are a few:
Sanos veterinary dental sealant: This one-step application by a veterinarian helps keep the sub-gingival gum line of cats (and dogs) clean. Sanos is applied after every professional dental cleaning.
Wipes: Bellows said to choose a product with chlorhexidine and sodium metaphosphate.
Water supplements: Just as the name suggests, you add these to your cat's water. Some water supplements are clinically proven to reduce plaque by a remarkable 85 percent to 88 percent in cats.
While February is Pet Dental Health Month, Knutson said, "Cats don't know that — and their mouths can have problems any time of the year."
To learn more about food, treats, and other products proven to support dental health, visit the Veterinary Oral Health Council.
Thumbnail: Photography by pshenina_m/Thinkstock.
Tell us: Have you ever encountered dental diseases in cats?
Read more about cats and dental health on Catster.com:
About the author: Steve Dale is a certified animal behavior consultant. He is a national newspaper columnist (Tribune Content Agency); heard on WGN Radio, Chicago; host of the nationally syn- dicated Steve Dale's Pet World and author of the e-book Good Cat, among others. He's a founder of the CATalyst Council, and serves on the boards of the Winn Feline Foundation and Tree House Humane Society, Chicago. Follow him on Facebook and Twitter.