Add even more 'treat' to your 'trick or treat' when you whip up these adorable — and easy — Oreo cat cookies this Halloween.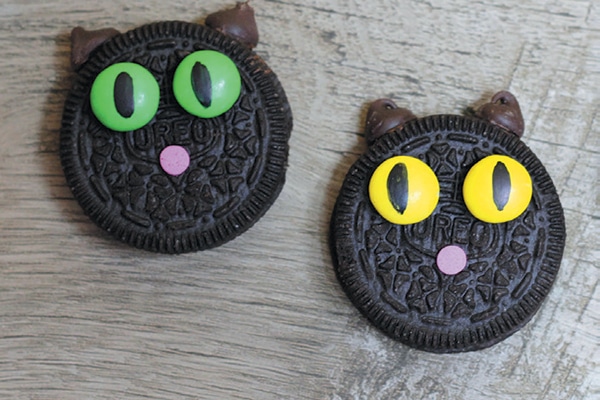 Recipe: Oreo Cat Cookies
What You'll Need:
Oreos (I used the chocolate crème kind)
Frosting Green and/or yellow M&Ms
Circle-shaped sprinkles (you can also use heart-shaped sprinkles and turn them upside-down)
Chocolate chips
Black edible marker
Instructions:
Frost the back of the M&Ms, and attach them to the cookie for the cat's eyes.
Use a toothpick dipped in frosting to attach the sprinkle to the cookie for the nose.
Dip the flat part of the chocolate chips in the frosting, and attach them to the top of the cookie for the ears.
With the black edible marker, draw pupils on the M&M eyes.
Thumbnail: Photography courtesy Robert Shirreffs
Discover more recipes on Catster.com:
Editor's note: Have you seen the new Catster print magazine in stores? Or in the waiting area of your vet's office? This article appeared in our September/October issue. Click here to subscribe to Catster and get the bimonthly magazine delivered to your home.