It's no secret: I love spoiling my cats. Much to my husband's dismay, I've been known to drop pretty hefty sums on mountains of cat toys: mice and balls and feathered chase toys and rope scratchers and every new thing under the sun.
The only thing I love more than spoiling my cats with new toys is figuring out ways to make toys for them for pennies compared to what you could buy them for in stores, and I'm going to pass some of my favorite ideas on to you!
Not all of these toys will be a hit with every cat, but among the ideas you're sure to find one or two that your feline friend will enjoy (at least for the next five minutes until she finds a crinkly envelope or paper towel tube you've discarded.)
1. Yarn toys

If you're handy with knitting needles or a crochet hook, there's a whole world of patterns out there (many of them free!) instructing you on how to make your own cat toys. From standard mice to more exotic whales, bunnies and toys resembling human food items, you've got your choice of toys. My choice for patterns is the database at Ravelry.com — you can search specifically for cat toys, but don't discount human child toys as potential cat playthings, either.
Acrylic yarn is the choice du jour for anything that needs to be sturdy or washable, but don't discount wool, either. When friction, heat and moisture are applied, wool fibers lock together making for a stronger fabric — you can do this yourself by running the toy through the washing machine to felt it, so there are no concerns about your furry friend swallowing loose fibers.
If you're not so handy with needlework, yarn is still handy for making cat toys. A simple pom-pom can keep a cat amused for hours, while a length of yarn makes a great chaser toy that you and your cat can play with together.
2. Catnip kickers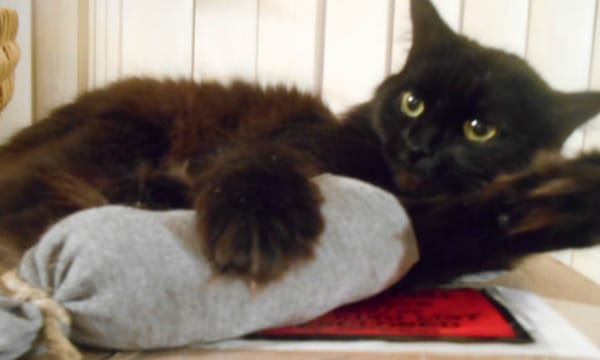 Can you sew a straight line? Do you have a sock that's lost its mate? Sew up a catnip kick pillow. Stuff that old sock with polyester fiberfill and some catnip (as much as you want!) and sew across the opening. This works best with tube socks, as they resemble a large body pillow when finished, but even traditional sock-shaped socks satisfy kitty's urge to kick and scratch as she plays with her new toy.
If you aren't so crafty, you can stuff the sock and leave a little empty space at the top and just knot the sock closed — as a bonus, this gives kitty something to chew on as she plays.
3. No-Sew Knots

Quick toys made from household items are a big hit with my cats. Spend hours knitting a set of mice? They won't touch them. Spend 10 minutes knotting together T-shirt fabric scraps? They're all over them! This is great news for those of you who can't knit, sew, crochet or otherwise craft your way out of a paper bag. (By the way, paper bags? Also make fun cat toys.)
Cut up five or six lengths of T-shirt. You won't need to hem them since the jersey knit fabric of T-shirts doesn't unravel when cut — it just curls. Knot one of the lengths around the others to form a pom-pom and you've got yourself a quick, cheap and easy cat toy with plenty of fabric leftover to make others. Just make sure the knot is tight and secure — nobody wants to go to the vet because Fluffy swallowed a piece of his toy.
4. Sisal scratching post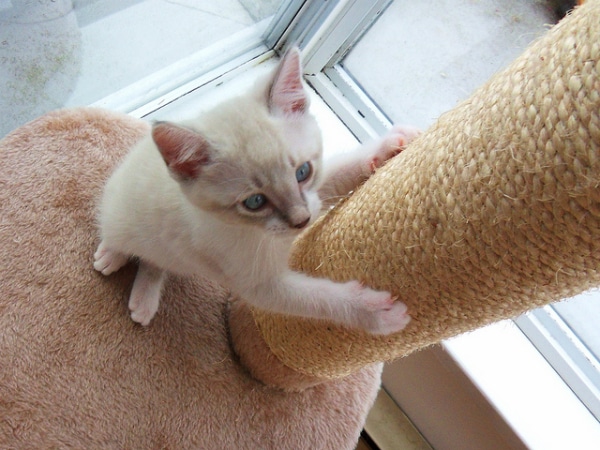 Scratching posts aren't just fun for cats — they satisfy their need to keep their claws in tip-top shape and allow them to feel like they're marking their territory. Making your own rope scratcher couldn't be easier; all you need is a piece of scrap wood (if you ask nicely, your local hardware store may even give you a piece) and some rope.
Sisal rope is the top choice for rope scratchers, but jute cord or even basic kitchen twine would work just as well if your hardware store doesn't carry sisal. Avoid cotton rope and nylon, as your cat's claws can easily get stuck in the fibers.
Slather your piece of scrap wood in glue — wood glue or any strong epoxy (like E-6000) works well. Then start winding the rope around the wood. Let it dry for at least 24 hours, preferably outdoors to get rid of some of the glue fumes, and you've got yourself a high-end cat scratcher at a fraction of the cost you could buy it for.
Read more Catster DIY projects:
Learn more about your cat with Catster:
About Caitlin Seida: Owned by three cats and two dogs, she never met an animal she didn't like. A Jill-of-All-Trades, she splits her workday as a writer, humane society advocate and on-call vet tech. What little free time she has goes into pinup modeling, advocating for self-acceptance, knitting and trying to maintain her haunted house (really!).