Like many stray or abandoned kittens, Oreo had a rough start. Found with his sister in a backyard in Quebec, the three-week-old, black-and-white cat did not have a mother or a home. He was sick and frail when he came under the care of children's illustrator Tina Modugno and her husband, Christian Bedard, in August 2013.
Modugno and Bedard already had three senior cats, so they planned to find a home for Oreo, whose stronger, healthier sister was adopted right away. But on the day he was supposed to meet his new family, plans changed. Bedard had checked on the kitten before he left for work, and Oreo appeared to be sleeping. But when Modugno checked again, she discovered a far more dire reality. Oreo was not breathing.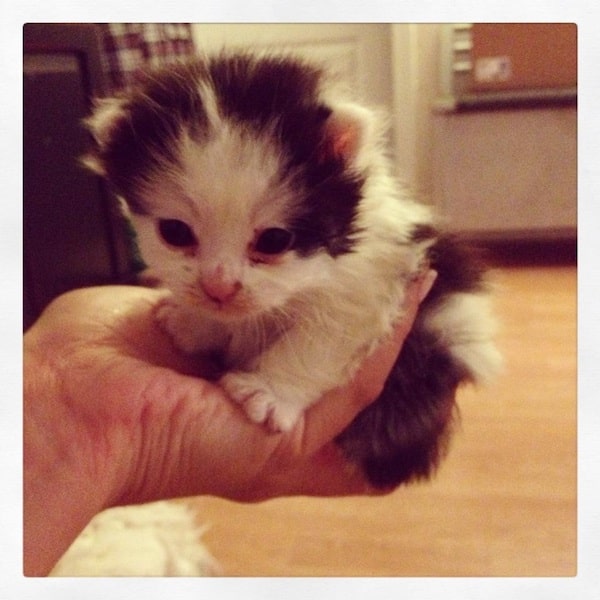 "The day somebody was supposed to pick him up, he was passed out in his box," Modugno says. "I thought he was dead."
Frantic, Modugno checked Oreo's pulse and found a faint heartbeat. She remembered something she had seen on television and started giving him mouth-to-nose resuscitation. She prayed for the kitten to be saved, promising that if he pulled through, he could stay with her family. And then a miracle happened.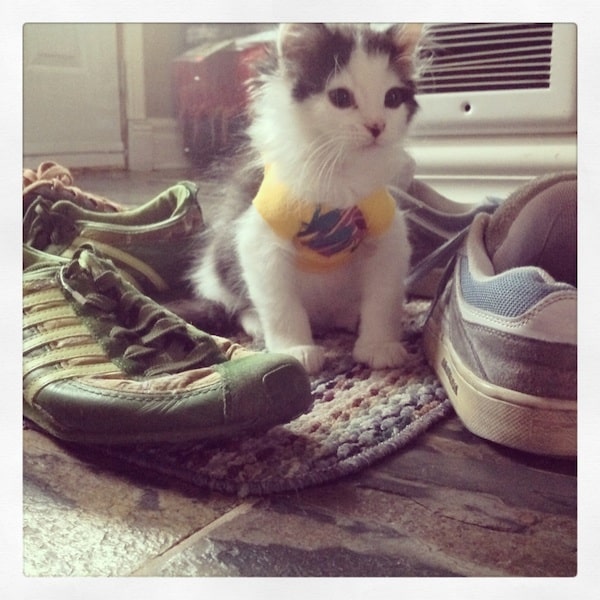 "After about half an hour of giving him mouth-to-nose, he coughed and he was okay," Modugno says. "It consumed me. I can't even explain the feeling. He made us both realize there are a lot of small things, and we don't realize how precious they are. Even though he was just with us for a few days, it was unbelievable the amount of emotion and care and love we felt toward this little thing."
True to her word, Modugno and her husband adopted Oreo. The vet revealed that he'd fallen ill due to a parasite, coccidia, which causes diarrhea and malnutrition. Oreo also could not tolerate kitten formula. To get the tiny cat the nutrition he needed, Modugno fed him the broth from homemade chicken soup.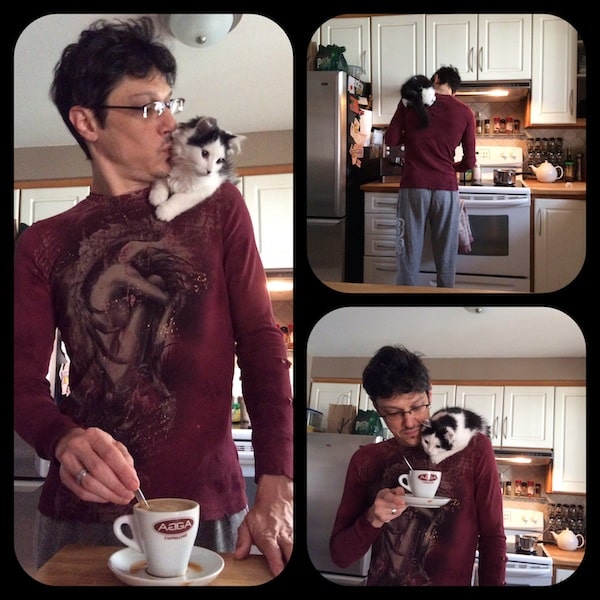 "It is important for me to specify that it needs to be homemade and not store bought," Modugno writes on her blog. "The reason being that store bought may contain ingredients and certain preservatives that are toxic to cats. Onions, for example, are toxic to cats. However, if you make it yourself and ensure that the ingredients are all OK for your kitties … they will thoroughly enjoy it!"
Thanks to this special soup, Oreo's diarrhea and vomiting lessened, and soon he was old and strong enough to take the vet-prescribed medicine for his parasites and ear mites. Today, Oreo is happy and healthy ÔÇô- and he serves as a source of inspiration for his artistic parents. Since adopting Oreo, both Modugno and Bedard have started sketching and painting portraits of their special cat.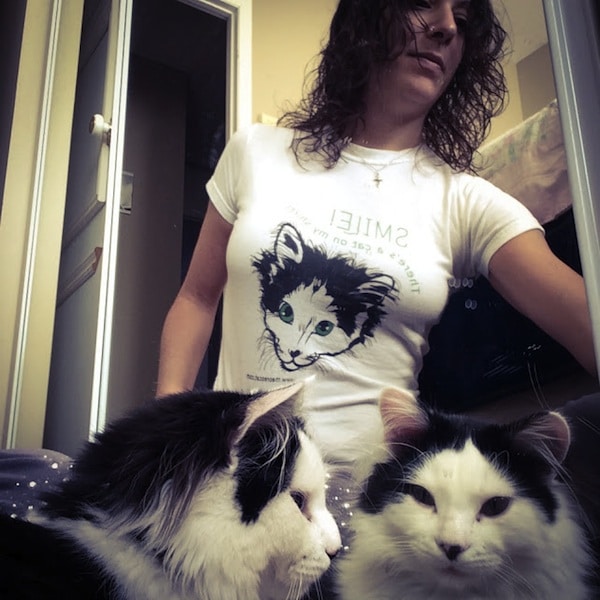 "I've never drawn so many cats," says Modugno, whose background primarily includes cartoon illustrations. "I had no idea I could draw cats so well. He's really fun to draw, too."
Oreo now has his own Facebook page and YouTube channel, as well as a website. Sharing Oreo's portrait has led to collaborations with other well-known celebri-kitties, such as N2 the Talking Cat, with whom Modugno connected after posting her sketches on Twitter. Modugno and Bedard are currently collaborating to create short cartoons and a game based on N2. By encouraging them to focus their energy on creative endeavors, Oreo has helped Modugno's relationship with her husband as well.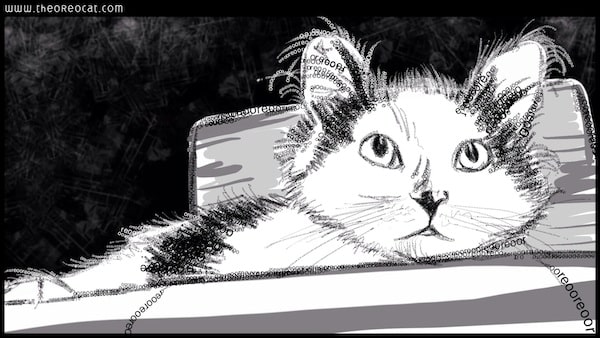 "It's amazing what one little animal can bring," Modugno says. "For the both of us, we both became super creative and started getting along better. We focused our energy on him. It's helped our relationship become stronger."
The couple's heightened creativity and productivity led to another kind of inspiration: The desire to help other animals in need. "We had the idea that we can use this to help other cats and animals who don't have homes or are less fortunate," Modugno says. She began selling her artwork, as well as T-shirts and other items that she designed featuring Oreo's image, and donating the proceeds to shelters in Quebec.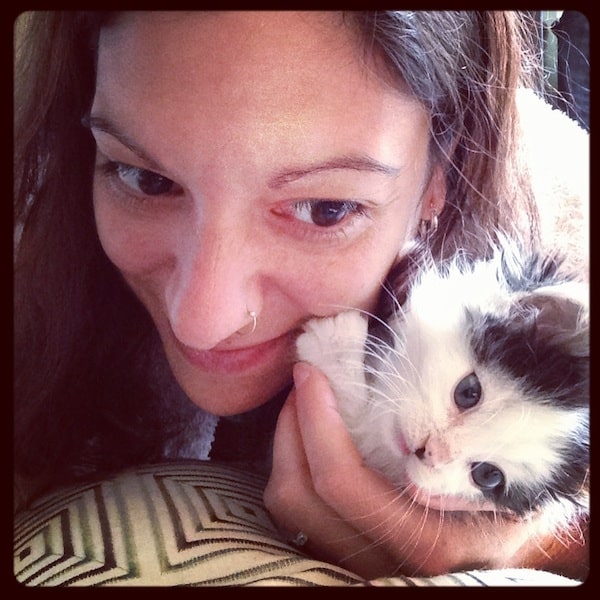 In this way, rescuing tiny Oreo is having a larger, ongoing effect on animal rescue in Quebec ÔÇô- but especially in the lives of Modugno's family.
"I don't think my life would be complete without him," she says. "He's awesome. The best reward is that he's with us, and he's alive, and he's thriving, and I get to wake up and look at his face every day."
Read stories of rescue on Catster: