Let me begin by being perfectly clear: I love my cats to pieces, and adore our snuggly moments and playtime; however, I occasionally need some space. You know how we all have this invisible bubble of personal space around our bodies? The bubble that nose-to-nose talkers and closer-standers sometimes invade? Most people know not to puncture the bubble, but in my experience, cats didn't get that memo.
Here are five ways my cats have boundary issues.
1. Reading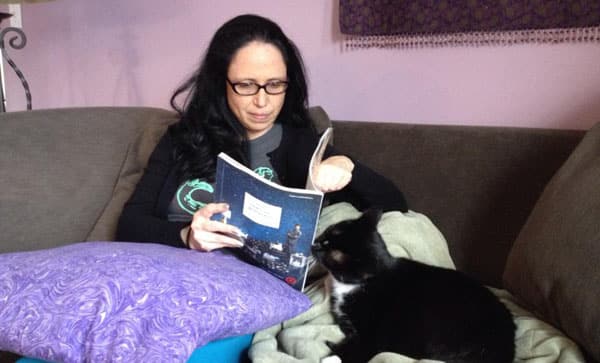 It's not that often I get to curl up with a good book or magazine during the day. When I do, Cosmo considers it an open invitation to join me. I wouldn't mind if he just jumped up and cuddled beside me … but no. First, he must rub his entire face over every inch of my reading material. And drool on it. And chew on it. I continue my attempts at reading, but sometimes the drool and constantly moving book make it impossible.
Personal space bubble: punctured.
---
2. Using the bathroom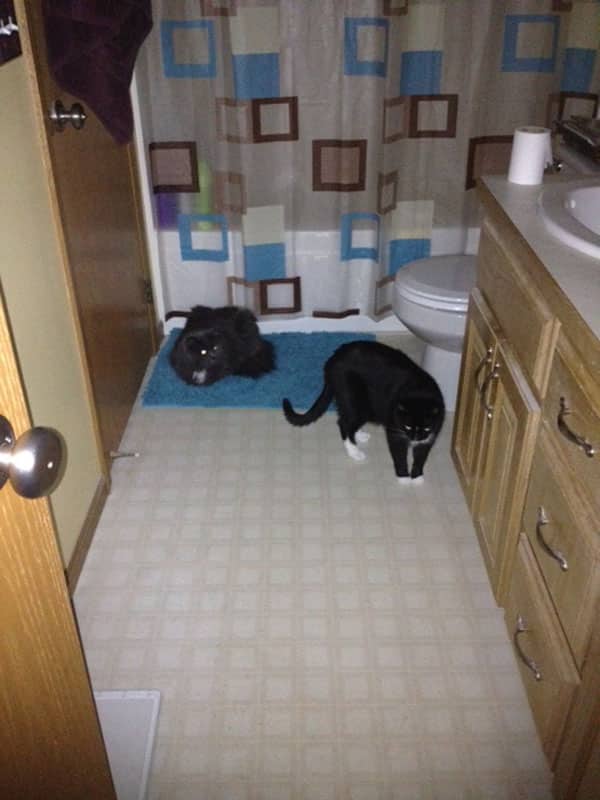 Cats love most everything about the bathroom. Once the magical door is open, they cautiously wander in like they'd just set foot inside Narnia. And how many times have they been inside that particular bathroom? Hundreds, at least. Still, they sniff around and take in all the exotic wonder of the fantastical facilities. What makes the bathroom even more alluring? My presence. I cannot remember the last time I used the toilet, took a shower or brushed my teeth sans cat.
Personal space bubble: punctured.
---
3. Sleeping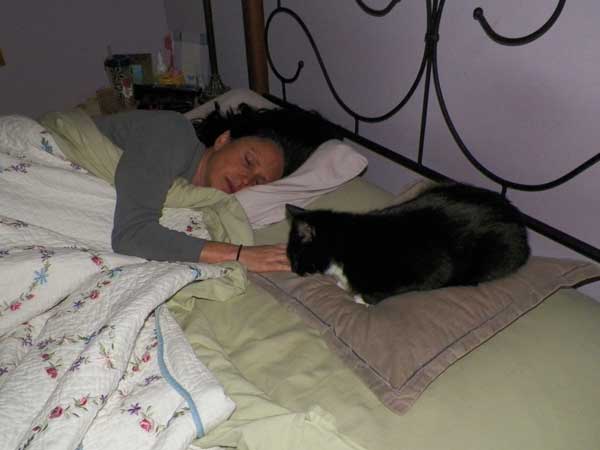 The night begins comfortably enough. I peacefully enter dreamland within the comfort of my personal space bubble, and there may be a cat or two sleeping somewhere else on the bed. Then, sometime during the night, I awaken to a cat either walking across my body or burrowing under the covers to press himself against me. I am a warm sleeper, so this usually doesn't fly. And who wants to jerk from a peaceful slumber to pointy little kitty feet tromping across their breasts and bladder?
Personal space bubble: punctured.
---
4. Eating and drinking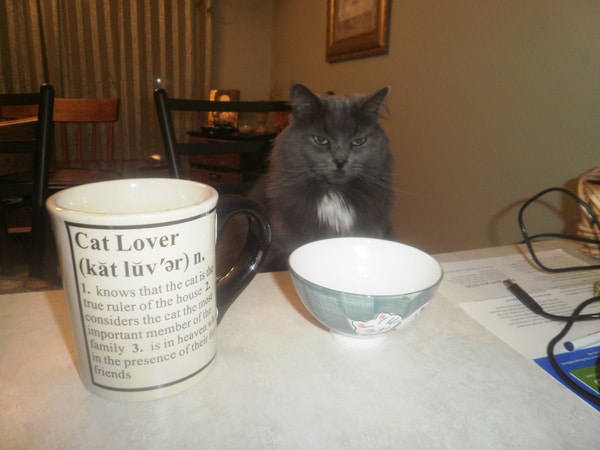 If I'm eating or drinking something, and the cats are nearby, they immediately becomes interested in what I'm doing. They don't care about me, mind you — their curiosity lies in what's inside the bowl or cup in front of me. I sometimes eat at my desk, and Phoebe's nosy butt is on the scene immediately. Excuse me!
Personal space bubble: punctured.
---
5. Working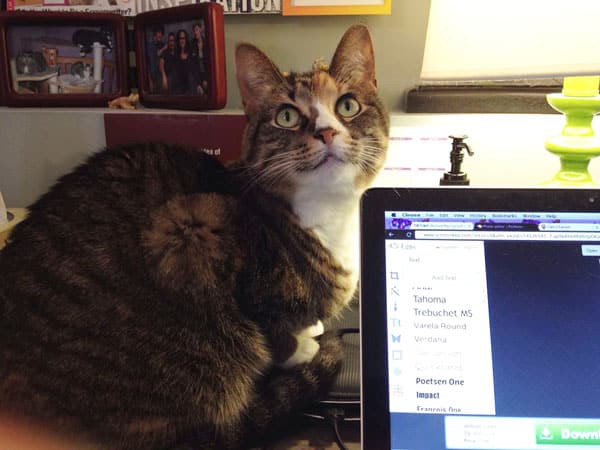 Again with Phoebe and my desk, or as she likes to refer to it, our desk. Even though I have a basket for her at one corner of the desk, she casually walks across the length of the desktop a few times every hour. Sometimes she'll stop and sit on top of the printer, willing paper to shoot into the tray. Then she'll perch behind my computer and shift between staring at me and knocking knickknacks off the shelf. If I need a particular document, it'll probably under her fuzzy butt. Worst cubicle-mate ever.
Laugh with us:
Read more by Angie Bailey: