Do you have a cat who's difficult at the vet? And what if you have trouble even getting your cat to the vet in the first place? I get it — my rescue tabby, Gabby, is usually lovable and lazy but becomes a stealth monster when we try to get him in his carrier, poops and pees in the car on the way to the vet and yowls like an undead zombie once we get into the exam room.
Even though our whole family (that includes Gabby, his kitty sister, my husband and me) dreads vet visits, I know that checkups are important. So, here's an unsettling fact: a recent Royal Canin survey found that while 92 percent of cat owners agree that their cat's health is a priority, only 41 percent take their cat to the vet for regular checkups. Like I said, I get it — it's not easy to take some cats to the vet. I've cried en route to vet visits in frustration and definitely all-out sobbed in exam rooms when an entire vet staff has been unable to handle Gabby (true story — "But he's not like this at home!!!" I've choked out, both embarrassed by his behavior and feeling like I've betrayed poor Gabby by bringing him to the exam).
I've tried tons of different ways to make vet visits enjoyable (er, tolerable) — with varying degrees of success. Gabby's still not the poster kitty for good vet visits, but they're certainly more manageable and less stressful. Here are a few things that have worked for me, as well as expert advice from Dr. Jane Brunt, CATalyst Council executive director and American Association of Feline Practitioners' past president, on how to get your cat to the vet:
1. How to get your cat to the vet if … your cat hates his carrier: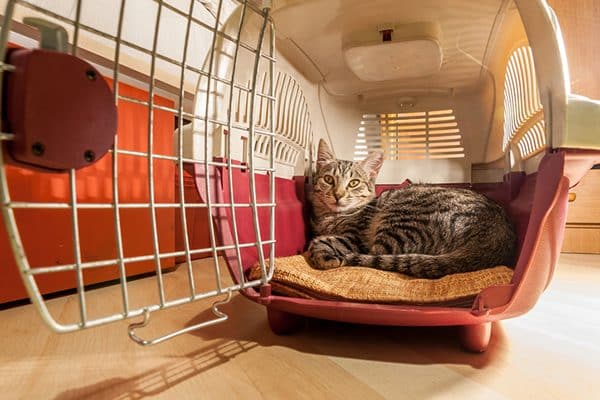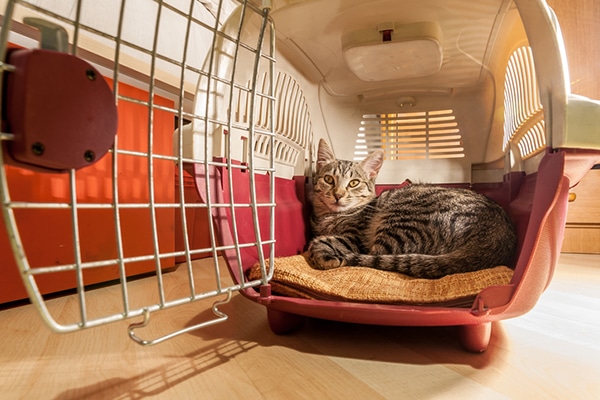 Chances are you probably have at least one cat bed around your house. What I bet you didn't know is that you actually have an extra cat bed. Turn your cat's carrier into a cool sleeping spot/hangout instead of a place of dread and fear!
"Cats do best when they are familiar with people, places and things," Dr. Brunt says. "It makes a big difference when we consider the cat's perspective in new, unfamiliar or unfavorable situations — that helps us realize they're just scared. As both predators and prey (cats are hunters and are hunted), they are responding normally in 'get me outta here' escape mode. Having the cat become familiar with this traveling box (and we all know cats love to explore boxes) by leaving it out with the doors and top open, putting it in a familiar room in a warm, quiet place and even lining it with some clothing worn by their most trusted person, should help decrease the fear factor. Add in frequent praise, rewards with treats and toys and some time, and your cat should feel more comfortable being in the carrier. You can ease into closing the doors for short, then longer periods, without going anywhere at first. If you think your cat associates his current carrier with any situation where he might be scared, get a new one that's been approved by the Center for Pet Safety, and always leave it out and make it appealing!"
As mentioned, Gabby is prone to pooping, peeing and/or throwing up on even the shortest car rides.
"Just as with the carrier, if the cat hasn't had positive experiences riding in the car or doesn't like motion and exhibits physical responses, you might be serenaded with sad yowls or he might even urinate or defecate in the carrier when you're off to the vet," Dr. Brunt says. "Pre-planning with gradual introduction by placing the cat in the carrier in the car, initially without going anywhere, is best. Many cats respond to synthetic facial pheromones sprayed or wiped in the carrier or car in advance of travel to help soothe them. Many cats benefit from medications obtained from your veterinarian to reduce nausea and anxiety."
Other tips that I find handy — lining Gabby's carrier with Wee Wee Pads just in case, traveling in an oversized carrier so he doesn't feel as restricted and keeping the carrier open just enough so that I can pet him (my husband drives, I do the petting!). I also find that if I allow his kitty sister, Merritt, to ride in the same carrier with him, he gets too distracted by her to be truly upset. Other cat parents suggested music specifically made for cats. It didn't work for us but it was an interesting listen — think: jam band from space.
3. How to get your cat to the vet if … your cat hates other pets in the waiting room:
Gabby lives with another cat, and while they don't live in perfect harmony, they certainly get along. But, when we get to the vet and see other cats in their carriers, he turns into a hissing and growling machine.
"Definitely work with your veterinarian at a cat-friendly practice, and call them in advance and when you arrive so they can have an exam room ready for you and your cat to go right into, bypassing the other animals to minimize the arousal they experience in the presence of 'competitors,'" Dr. Brunt advises.
4. How to get your cat to the vet if … your cat had a previously traumatic vet experience: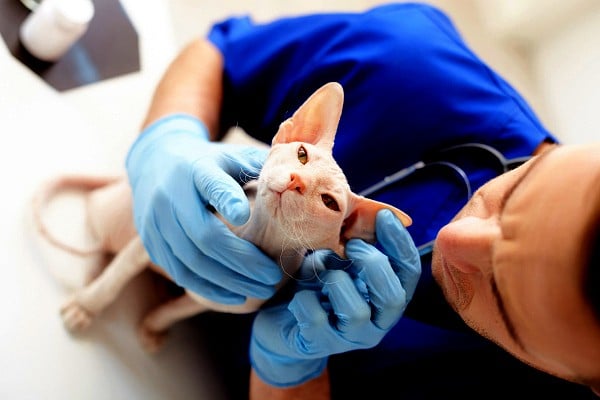 Important note — Gabby used to be totally chill about his carrier, traveling and vet visits. I could even take him on public transportation in New York City and he would hang out in his carrier without as much as a peep (or a poop, for that matter). I'm convinced his vet behavior stems from an experience when he swallowed an Easter basket ribbon and had no choice but to be taken to a small-town vet while I was staying with my parents. He was super uncomfortable and the entire vet staff didn't know how to handle him, which led to trauma on both of our parts and convinced me to research cats-only vets. Now, we take him to Just Cats, a cats-only vet hospital that's familiar with handling kitties of all personality types. They are up to speed with Gabby and his needs and know how to handle him safely and appropriately.
"Make sure your veterinarian is using cat-friendly and low-stress handling techniques, and is knowledgeable about safe anti-anxiety medications (not tranquilizers) and even diet, which can be given in advance of the visit," Dr. Brunt advises. "Some cats benefit greatly by sedation."
5. How to get your cat to the vet if … your cat is unmanageable during the exam itself:
"If even carrier habituation, pretreatment with pheromones and anti-anxiety medications from your veterinarian aren't enough, be kind to your cat and allow the veterinarian to administer sedation or other medications so it's not fearful," Dr. Brunt says. "A cat with arousal and heightened anxiety is causing harm to itself far more than by administering medications to sedate or even anesthetize them. Additionally, those medications can be 'reversed' once the exam or procedure is complete."
After trying a lot of pretreatments and having them fail (picking up a kitty prescription for Prozac was interesting to say the least), we now have Gabby sedated at every vet visit. I admit that it made me a little uncomfortable at first, but it's effective, not too costly at our vet ($20 extra) and very worth it. Remember — if your cat is sedated, make sure that you or someone you trust can monitor him for a few hours following his vet visit. Cats who are sedated are sort of "drunk" and don't have their regular motor functions. Sedated kitties need to be kept in their carriers for a bit and then slowly reintroduced into their surroundings as sedation wears off. Make sure a sedated cat doesn't have access to anywhere or anything where he could accidentally fall — keep him away from any high furniture, cat trees and stairs.
Want more advice on taking your cat to the vet? Here's even more advice on how to get a difficult cat to the vet — calmly >>
Tell us: Do you have a cat who hates the vet? What tips and tricks work for you?
Thumbnail: Photography by pyotr021/Thinkstock.
This piece was originally published in 2017.
Read more about cats and vet visits on Catster.com: