When Lauren von Krusenstiern stopped into the Windham County Humane Society shortly after her family's 15-year-old cat passed away, she was looking for a kitten.
"They didn't have any kittens," she remembers, "but they had just taken in a really sweet pregnant mama cat, Sadie, and asked if I'd be interested in fostering her and her soon-to-be-born kittens. I jumped at the opportunity, and my kids were thrilled when I brought her home."
Sadie gave birth to seven healthy kittens less than a week after Lauren and her family welcomed her into their home. Lauren's son, Magnus, was 4 at the time, and he got to see some of the birth.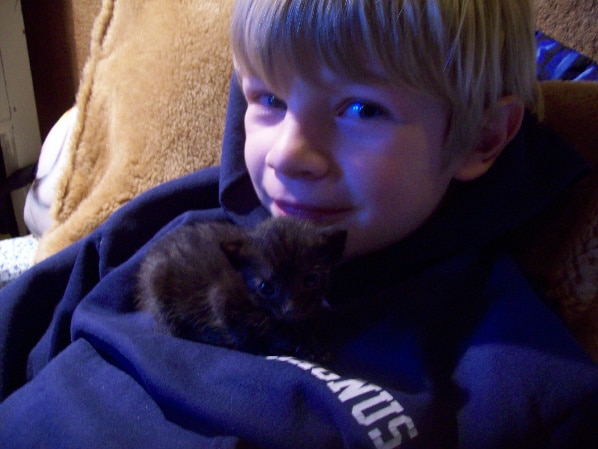 The von Krusenstierns missed their old cat very much, so having new life in their house lifted their spirits.
"I feel that exposure to animals is such a good way to teach young children how to responsibly care for them," Lauren says. "It teaches compassion toward other living beings. Kittens are great teachers!"
Magnus and his sister, Zola, got a firsthand look at how kittens develop and grow (so fast!) and how Sadie cared for them. With all the nursing, cleaning, protecting, and guiding, Sadie was a very busy mama. When it was time to return the family to the Windham County Humane Society for adoption eight weeks later, the von Krusenstierns opted to keep Sadie, who they figured would be the toughest to adopt out. They also chose to adopt her smallest kitten, PeeWee.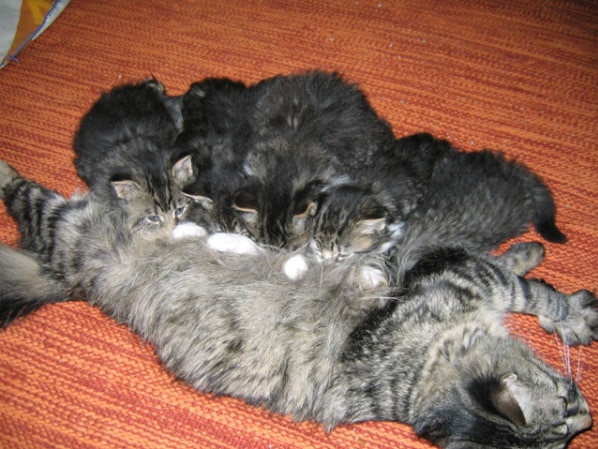 But fostering hasn't always been kind to the von Krusenstierns. Last May, they were contacted by the Humane Society about a pregnant cat who was in urgent need of a foster home. There was an upper respiratory infection going around the shelter, an affliction that can be fatal to kittens. The mother got the infection and passed it to some of her kittens. In kittens, upper respiratory infections result in mucus-filled noses and throats, which hampers their ability to breathe while nursing.
The von Krusenstierns tenderly cleaned the kittens' noses and fed them with droppers, and a cat specialist from the Humane Society came to their house twice a day to administer injections of antibiotics and fluid. Unfortunately, two of the kittens didn't make it, but one, Peanut, survived. She grew a great big belly from the formula and loved it when the kids fed her. As her health got better, she eventually even went back to nursing from her mama.
"We were all very sad about the loss of the two kittens," Lauren recalls. "Then a funny thing happened. We got a call from the shelter, telling us that a kitten — about the same age as Peanut — was found on someone's lawn. They needed a surrogate mother. They brought her over and she looked EXACTLY like one of the family, black with little white markings. The mama rejected her at first, but then accepted her as her own. It was a very sweet chapter to a sad story."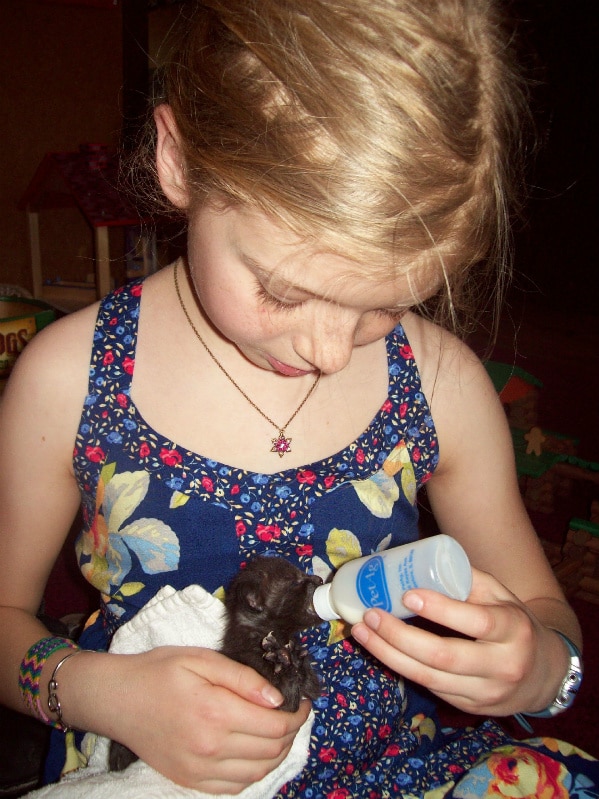 As I'm sure you can imagine, Lauren was worried a bit about her children getting attached to the kittens, especially when she found herself getting attached to them, too. "Even when the kids were young, they knew that fostering the families meant that the cats and kittens would only be staying with us for a short while," Lauren explains. "Knowing that they will go back to the shelter to get adopted by other families helps them say goodbye when the time comes. The kids realize that they are providing a really great situation for these kittens, and they feel fortunate to be the ones to socialize them."
The kittens also grow at an alarming rate, quickly pushing the seams of the private room they occupy in the von Krusenstiern home. "A private room is very important, so the cat families are protected and feel safe from other animals and people in the house," Lauren advises. "We have learned that while kittens are cute and fun, they also require a lot of work."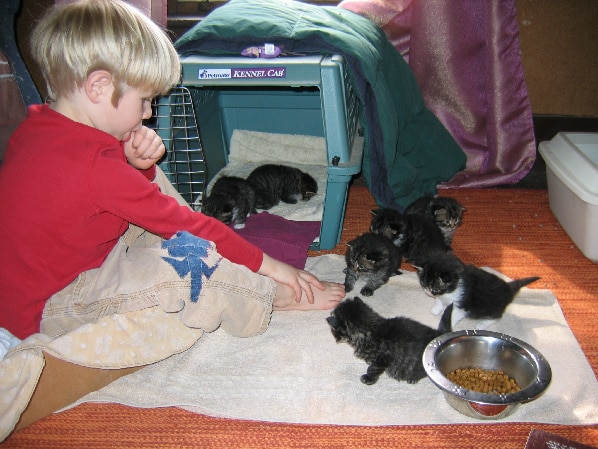 According to Keri Roberts, animal care manager of the Windham County Humane Society, it's extremely important to foster cats before they give birth, because the longer the cat is in the shelter the more likely she is to contract an illness, such as an upper respiratory infection, that can be fatal to the kittens. "Animals in a shelter are under constant stress and stress reduces their ability to fight off viruses," Keri explains.
Between April and November, the Humane Society sees its biggest need for foster homes. Even the Windham County group, which is in a small Vermont town, sees 10 to 15 pregnant cats between these months. "The foster parent is allowed their choice of a kitten for no charge, and once the kitten is spayed or neutered, the foster parent can officially adopt the pet," says Keri. "We provide any supplies the foster parent needs, as well as medication, parasite treatment, vaccines, and vet care."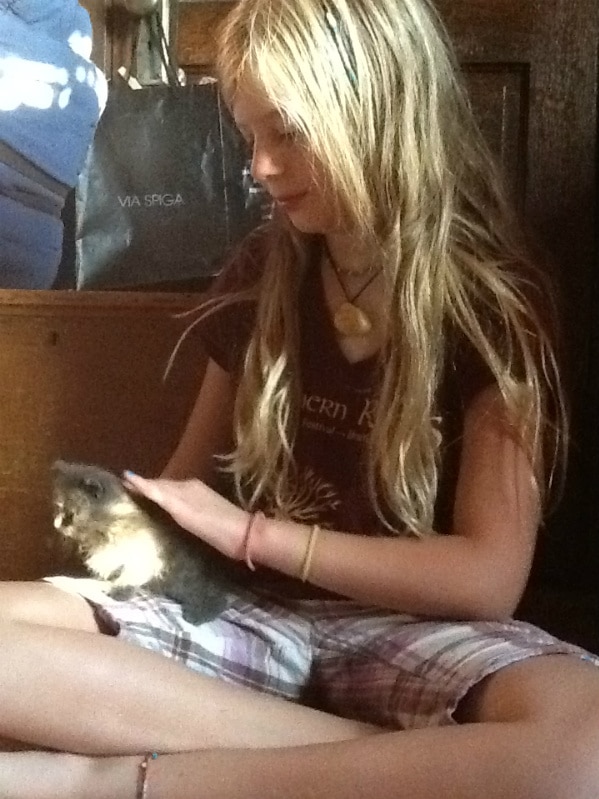 Though the von Krusenstierns have taken a bit of a break from fostering recently to help settle some new permanent animals into their home, Lauren says they'd foster again in a second. "Kitten therapy really works! When you are feeling rotten, just lay on the floor surrounded by a room full of kittens. Within minutes your rotten mood will lift and you will be filled with joy and little squishy soft paws on your cheeks."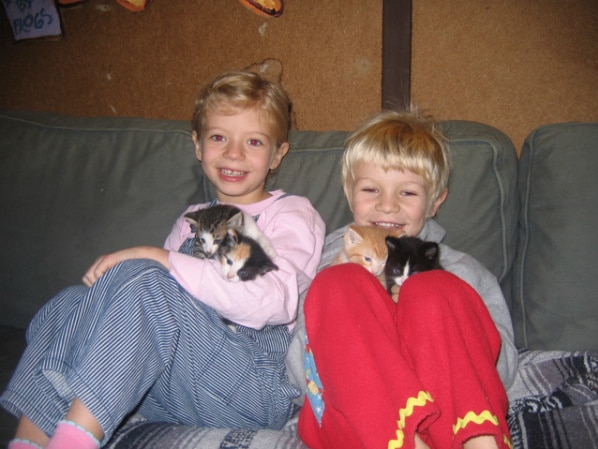 To learn more about fostering opportunities in your area, contact your local Humane Society.
Do you know of a rescue hero ÔÇö cat, human, or group ÔÇö we should profile on Catster? Write us at [email protected].