Have you ever thought about traveling with cats? Good for you! You're an enlightened cat owner. Second question: Are you nuts?!
I asked my cat, Stella, if she was up for a weekend getaway: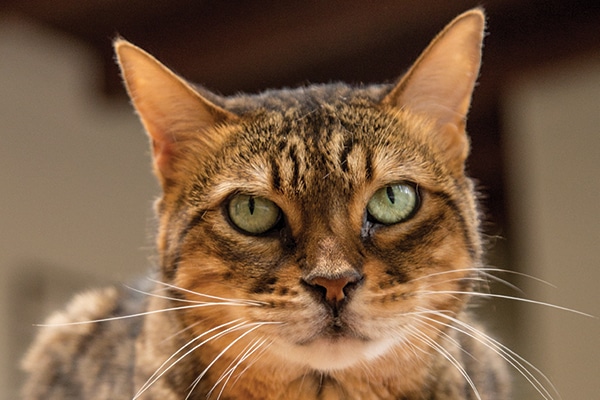 Stella, I've got some news. I'm going on vacation for a few days, and I was wondering if you'd like to —
Oh no! That's horrible! Did you kill someone?
What? No.
Are gangsters looking for you?
Of course not.
Has a jilted lover finally tracked you down?
Stella, I'm leaving the house because I want to, not because I have to.
That's insane.
That's a vacation.
Are you sure you're not running from the feds?
C'mon, Stella. Haven't you ever wanted to take a trip somewhere?
Nothing good has ever happened to me when I've left the house.
That's not true. Remember when the vet solved your skin issue?
That was a very bad time.
And she cut your nails?
The clippers haunt my dreams
This will be different, Stella.
Convince me. What do people do on a vacation?
For starters, you stay in a hotel.
Sounds like jail.
It's not jail. It's seeing new sights, eating new food.
Like in jail.
Meeting new people.
Jail.
Picture it, Stella: You and me, in a pet-friendly hotel along the coast with —
Hah!
What?
You think I want to be surrounded by iguanas and porcupines and who knows what people consider pets these days?
There will be a handful of dogs, max. Leashed.
I do like seeing leashed dogs. Warms the heart. Put that on top of the itinerary.
Should be a great trip.
Tell me more about vacations. Do you kill squirrels?
No. Mostly you relax.
I see. More than I do now?
I don't see how that's possible.
Pack the couch, and you'll find out. Also the dresser in your bedroom that gets the morning sun.
I'll bring a blanket.
PACK THE COUCH.
I'll pack one cushion.
You said something about room service?
I said nothing about room service.
How about entertainment? I hear Criss Angel at the Luxor is fabulous. I'm also feeling Britney at Planet Hollywood, in a nostalgic way — you know, to relive my kittenhood.
Er, we're going to Carlsbad, not Las Vegas. I think the lounge has a happy hour.   "
You're kidding.
Uncle Willy's Motor Lodge.
Are you sure you're not hiding from the mob?
We'll finally get to watch all the premium channels!
I'll be vacationing on top of the refrigerator this year, thanks.
Thumbnail: Photography by Gina Cioli/Lumina Media.
Read more about traveling with cats on Catster.com:
Eleven-year-old Stella, a Bengal, has a firm grip on her handler, freelance writer Michael Leaverton, whom she rescued from an alt weekly many meals ago. They live in San Diego.