Aside from the odd sweater vest or surgery shave, cats don't have a lot of chances to mix things up in the style department. I asked my cat, Stella, if she's ever lusted after different kinds of cat coats.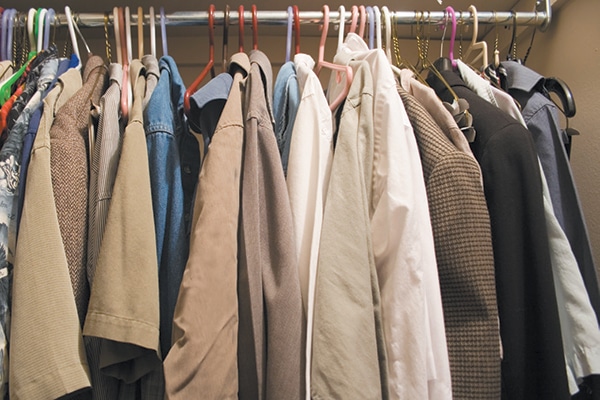 Hey Stella, let's talk fashion. What coat would you like if you didn't have your Bengal coat?
Hmm, that's a tough one. I'll say bear, with streaks of blood from the latest moose slaying.
A bear is not a cat.
Of course bears are cats. They act just like me.
Entirely different species.
OK, how about a rhinoceros?
Again, not a cat.
Come on! I look just like a rhino! I have horns! I kill alligators!
Felis catus, Stella. You know, Siamese, American Shorthair, Persian —
You mean rats?
What?
You're listing rats.
I'm listing cats.
A Bengal is a cat. A blue-point Siamese is a … I don't even know.
So that's a hard no on the Siamese coat. Got it.
And don't get me started on the Persian. How that thing survived in the jungles of Asia I'll never know. Luckily it never had to.
Let's get back to coats. Any colors or styles you particularly like?
You mean more than my own perfectly formed rosettes set in a lush landscape of auburn and russet banding?
Your rosettes aren't perfectly formed.
My rosettes are flawless!!
Maybe one or two, but a breed standard you are not.
Shall I critique your ears again?
What about a Burmese? All sleek and smoky. Or a debonair Russian Blue?
How about one of those kitties with the folding ears? That would be useful.
A Scottish Fold? Can I ask why?
Have you heard yourself sing?
Let's try hairstyle. Long or short — or perhaps curly, like a Selkirk Rex?
Huh. A cat with a perm. Think I could pull that off?
It's all in the attitude.
I'd be like a cross between a rhino and '90s Justin Timberlake.
You'd be nothing of the sort.
The mail carrier would freak! Get the curlers.
Settle down. Actually, I think I have the perfect look for you.
What? Hungover Ragdoll? Pompous British Shorthair? Hippie Maine Coon?
It's much more suited to your personality.
Intimidating, commanding, forceful?
Deranged, scheming, delusional.
I think you misunderstand my personality. Would I at least look scary?
When you get woken from a nap, terrifying.
I'm listening.
Hairless.
WOW. Just imagine! The mail carrier would literally throw the mail at our house. Your mother would never visit.
I think Sphynx are sort of cute.
Cute? I'd look like a bald rhino!
I think it's time we looked in a mirror, Stella.  
Thumbnail: Photography courtesy Michael Leverton. 
Eleven-year-old Stella, a Bengal, has a firm grip on her handler, freelance writer Michael Leaverton, whom she rescued from an alt weekly many meals ago. They live in San Diego.
Editor's note: Have you seen the new Catster print magazine in stores? Or in the waiting area of your vet's office? Click here to subscribe to Catster and get the bimonthly magazine delivered to your home. 
Read more about cat coats on Catster.com: