If you love a tiny but mighty feline, get ready to fall in love with the sassy Singapura! Known for her energy and loyalty, she's also the smallest domestic cat in the feline world.
1. Let's talk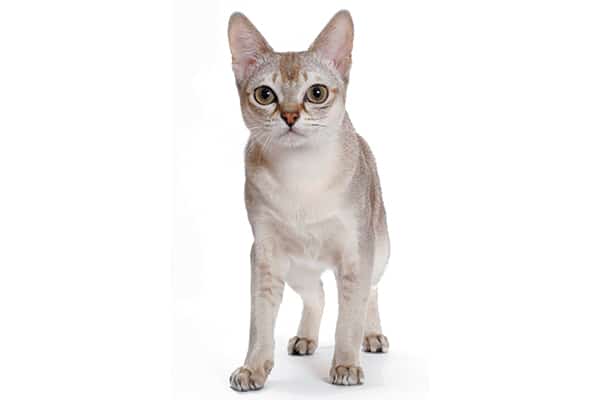 With a name like the Singapura, she's probably a regular Chatty Cathy, right? Actually, no. She may have a larger-than-life name, but this fun-size feline is actually known for being quiet as a mouse!
2. The name game
We suspect that it comes from her homeland: Singapore. The Singapura originates from a street cat found in Singapore who made her way to the United States where she was bred and labeled the Singapura.
3. Good things come in small packages
The Singapura was named the smallest domestic cat worldwide by the Guinness Book of World Records. Males tip the scales at 6 to 8 pounds, while females rarely weigh more than 4 to 6 pounds.
4. Who's the boss?
The Singapura loves to play supervisor to her humans, and counts computer keyboards, pens and other countertop paraphernalia as her personal playthings. And she's definitely not opposed to fighting for her rights. Simply put: If she doesn't want to do it, she won't. It's that behavior that plays perfectly with her bossy 'tude.
5. A study in sepia
The Singapura comes in one coat color and one coat color only: sepia (dark brown). It's her eyes that come in a range of hues — from hazel to copper and celadon green to gold.
6. Love and loyalty
In some circles the Singapura is nicknamed the "Velcro cat" due to her intense tendency to stick by the side of her chosen person (or people). On a scale of one to 10, the Singapura's level of loyalty is through the roof. A 100-percent extrovert, the Singapura has no qualms about following you here, there and everywhere, all for the sake of scoring mass quantities of attention.
7. Home alone
Everyone loves a companion, but the Singapura thrives on one (or more). She does best in a household where other pets reside so she has someone to hang with while you're out raking in the bucks. That said, she won't wreck your residence while you're out and about. She's just not that into that type of behavior.
8 No wild child
Comparable to the Energizer Bunny? Yes. Frisky and curious? Most definitely. A destroyer of everything in her path? Not at all. The Singapura may be known for her theatrical performances to keep all eyes on her, but her calm,
cool and collected nature make her a low-key living companion.
9. The floor is lava!
If there's one place the Singapura isn't a huge fan of, it's the floor. Though miniscule in size, the Singapura is a powerhouse when it comes to leaping, lunging and overall flying from shelf to shelf. And if she's not on the move, she'll simply perch (sometimes on your shoulder) from a location that allows her to watch your every move. She's in charge, after all.
10. Energy personified
While some breeds slow down after the kittenhood stage, the Singapura remains every bit as active and playful as she ages, proving that some truly are forever young!
11. All in the family
Small children, dogs, other cats, strangers … the Singapura is down to befriend them all. In fact, she cherishes her people so much that sometimes she's got a bit of a bad reputation as being a pest — especially in the mornings. Why the morning? That's about the time she'll take it upon herself to paw your face to wake you up for work. Better than the blaring sound of an alarm clock though, right?
Plus, A Fun Singapura Fact
Not only was the Singapura once the national mascot of the Singapore Tourism Board, in 1991, Singapore's government dubbed the Singapura a national living treasure.
Thumbnail: Photography ©krissiLundgren | Thinkstock.
Erika Sorocco has been writing about cats for 12 years. She currently shares her home with two finicky felines (Minky and Gypsy), one crazy pup (Jake), and not enough closet space. Find her online chatting about beauty, fashion, and furbabies at Cat Eyes & Skinny Jeans.
Editor's note: Have you seen the new Catster print magazine in stores? Or in the waiting area of your vet's office? Click here to subscribe to Catster and get the bimonthly magazine delivered to your home. 
Read more about cat breeds on Catster.com: