Keeping a cat can force you to get creative if your funds are already stretched — but adding a cat makes the situation even more interesting. On the one hand — increased expenses. On the other hand — a cat gets a home. There are so many cats in need. Perhaps it's a stray who's been hanging around your place, wanting to come in for the winter and settle into a home. Perhaps a particular cat at the shelter where you volunteer has worked his way into your heart and you want to adopt. I've run into this situation many times in my life.
How do you adopt another a cat when your budget is tight already? What's more worth it — saving cat care costs or giving a cat a chance at a good life in your home? I know that sounds like a loaded question. But maybe both are possible.
Some of this really requires thinking outside the box. I wrote about ideas for economizing on cat care costs earlier. Here are some more thoughts along those lines.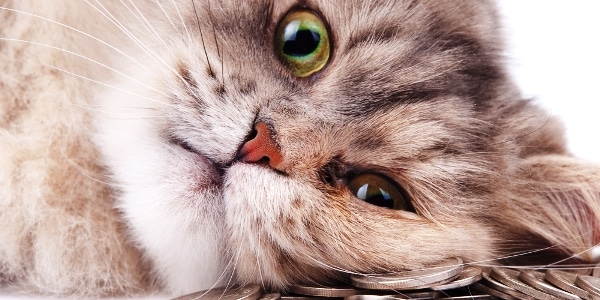 1. Do the basics
I covered some of this in the article mentioned above — try to have a cash emergency fund, don't free feed, examine other spending carefully, and look for good but low-cost cat care if needed (such as low cost spay/neuter services).
2. Avoid letting cats get overweight
If you really need to watch your money carefully to have a multi-cat household, then it goes without saying that if your cats are overweight, you may be letting some money slip down the drain. Or maybe your cat is wearing that money around his belly. Of course, don't starve your cats, but try to get them to a good maintenance weight.
Lots of play and stimulation will help here, especially if your cats are indoors. I have this situation in my house — my cats stay inside, but our house is small. If not exercised, the cats tend to lie around a bit. Three of my kitties could lose a little weight. Part of the problem, also, is that my partner (who is an awesome cat guy) tends to feel sorry for them and overfeed them. So, I'm working on this. It can be a bit of a challenge if you have a cat with a real metabolic problem — I had a friend with a cat who couldn't seem to lose weight. But usually, it seems that they can take it off pretty fast — faster than some of us humans! Exercise also seems to make my kitties happier overall.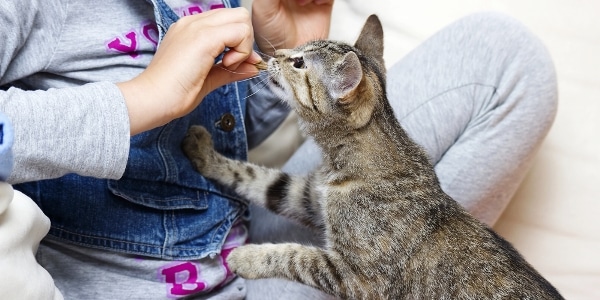 3. Co-adopt or share the love
Have you fallen in love with that stray or that adoptee at the shelter, but are hesitating because of added costs? Do you have a friend who can help out? Maybe your best friend loves cats but can't have any in her apartment. Maybe your friend has a mild cat allergy. Or maybe you are at your max for cats in your household, but could afford to pitch in on the money and help for a friend to adopt a cat.
Could you co-own the cat? One person provides the housing; one person chips in on food and/or vet expenses. Both people benefit from kitty love. You and your friend work out the arrangements to suit you and the kitty. We've done this with a relative and helped out financially a few times so that her ill cat could afford to get crucial care. It can be as informal as this, or more of a real co-owning arrangement.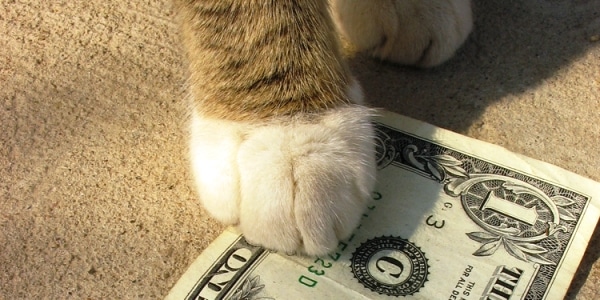 4. Make your cat a star!
I never thought about this until my husband pointed it out, but my cat Milo (now deceased) actually earned a bit of money. He was the star of a little print book I once produced (called the Orange Cat Club; currently available on Kindle until I figure out how to afford to reproduce it in print) and he has shown up in other books I've had published (or that will be published next year). It all helps, even though I write about cats simply because I love to write about cats.
Do you have a cat-related passion that you could turn into income? Could you blog, produce art, sell special cat toys or otherwise share your love of cats with the world? I promise you, it won't even feel like work. And every bit of income helps the cat care finances.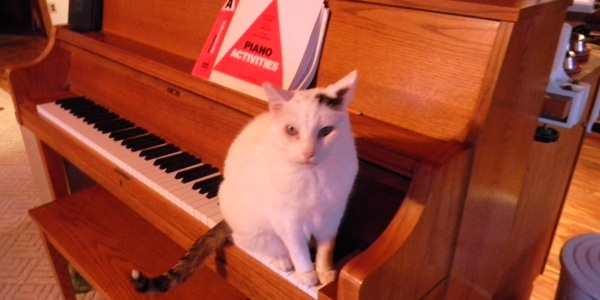 I'd love to hear your ideas. How have you managed to afford to add a cat if funds are stretched? Share your thoughts and comments!
Read more about money and cats:
About Catherine Holm: Told that she is funny but doesn't know it, accused of being an unintentional con artist by her husband, quiet, with frequent unannounced bursts into dancing liveliness, Cat Holm loves writing about, working for, and living with cats. She is the author of the cat-themed memoir Driving with Cats: Ours for a Short Time, the creator of Ann Catanzaro cat fantasy story gift books, and the author of a short story collection about people and place. She loves to dance, be outside whenever possible, read, play with cats, make music, do and teach yoga, and write. Cat lives in the woods, which she loves as much as really dark chocolate, and gets regular inspiration shots along with her double espresso shots from the city.