The Oreo Cat is a handsome, black-and-white fella who loves telling jokes, eating "bacons," and giving his mom a hilariously hard time, mostly regarding when she's going to cook him dinner already. A sample from Oreo's Facebook page:
Mom: Hey Oreo! How's all that paperwork looking?

Oreo: I've looked over it all, mom, and there's a couple of things I need you to fix.

Mom: Oh really? Like what?

Oreo: Well first I need you to fix me dinners, and then I need you to fix me dessert.
Then there's Atchoum, a hella hairy Persian with piercing amber eyes that can see directly to the center of your soul. The reason he's so furry? He has hypertrichosis, a disorder that causes abnormal hair growth, making Atchoum look like a tiny Ewok.
The two kitties are both from Quebec, so it seemed natural that they should meet — and when they did, something amazing happened. Oreo's mom, Tina Modugno, is a children's illustrator who has already published one book about Oreo called Bacons and Other Stuff. It features jokes, poems, stories, and illustrations by Modugno, and a portion of the proceeds went to the Paw Project, a California nonprofit group dedicated to stopping big and domestic cats from being declawed.
Atchoum, meanwhile, became an Internet sensation in January when his mom, Nathalie Côté, began posting photos of her unusual kitty on Facebook and Instagram. Atchoum's name is French for "sneezy," and the title suits the cat: "I chose the name because when you sneeze hard it messes up hair, like Atchoum's," Côté told Catster earlier this year.
It's safe to say Oreo and Atchoum are the two most famous kitties in Quebec — and they plan to use their celebrity for good. After their fortuitous meeting, Oreo and Atchoum are the main characters in a children's book that's in the works. According to Modugno, the story will tackle the difficult subject of bullying, a challenge millions of kids face every day.
"The book is basically the story of the two kittens on their first day of school," Modugno says. "Atchoum gets made fun of by the other kittens because he looks different. After [they make] him cry, Oreo talks to the other kittens in the classroom and explains that everyone is different."
Modugno has the story written and is ironing out publication details. She shared an excerpt from the book with Catster:
The bus stopped just then and the doors opened wide.
"Come on boys!" the driver said, "Climb up inside!"
Everyone was sitting in rows of two by two.
"Look Atchoum!" said Oreo, "There's a seat for me and for you!"
As they sat down they heard gasps and then laughter;
The boys looked around wondering what was the matter.
"You look like a dog!" said an orange tabby, pointing at Atchoum.
"If my mother were here, she'd shoo you out with a broom."
"You look like a wolf" said a cat with fur all white. 
"Do you howl at the moon in the middle of the night?"
They all began to laugh, except Atchoum and his best friend;
"Don't listen to them Atchoum," said Oreo. 
"We can make believe it's just us here. I know it's hard but just pretend."
The moral of the story, of course, is that we are all different in our own way — whether we love bacon to the point of daily distraction like Oreo or we have a little extra fuzz on our faces like Atchoum.
While Modugno and Côté work on the book, they hope to spread the word about their project and get creative input from fans. But more than anything, they hope their story helps spread a positive message. If all goes according to plan, Oreo and Atchoum will star in a series of books focused on teaching kids valuable life lessons, complete with visits to schools and a chance for kids to write and share their own stories.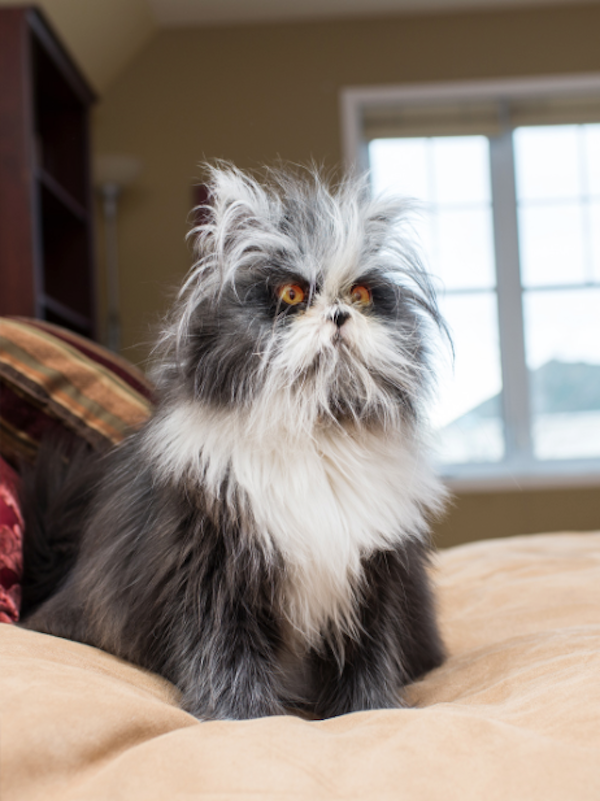 "Both of us are very excited to be working together," Modugno says. "Our hope is that this team effort will help young children to learn about bullying and how much it hurts."
About Angela: This not-crazy-at-all cat lady loves to lint-roll her favorite dress and go out dancing. She also frequents the gym, the vegan coffee joint, and the warm patch of sunlight on the living room floor. She enjoys a good cat rescue story about kindness and decency overcoming the odds, and she's an enthusiastic recipient of headbutts and purrs from her two cats, Bubba Lee Kinsey and Phoenix.