Konnichiwa! I moved to Japan.
Yokohama, to be exact. It's only been two months since we left Hawai'i, but Japan life seems to suit us. Brandy the Cat is especially fond of her Japanese pad.
Within an hour of stepping into her new apartment, she claimed her window seat, had christened her new litter box, and was demanding one of the bajillion cans of cat food I brought for her from the U.S.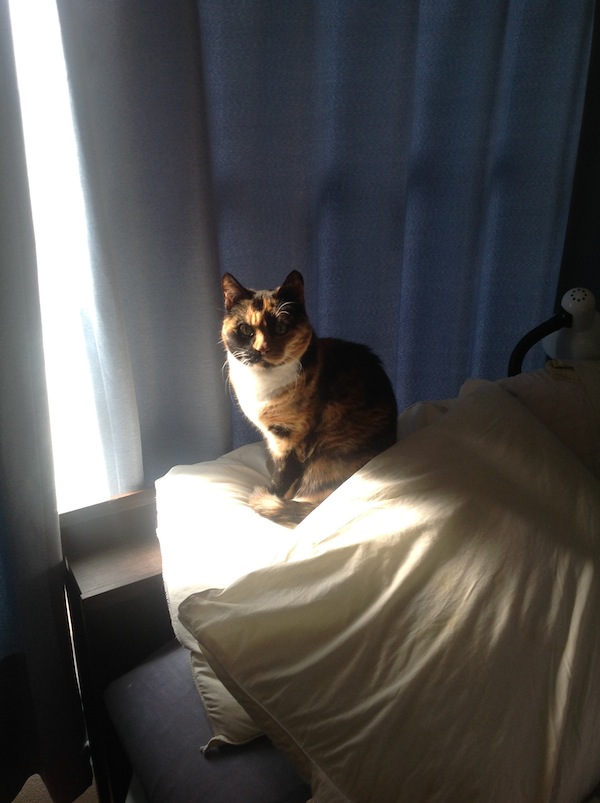 Some of you may remember the crisis I was going through on whether or not to move to Japan with my husband or stay in the States with my cat. Well, turns out it was possible to have my cat and pet it, too (mostly).
Here's how it went down for me.
The Decision
I decided to move to Japan in May of this year. This decision was not made lightly, as my primary worry was for my senior kitty Brandy. Some of you may be asking at this point: What about your sweet black kitty, Tailsy? Oh, Tailsy. I miss her so much.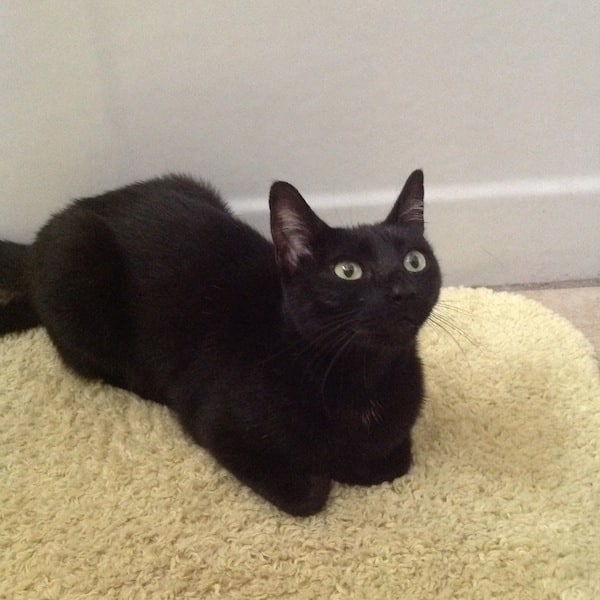 Tailsy could not come to Japan. Due to her lack of medical records before me, and the fact that she had numerous medical issues while with me, her vet could not recommend her for travel. However, in retrospect, it was the best FOR HER. Despite her youth, Tailsy's health is more fragile than Brandy's. She has a happy new home, with a sunny courtyard (her favorite), and lots of adoring humans.
When I said goodbye to her, she chirped, blinked, and scuttled on her way. (Wipes away tears)
The Details — and all the paperwork!
We immediately started working with our vet, the Department of Agriculture in Japan and Hawai'i, and quarantine in Japan. The Animal Quarantine Services (AQS) website offers fairly understandable guidelines on bringing a cat into Japan.
Fortunately going from Hawai'i to Japan is a shorter process because Hawai'i — like Japan, Guam, the Fiji Islands, Australia, Iceland and New Zealand — is a rabies-free zone. Living "in the zone" for two years made Brandy's export and paperwork much simpler.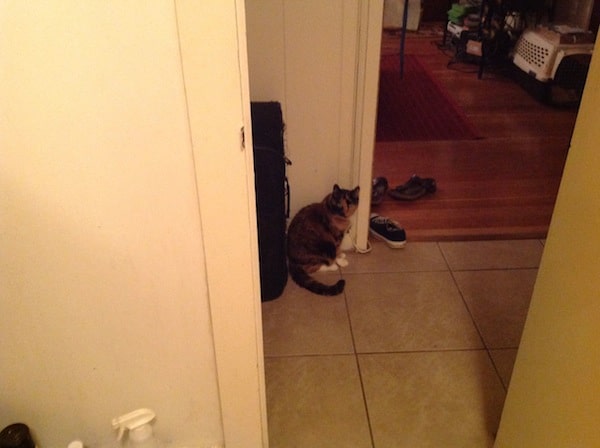 Our biggest concern was quarantine. Brandy is a senior cat who, while in good health, needs several medications to maintain that good health. Quarantine was not an option.
But it is possible to avoid. We downloaded the Advance Notification form and worked with our vet to fill it out. The form needed to be submitted to AQS in Japan at least 40 days prior to our arrival. This form allows your cat to be quarantined for less than 12 hours.
If all is in order, it's immediate release. When we got to Japan, we went to pet cargo, picked Brandy up, an official checked her over, filled out more agriculture forms, and were free to go. The whole process took about two hours.
So, we filled out the Advance Notification form and submitted it to AQS ahead of schedule, just in case there were any issues. An important detail my vet mentioned was to be consistent on all your cat's paperwork. There can be absolutely no variations in spelling or description of your cat's name, age, color, — ANYTHING — otherwise AQS can say the paperwork doesn't match up and send your cat back home, EVEN IF THEY ARE ALREADY IN THE DESTINATION COUNTRY.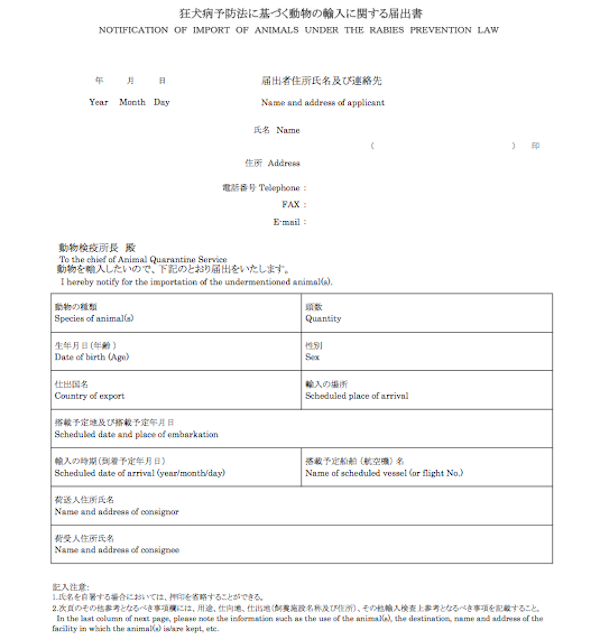 Our wonderful vet triple-checked all of Brandy's froms. She even personally contact people at AQS in both Japan and Hawai'i to make sure she was correct. (Shout out to King Street Pet Hospital!)
After Brandy was granted permission to enter Japan with Advanced Notification, we turned our focus to actually flying her there. This is what shortened my life.
We found only one airline, United Airlines' PetSafe program, that would fly Brandy in a pressurized, temperature-controlled hold. Try as we might, we could not find a way to get her into the cabin with us.
She flew and arrived safely, but some misinformation from the airline was troubling. United Airlines claimed that AQS in Hawai'i and Japan did not allow cats to fly in the cabin with their owners. What was frustrating was that when we contacted AQS in Hawai'i and AQS in Japan, both services said that cats in cabin were no problem. Turns out, United just didn't want cats in their cabins because "it bothered people." It was not a legal issue. HULK SMASH.
We also had to make sure Brandy's carrier was the correct size, was secure, and had front access through a metal gate. TIP: Go in person to the airline ticketing counter BEFORE your travel day to clarify the check-in schedule and approve your cat carrier.
Amidst all this airline hokey-pokey, we found Brandy a vet in Yokohama. Our Hawai'i vet actually helped us find him and made sure he carried the exact compound she was used to for one of her medications. He even speaks English!
I worked closely with our Hawai'i vet to determine Brandy's "health game plan" in Japan — what tests should be run, what levels need to be checked, and what to bring to her new vet's attention in her medical records (request a printout!).
The last major step before leaving was obtaining Brandy's health certificate from our vet, then getting it checked and certified by a separate USDA vet at the Department of Agriculture in Honolulu. This had to be done no more than 10 days before Brandy's arrival in Japan.
The USDA vet looked over all of Brandy's paperwork, scowled at me, and authorized Brandy's health certificate. She was officially ready to go.
Travel Day
At this point we had a mountain of paperwork for Brandy. Tip #2: Keep everything with you, in hard copy. You will have to present the following documents upon pick-up of your cat (may be different depending on country):
Health Certificate
Approval of Advance Notification, with the approval number
Approval from Animal Quarantine Services
I also devoted my carry-on bag to Brandy with:
10 days worth of her food
All her medication
The biggest Ziploc bag I could find full of her cat litter
Her food/water dishes
A couple packets of The Honest Kitchen Pro Bloom probiotic goat milk for her tummy
Her favorite toys
Microchip information (not all microchips are universal, write down the number and type)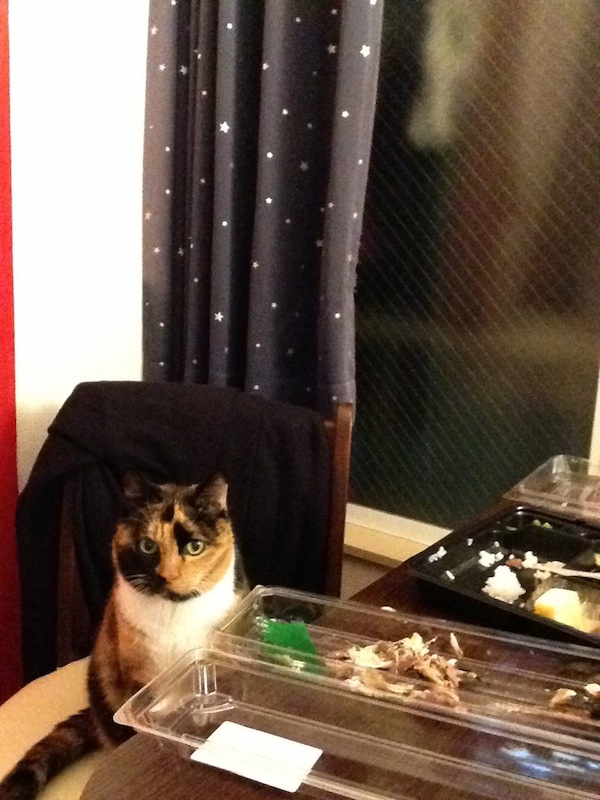 Brandy's carrier was packed with pee pads as required by the airline, and a few T-shirts my husband and I had worn to make her a nest in her carrier. I also taped a baggie of her favorite treats to her carrier — it was nice to have for her when we were reunited.
Upon checking in with United Airlines in Honolulu, we had to bring a confirmation letter from the airline confirming that Brandy was scheduled to be on our flight i.e. her plane ticket. They looked at all her paperwork, taped her identification info to her carrier, I kissed her little nose, and off she went.
So that's my jet-setting cat story. Brandy was understandably scared and confused, but after getting settled, I haven't seen her this content in months. I think she felt the stress of the move.
If you're planning on traveling outside the U.S. with your cat, I hope this helps. It's not the easiest process and requires tons of preparation, but in the end crossing every "t" and dotting every godforsaken "i" is worth it for a happy, healthy kitty.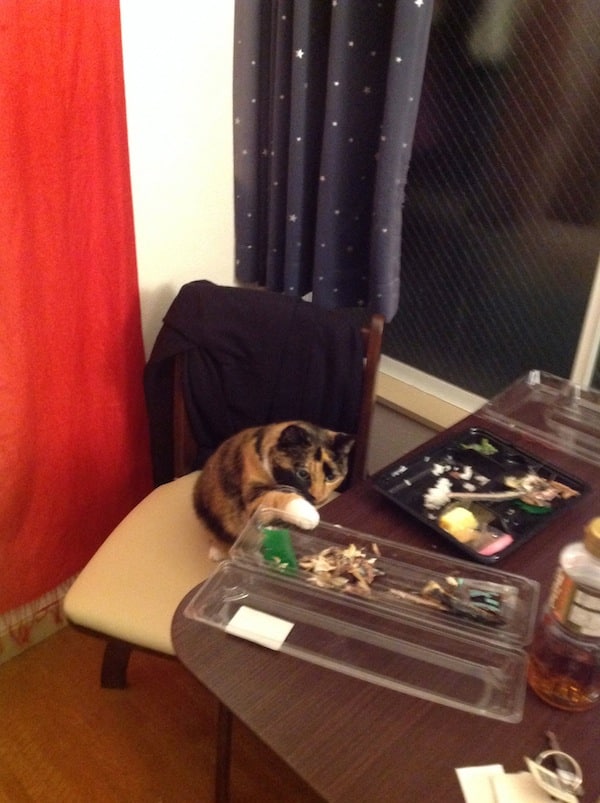 Have you ever moved your cat out of the country? What was your experience? Any tips? Tell us!
Read related stories on Catster:
Learn more about your cat with Catster: