I'm a happily married, middle-aged woman. My husband and I have been together for 27 years. He's an amazing guy and I wouldn't trade him for the world.
And yet … I'm totally in love with Jackson Galaxy from My Cat from Hell.
Okay, maybe "totally in love" is too strong. It's more of a "super fan girl" kind of love, a celebrity crush. A groupie kind of love, not a leave-my-husband-and-follow-Jackson-around-the-country kind of love. No. Definitely not that kind of love.
But I can't deny that from the first time I tuned in, I fell hard for this big, burly, tattooed softie. I've watched every episode and whenever I see that shot of him driving along in his vintage convertible, his bald head gleaming in the sunshine, my heart skips a beat.
Here's why:
1. He's good with people
It goes without saying that he's good with cats. But what's more impressive is how great is with people.
Case in point: On a recent episode, Jackson was working with a couple whose cats didn't get along. The boyfriend was a macho sort of dude. And he thought it was awesome that (in his eyes anyway), he had a macho sort of cat. He didn't see a problem with his cat terrorizing and beating down his girlfriend's cat. In fact, he kind of liked it. And it wasn't much of a stretch to see that this was some sort of weird allegory for his relationship with his girlfriend. The guy was infuriating and I kinda sorta wanted Jackson to punch him.
Jackson didn't. 'Cause he's cool like that. And possibly a better person than I am.
Instead, he calmly helped the couple identify things they needed to work on with their cats and, in a roundabout way, with each other.
The next time Jackson visited, the couple had broken up. (Hallelujah!) The boyfriend assured Jackson that he was perfect, his cat was perfect and they didn't need any help. Jackson then turned his attention to the girlfriend and her kitty. They'd obviously been traumatized by the situation they had just left. But with Jackson's gentle guidance, they began to rebuild their confidence and their lives, and they both blossomed.
Seriously, how can you not love a guy who's capable of something like that?
Swoon.
2. He uses words like "catio," "catification," and "cat mojo"
Some might say that I'm a little, um, "over involved" in the health and happiness of my pets. But even people like me need to be reminded how intelligent our cats are, how small their worlds are, and how they rely on us to make their lives fulfilling and stimulating.
Once I got hooked on My Cat from Hell, I began changing (catifying) our home. We now have more levels and pathways for the cats to explore. There's a cat bed above the cabinets in our kitchen and a perch on a windowsill in our den. Although we have the perfect place for a cat patio (catio), we're not very handy people. So instead I bought a cat tent to allow them to safely experience the outdoors.
If they could, I'm sure our cats would thank Jackson. He helped me better tune in to their cat mojo, and all our lives are undoubtedly better because of it.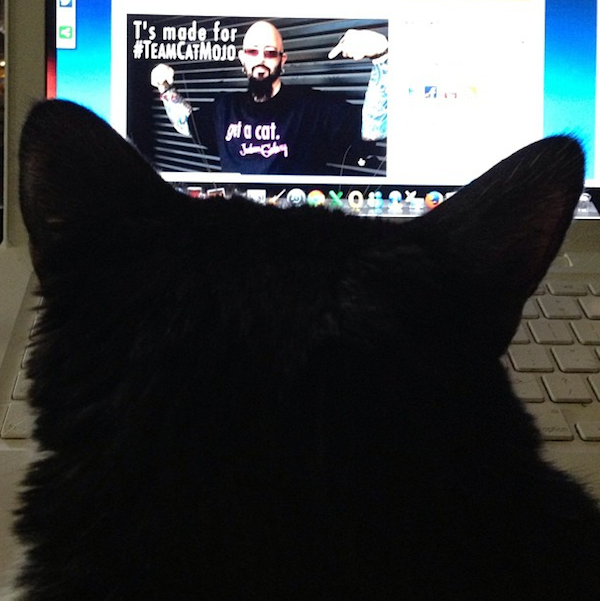 3. He breaks stereotypes
In our society, for whatever bizarre reason, a "real man" gets a dog. They sure as heck don't adopt cats. And because of this totally random stereotype, many men find it difficult to admit that they're crazy about cats, especially to other men.
Enter Jackson Galaxy, who no one would ever accuse of not being a "real man." Even if he wasn't on TV, he would be changing perceptions. But how great is it that he does have this platform to set an example for boys everywhere? By Jackson just being Jackson, he's showing them that it's cool to love cats. It's cool to be gentle with them and take care of them. It's cool to play with them. (He carries around a freaking guitar case filled with toys, for crying out loud.) It's even cool to have a cat tattoo (or 12). Because of him, I wouldn't be surprised if more cats eventually found loving homes with young men.
At the same time, he's breaking stereotypes about cats themselves. It's no secret that even though cats are the most popular pet in America, they're not valued in the same way dogs are. They don't receive the same level of health care, and cat owners are less likely to try to find them when they go missing. Part of this is due to the stereotype that cats are aloof and untrainable and therefore disposable. By showing his viewers that cats are loving and intelligent, Jackson is elevating the status of felines and making them more valuable members of families and society.
4. He loves what he does
If you read his book Cat Daddy (which I did, twice), you know that Jackson wasn't born wanting to be a cat behaviorist (because, really, who is?). He had other dreams and plans that mainly involved being a hard-living rock star. He took a long, winding, sometimes dangerous road to get where he is today. Along the way, he questioned the path and struggled against it at times. But finally he found the strength (and the cat) that allowed him to let go and trust the direction life was leading him. And thank goodness he did. Because in doing so, he's changed so many other lives for the better.
It's obvious how much joy he finds in his work. How genuinely happy he is about the victories, large or small. How thrilled he is to witness relationships rebuilt and reborn. How much he truly loves being able to keep a family together. In one episode, while dealing with a difficult situation involving a dog and a cat, there was a huge breakthrough, which meant the cat wasn't going to be another statistic in a shelter. Jackson pumped his fists in the air, grinned from ear-to-ear and teared up. Then I teared up. And that's when I knew I would love him forever.
He may not have become the type of rock star he thought he was going to be. But he is most definitely a rock star.
5. He's hot
So, yeah, this has got nothing to do with cats. Dude's super hot. Rock-star hot. Just sayin'.
Your turn: Do you watch My Cat from Hell? What do you enjoy most about it?
About the Author: Amber Carlton is owned by two cats and two dogs (all rescues), and is affectionately (?) known as the crazy pet lady amongst her friends and family. She and her husband (the crazy pet man) live in colorful Colorado where they enjoy hiking, biking and camping. Amber owns Comma Hound Copywriting and also acts as typist and assistant for Mayzie's Dog Blog. She encourages other crazy pet people to connect with her on Twitter and Facebook.
Read more about Jackson Galaxy: