Sometimes, on rainy, dreary November mornings, the Internet gives us little gifts that make the day easier. For me, these gifts are almost always in the form of cats, usually cats with mustaches; I tend to see that part coming.
But I was shocked and amazed by the new trend of cats wearing tights, much the same way I would have been shocked and amazed upon finding $25 on the bathroom floor at my favorite bar. It is exactly as awesome as it sounds.
Unless otherwise indicated, all photos are from Meowtfit of the Day, home of Gucci, the original cat in tights. You can also catch Meowtfit of the Day on Facebook.
Seriously, the first person to do this was a genius. Now, stop staring out the window at the season's first snow flurries and check out these 10 extremely fashionable cats. You'll be glad you did. (Photo from Cats Wearing Tights.)
This is Gucci the cat. She wears Converse way better than I do.
Someone had a long day. Yeah, I've been there.
I always take my pants off before I recline on the couch, but hey, to each her own.
This handsome devil is Patterson. You should follow him on Facebook.
Sitting like a lady is overrated.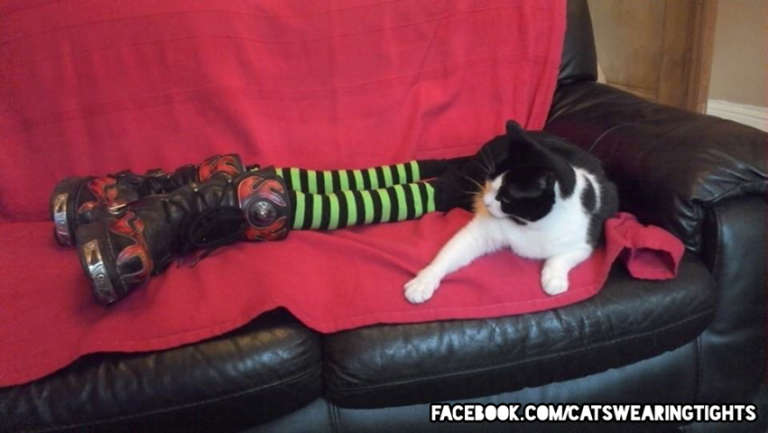 This is perhaps a weird thing to admit, but I'm jealous of this cat's tights. Photo from Cats Wearing Tights.
There are few things that can't be helped by a lime-green tutu.
If the lime-green tutu doesn't do it, you can always add beer. Photo from Cats Wearing Tights.
I'm pretty sure I have that skirt. Not kidding.
About Angela: This not-crazy-at-all cat lady loves to lint-roll her favorite dress and go out dancing. She also frequents the gym, the vegan coffee joint, and the warm patch of sunlight on the living room floor. She enjoys a good cat rescue story about kindness and decency overcoming the odds, and she's an enthusiastic recipient of headbutts and purrs from her two cats, Bubba Lee Kinsey and Phoenix.
More by Angela Lutz: