It's the decision every pet parent dreads: When is it the right time to say goodbye? That minute period between too soon and needless agony? Recently, I had to make this decision for Nixie, my Heart Kitty.
Almost 18 years ago, I first laid eyes on Nixie at a country garage sale. The little beige kitten tilted her head up at me, pleading for help with ice blue eyes.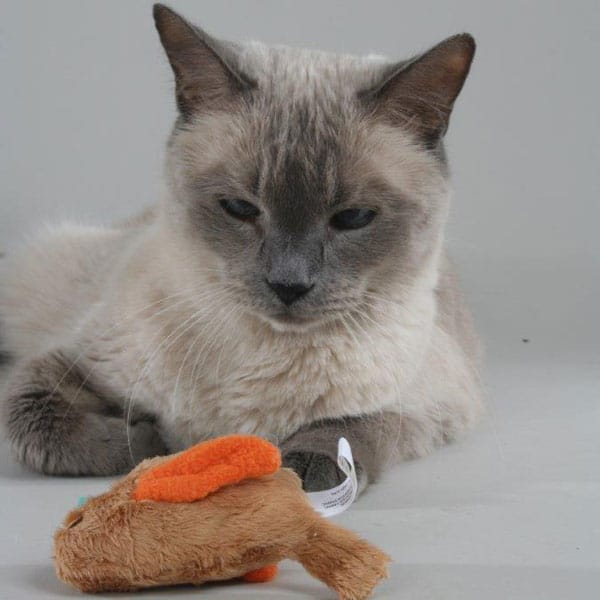 About four weeks old, she was so small she could almost stand in my hand. She appeared moth-mauled, with nickel-size patches of fur missing from her forehead, neck, and shoulder. Her hip joints protruded; she had no flesh, only skin loosely enveloping a tiny, frail skeleton, the way a saggy cloth purse conceals its contents. Her front paw, not much bigger than a pencil eraser, had four bulging abscesses. She had a bodacious case of worms and diarrhea, the evidence of which coated her hind legs. Out in the 103-degree heat, she likely wouldn't have survived the day.
The sickly kitten wasn't for sale because the homeowner needed barn cats, but I convinced the woman Nixie would die without expensive veterinary care. For $11, she sold me the kitten and a bag of tomatoes.
At the vet's office, the kitten got "the works." They gave her subcutaneous fluids, purged her ears of mites, cleaned the puss from her wounds, gave her a ringworm bath, and wormed her. By the end of the traumatic morning, that $11 kitten ran up a $120 vet bill. You know what they say, "There ain't no free lunch." There ain't no $11 kittens, either.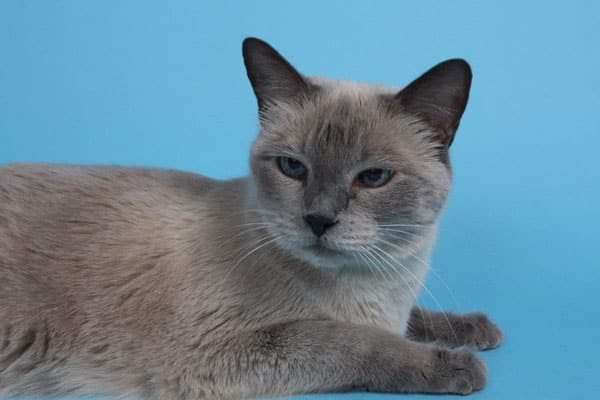 Nixie was an ugly duckling. That homely, starving Siamese-mix grew into a stunning blue mink Tonkinese. Nixie was a diva, from the end of her tail to the tips of her ears. She loved to model for my husband, Weems. You may have seen her photos on product packaging and in brochures, the Tufts University newsletter Catnip, and in even several magazines. Whenever she noticed that my husband had set up the studio and lights, she'd jump up on the platform and strike a pose. She took it very personally when other cats would try to upstage her.
Nixie was more than a pretty face. We spooned every night. She traveled with me to conferences and to visit family. She was my nurse. I survived a month-long headache with Nixie laying on my chest, purring. Weems had to physically take her out of the room to make her eat and use the box. After her break, Nurse Nixie would stand by the door waiting for him to let her in, then she'd dutifully return to my side in the darkened room.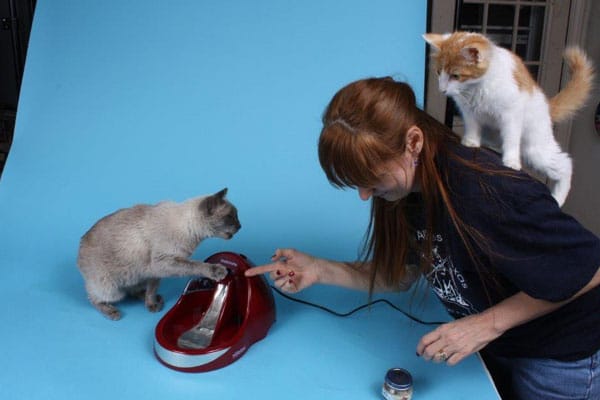 A month before her 18th birthday, Nixie lost her hardy appetite, dropped weight, and grew lethargic. A blood test showed she had developed pancreatitis, an insidious, painful inflammation of the pancreas. The diagnosis wasn't necessarily a death sentence. She had beat it before. This time Nixie had some preexisting issues: kidney disease and a heart murmur.
Nixie had an excellent vet in Cynthia Rigoni, a longtime friend and owner of All Cats Veterinary Clinic in Houston, who had considerable experience with feline pancreatitis and had guided me through Nixie's first bout of the disease.
Treatment for pancreatitis is complicated. Throughout the day, Nixie suffered through subcutaneous fluids, Onsior for pain, Mirtazapine to increase her appetite, Cerenia for nausea, antibiotics, Denamarin tablets, weekly B12 injections to give her a boost, and force-feeding five to six times a day. Every hour it seemed I was sticking something down her mouth or under her skin.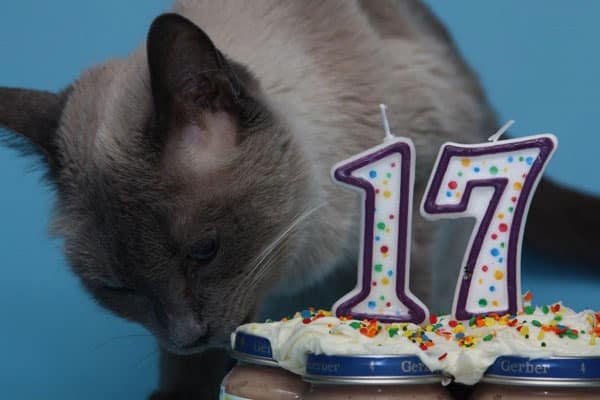 At first Nixie was game. The pain relief temporarily turned her around. She began eating, a little. She continued to sleep beside me. Then after a couple of weeks, the life seemed to drain from her eyes. She stopped eating again and began avoiding me. (Who could blame her?)
Vets have always told me it's time to say goodbye when the pet stops eating. But after fostering so many kitties, I know that assumption is flawed. What if a cat is nauseated, as often happens with pancreatitis, or congested? Those symptoms can be addressed with medication. I no longer had my black-and-white guide. I truly felt lost.
Help for when you have to make that tough decision
Cindy said, "When she no longer responds to you. When there's no joy." There was no question; Nixie no longer enjoyed my company. But was that because I was the one poking her endlessly or because she truly had no joy in her life? Cindy also warned me to watch for fluid collecting in her abdomen, a symptom of heart failure.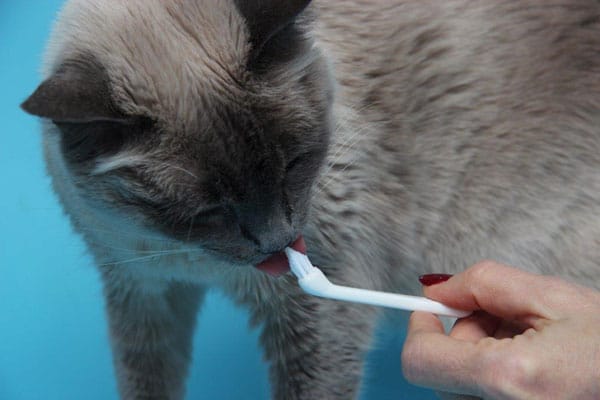 Last year I had the honor of interviewing Dr. Robin Downing, the founder of the Downing Center for Animal Pain Management. She shared with me the Quality of Life Scale (PDF), written by veterinary oncologist and Pawspice pioneer Alice Villalobos. Using Dr. Villalobos' scale, cat parents can take seven criteria (hurt, hunger, hydration, hygiene, happiness, mobility, and more good days than bad), then rate them one to 10. A score greater than 35 indicates an acceptable quality of life.
I dug down deep. I had to get this right. Although I wanted Nixie to live forever, I couldn't be selfish. I owed it to her to spare her pain, but I also didn't want to say goodbye too soon.
Nixie's score was 36, only one above the threshold. The next morning I realized that fluid had begun to collect in Nixie's belly, as Dr. Cindy warned. Nixie's heart was failing; she would not recover. And I could no longer hydrate her with fluids to keep her comfortable. The score had dropped below the acceptable 35.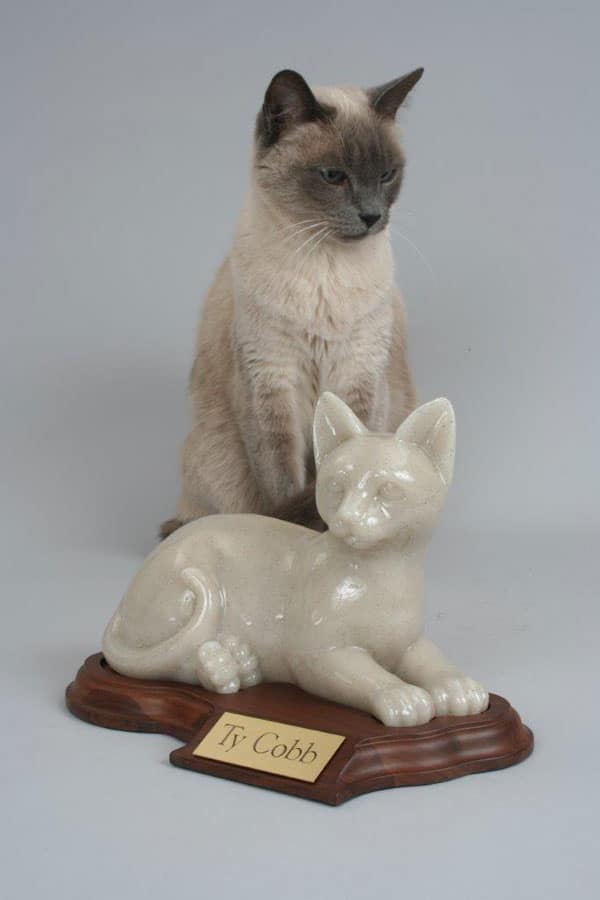 I read the score over and over, looking for an escape. Nixie's enormous soul had outlived her body. That morning I made the most difficult phone call of my life, her final vet appointment.
Weems and I stayed with her until the end. Dr. Cassie Epstein, Nixie's local small-animal vet, gave her a sedative. We held her and told her how much we loved her. When she was asleep, Dr. E gave her the shot that released her. I thought I, too, would die. And yet, I felt relief. I would not have to see the look of dread on her face when I approached her. She no longer hurt.
At home, everything reminded me of Nixie. The feeding syringes on the pet food shelf, the box of medications, the bag of Lactated Ringer's fluid hanging in my bathroom. My internal clock was still programmed to provide round-the-clock care. Nixie's passing left an enormous hole, not only in my heart and soul, but in my schedule.
It's been six weeks since we said goodbye to my Heart Kitty. Each day gets a little easier. Will I ever love another kitty as deeply as I do Nixie? I don't know. But I am so grateful that I found her that day 18 years ago, and I'm also relieved I had the Quality of Life Scale to know when to make the compassionate decision.
When Nixie came into my life, I made an unwritten promise to protect her from harm and pain. Years ago, she spent a month relieving my pain; when her life became too uncomfortable to endure, I returned the favor. I love you Nixie. Wait for me at the Bridge. I'll be along.
Have you ever questioned whether it was time to help your kitty to the Bridge? Have you ever used the Quality of Life Scale? Tell us what you went through in the comments.
Read related stories on Catster:
Read stories of rescue and love on Catster:
About the author: Dusty Rainbolt ACCBC is the vice president of the Cat Writers' Association, editor-in-chief of AdoptAShelter.com and a member of the International Association of Animal Behavior Consultants. She's the award-winning author of eight fiction and non-fiction books including her most recent paranormal mystery, Death Under the Crescent Moon.