Cats can get into all kinds of trouble even in the safety of your own home. They can get tangled in the cords of curtains and blinds, they can chew on electric wires, and they can even bring down entire trays full of drying dishes — in fact, my own cat, Kissy (aka Graceless Kelley) did just that this weekend. But with their desire to seek out small, dark spots, they can get into potentially fatal trouble. Here are five hazards for indoor cats.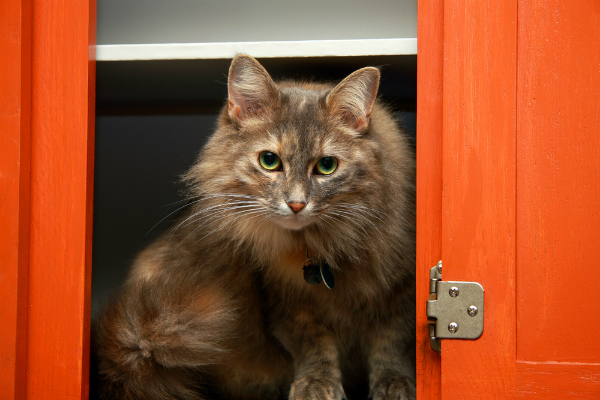 Top 5 Dangerous Places Where Indoor Cats Can Get Stuck
1. The washing machine and dryer
If you have laundry equipment in your house, it's a prime target for curious cats looking for a snug spot for a nap. Because front-loading washing machines need to be kept open in order to avoid mold growth, this is a particular hazard. In order to keep your kitty safe, check inside your washing machine and dryer before throwing clothes in and starting a load of laundry. If possible, keep the door to your laundry room closed.
---
2. The oven
If you leave your oven open even a crack after you've finished baking your favorite meal, food-motivated cats will probably find a way to sneak inside, risking burns and even entrapment in search of a tasty morsel.
---
3. The refrigerator
It's astonishingly easy for a cat to sneak past you and hop in the fridge while you're putting food on the counter. If the seal on your fridge door is dirty or worn, a cat could find a way to open that door and hop inside — and once the door closes, he may not be able to open it again.
---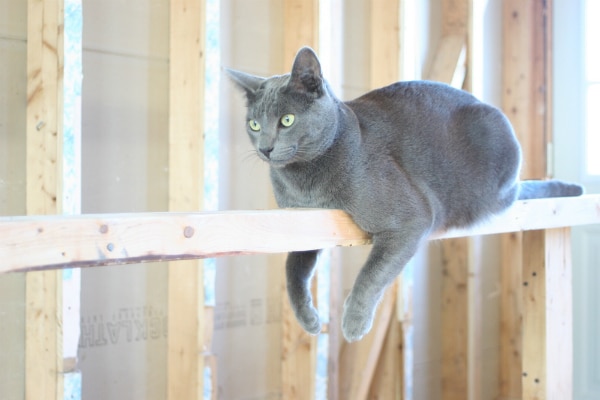 ---
4. The cleaning-equipment cabinet
Like small children, cats just have to get into everything, and the stuff you use to clean your house is just as poisonous to cats as it is to kids. To prevent toxic tragedy, consider installing childproof latches on your cabinets that contain cleaning products and other hazardous materials.
---
5. Unfinished construction
If you're remodeling your home, be sure your cat can't get into the work area. I've known more than one cat that crawled behind wall board or into exposed roof rafters and curled up in a nice soft bed of insulation, only to find that they had been trapped once the renovations were finished.
If your cat goes missing indoors, look in any of these enclosed locations first. Then move on to closets and bureaus, and behind and under furniture.
Have your cats ever gotten themselves stuck in strange places inside your home? Please share your story in the comments.
---
Feature Image Credit: Pixel-Shot, Shutterstock