When I left off my cross-country travelogue last week, the cats and I had stopped for the night in the lovely town of Brooklyn Park, Minnesota. The cats were really getting the hang of traveling — or so I thought.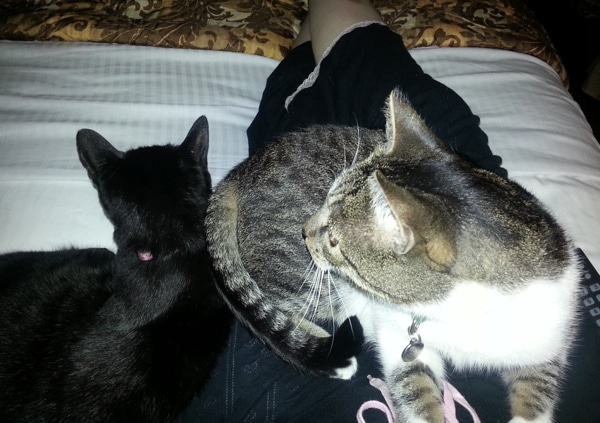 Thomas and Siouxsie settled down in my lap for some deniable snuggling while I watched more HGTV, and Bella cavorted around the room to make up for all the playtime she'd missed while we were on the road. And the next morning, we set off.
Day 4: Brooklyn Park, Minnesota, to Bismarck, North Dakota
Once again, the day started easily. Yes, I had to coax Thomas out from under the bed, but he went without too much complaint. Once we got on the road, though, Siouxsie would. Not. Stop. Yowling. But this time I'd had enough. "For the love of God, shut UP!" I finally exclaimed after 45 minutes of Siouxsie's chorus of despair. Of course, that didn't do a thing.
Eventually she got tired of complaining. She curled up and went to sleep, only to wake up and howl for brief periods every hour or so.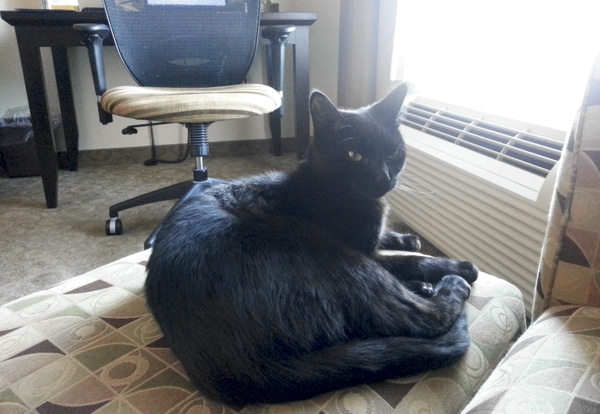 Once we got to the La Quinta in Bismarck, I quickly understood why it was the most expensive one on my route. This place was elegant! Beautiful. Brand new. Clean. It even had a swimming pool. "OMG, this hotel room is probably bigger than my apartment in Seattle!" I posted on Facebook.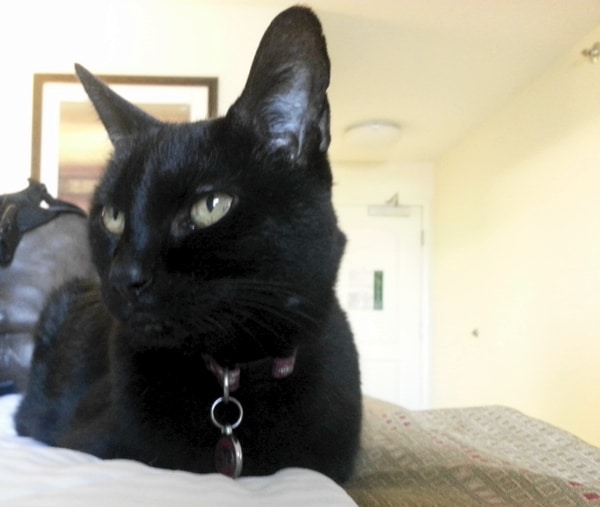 The cats loved the place as much as I did. The next morning it was a bit difficult to get the gang into their carriers. They wanted to stay another night, too. But eventually I got them secured and went downstairs to get the luggage cart.
When I returned two minutes later, I saw Bella's head sticking out of her carrier. "Belladonna Moonshadow Kelley!" I said. "You get back in there!"
But then I realized something was wrong.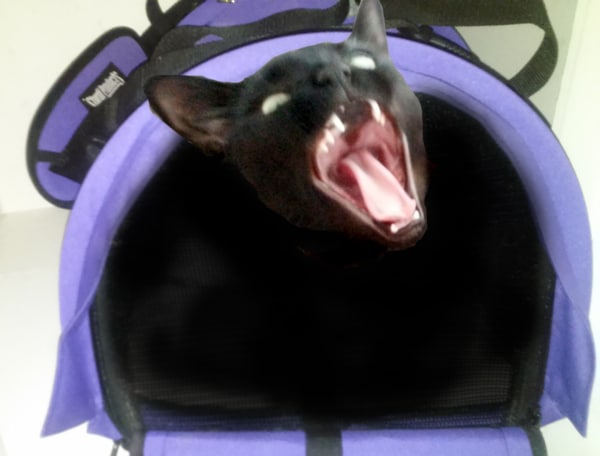 I leaned down to check out the situation. Bella's eyes were bugging out of her head, her third eyelids were showing, and she was gasping for breath. She'd tried to escape from her carrier, but because I'd clipped the two zippers on the mesh door together, she was only able to get her head through — sort of. I quickly released the clasp and Bella ducked back inside.
Thankfully she was all right. I wasn't. I was pretty shaken up by the whole thing. But we got under way and I hoped that was all the drama I'd endure.
Day 5: Bismarck, North Dakota, to Columbus, Montana
Once again, Siouxsie's griping provided the soundtrack for our day on the road. But I didn't mind because I was distracted by what I saw stretching in front of me.
After hours of driving through the rolling hills of North Dakota's farm country ÔǪ Suddenly! Badlands!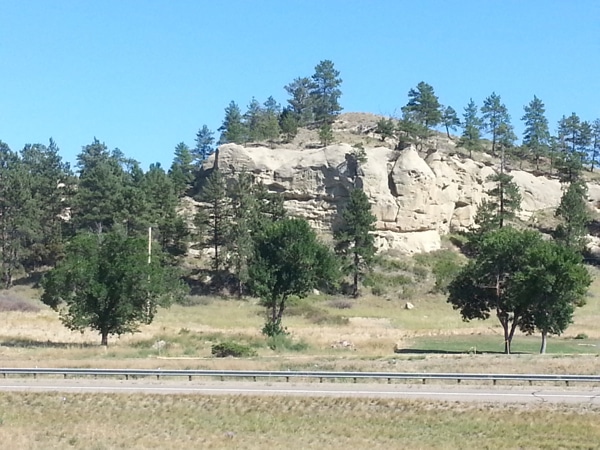 The sheer awe of seeing these towering mesas and buttes stretching skyward left me almost speechless. "Oh my God," I breathed. It wasn't an oath or a careless exclamation — it was an expression of sheer awe. I imagined what it must have been like for those westward-rolling wagon trains to crest a gentle incline and be faced with this, and I understood in a way I never had before why this place was named the Badlands.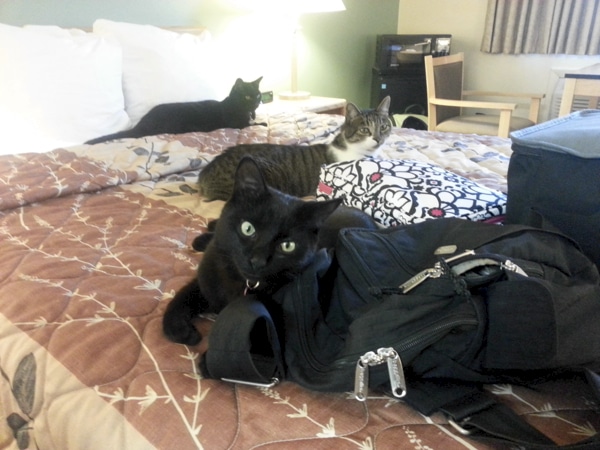 We pulled into a Super 8 in Columbus, Montana, and I piled the kitties into our room. This place was not nearly as elegant as the other hotels I stayed at, but it was clean and safe, pet friendly and free of bedbugs, so it worked for me. One McDinner later, I settled down for an evening with cats and cable TV.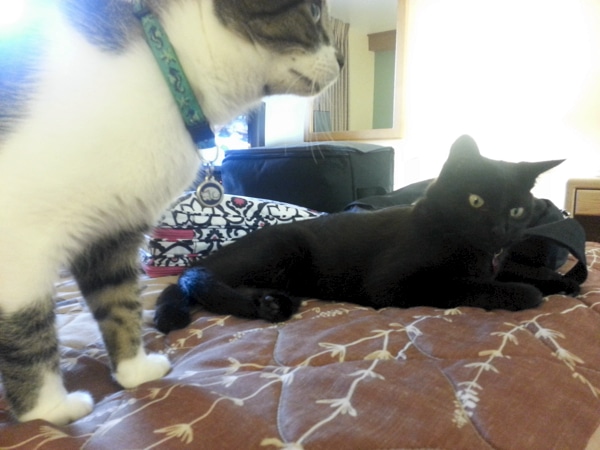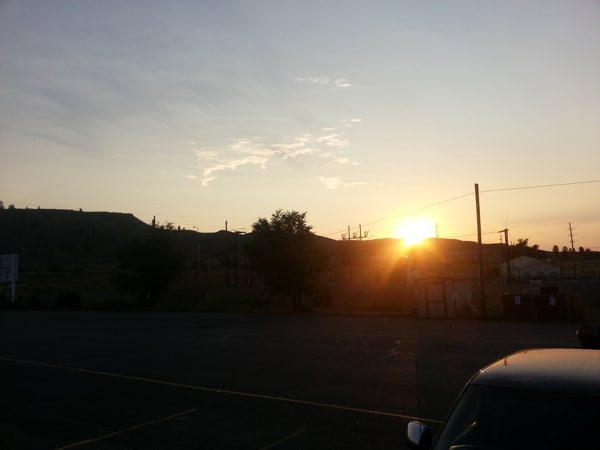 Day 6: Columbus, Montana, to Coeur d'Alene, Idaho
The next morning as I packed the cats into the car, I wondered whether trying some different music would make Siouxsie quit wailing. I had been listening to the same three CDs pretty much the whole way there, so before I left I pulled out a few other mixes I hadn't listened to during this trip.
I slid a CD I'd titled "Cawk Rawk" into the player. I didn't remember what songs were on it, but when Twisted Sister's "I Wanna Rock" blared from the speakers, Dee Snyder's lovely (ahem) voice sent Siouxsie right to her happy place.
"Well, well, well " I said. "Who knew my cat was a furry little headbanger?"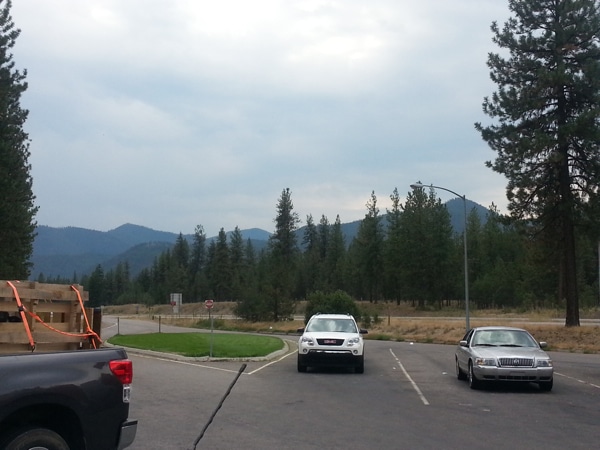 The rest of the way to Coeur d'Alene, I rotated through CDs I hadn't listened to in months, if not years. I loved it because I'd forgotten I had a lot of these songs. And Siouxsie was fine, too! Whether I was playing Fischerspooner or Faith & the Muse or M├Âtley Cr├╝e, she didn't care, as long as it was something she hadn't heard before.
Our room in Coeur d'Alene was very nicely outfitted. It had the most comfortable bed of any of the hotels I'd stayed at, and I planned to take full advantage of the fact that the next and final leg of my drive was the shortest to sleep in and attempt to get some work done.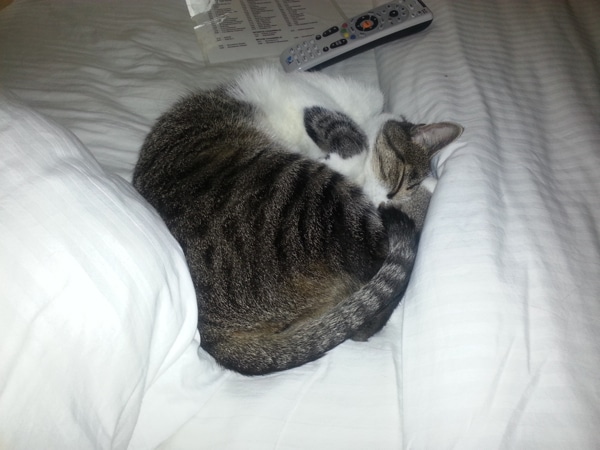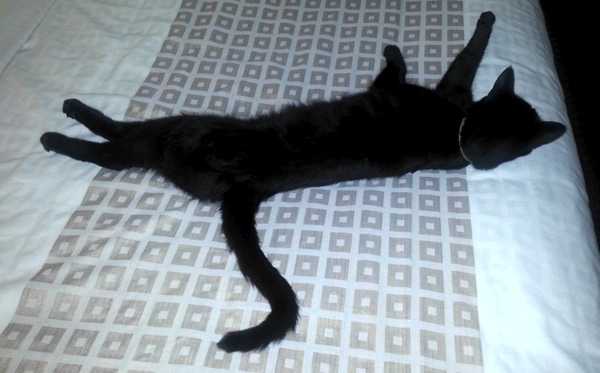 Day 7: Coeur d'Alene, Idaho, to Seattle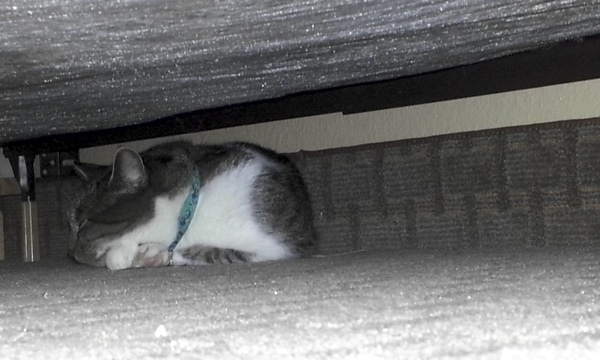 Despite my great plans to sleep in, my excitement about being so close to home kept me from getting any extra rest. I packed up the cats and the car and we set off through more mountain passes and into the eastern plains of Washington.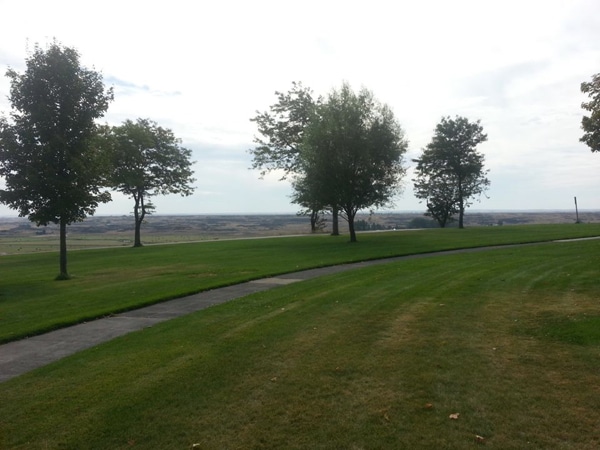 After a quick rest stop just west of Spokane, I put in a CD titled "Anthems." We drove on to the sound of some of my favorite big-positive-changes songs. I sang along, with a little lump in my throat, to the Cure's "Doing the Unstuck" as we cruised across the plains and ever closer to the Cascades. We crossed the mighty Columbia River to the tune of The Call's "Let the Day Begin," and I almost lost it. I wiped the tears from my eyes and kept on singing as the joy and excitement rose within me.
Around 2:30 p.m. I finally pulled into the place that would be my new home. My best friend was there to greet me and help me unload boxes from my car. The first thing I did once we got unloaded was to call my mother and tell her I'd arrived safely. Then I slipped my phone in my back pocket and promptly forgot about it ÔǪ until 10 minutes later when a bathroom break turned into a communications disaster.
That's right: I've owned cell phones for seven years and this is the first time I've ever dropped one in a toilet. I thought everything would be OK after sitting in rice overnight, but in the morning it became clear that my smartphone had become a very expensive brick.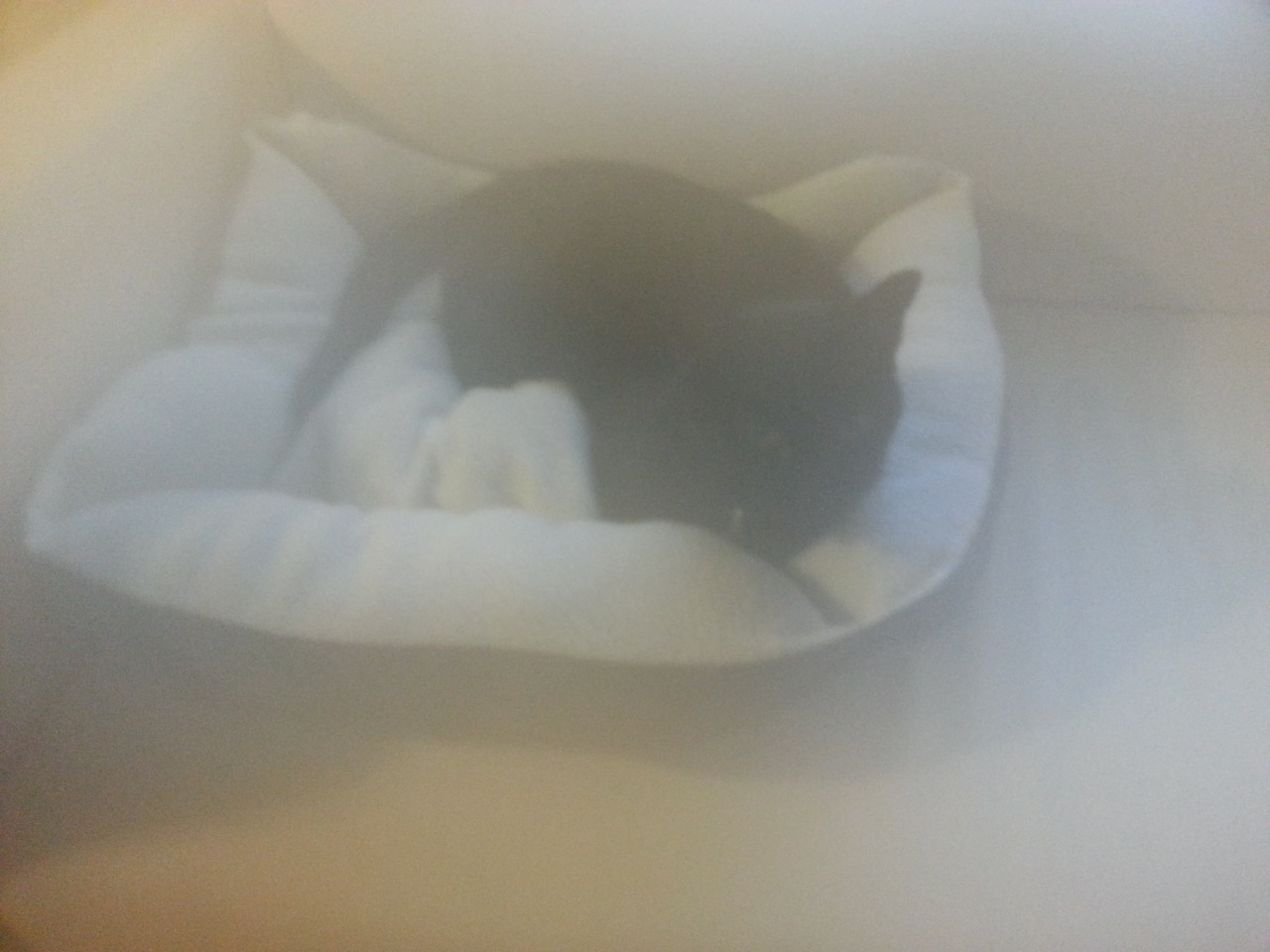 Fortunately, the cats settled in well — except for Thomas, who refused to come out from hiding except to eat. Now that the furniture is in place and my computer is set up, I think he knows we really are here for good and is venturing out to do some exploring. Here are some photos of the cats in our new home.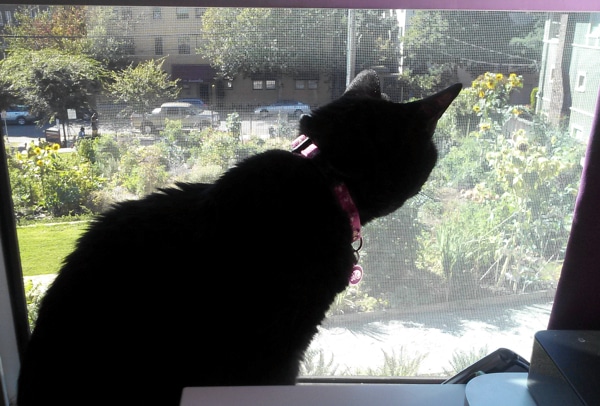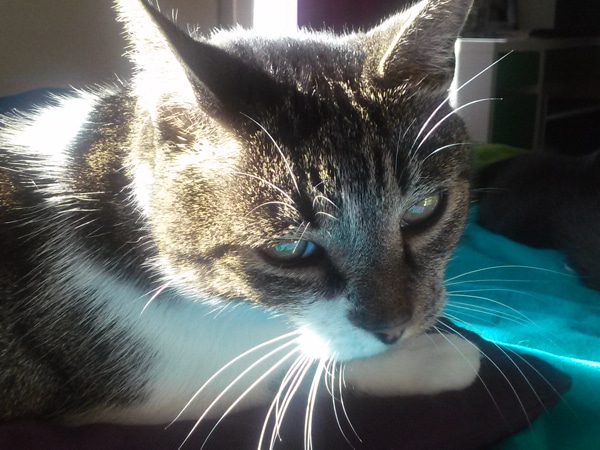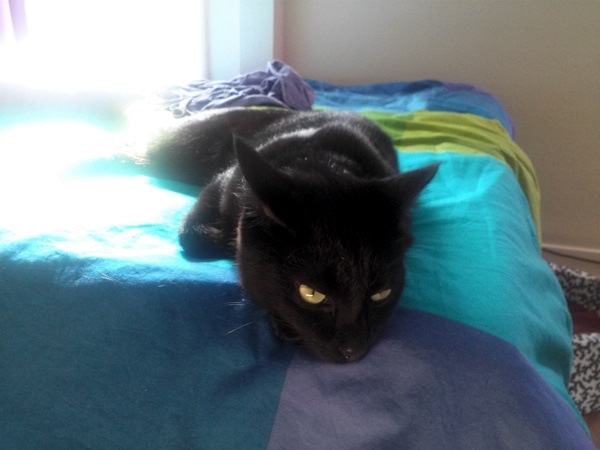 Has your cat ever done any hair-raising stuff while you were traveling together? How did you deal with it? What awesome attractions did I miss while traveling across the country? Share your tips in the comments.
About JaneA Kelley: Punk-rock cat mom, science nerd, animal shelter volunteer, and all-around geek with a passion for bad puns, intelligent conversation, and role-play adventure games. She gratefully and gracefully accepts her status as chief cat slave for her family of feline bloggers, who have been writing their cat advice column, Paws and Effect, since 2003. JaneA dreams of making a great living out of her love for cats.