The decision to add one more animal to our family was not one we took lightly. I'd wanted to adopt a dog for a while, and while I knew that Ghost Cat walked the line between friendly and indifferent when confronted with canines, I had no idea how our kitten Specter would react.
Because of Specter's inexperience with dogs, I initially wanted to adopt a small breed pup. I figured a Frenchie or a Chihuahua would be almost cat-sized, and less likely to scare Specter. My husband pointed out that temperament and personality was so much important than size or breed when considering how a dog would fit in with our cats. After several trips to a local adoption center, we met a lovable (but gigantic!) Lab mix. I agonized overnight, and then returned to the adoption center — where I watched a kitten howl and hiss in the Lab's docile face and get no reaction from him. I knew this was the dog for Specter.
Just like with Ghost Cat, the animal I imagined was very different from the one I eventually brought home. We named him GhostBuster and took him home. Here are five ways my cats reacted to their new roomie.
1. By running scared

As I said, poor little Specter had never really met a dog before. My sister has brought her two Shih Tzu/Bichons over here a couple of times, but Specter just peered at them from behind the screen door before running to hide behind Ghost Cat. Speck's reaction was similar when she met Buster. She hissed, she jumped, she ran. For the first two days she didn't even want to be in the same room as Buster.
2. With casual indifference
Ghost Cat's reaction was the exact opposite of Specter's. She was like, "Oh. Hi dog. Do you live in my house now?" I was so pleased to see Ghost Cat react to Buster as I'd predicted she would. I hadn't wanted to bring my cats down to the adoption center for a meet and greet, because I knew that would stress them out. I was confident that letting Ghost Cat and GhostBuster meet at home was the right thing to do. Ghost Cat felt confident in her own space, confident enough to be calm, cool, and curious around this huge stranger.
3. By becoming a stage-five clinger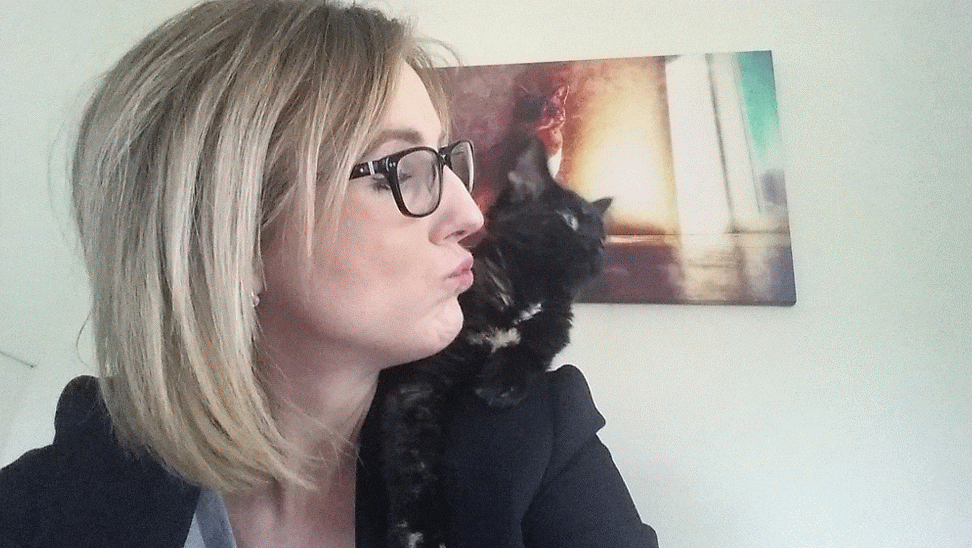 A lot of cats deal with change by hiding, but Specter deals with it by acting like what she is — a total baby. She's only four months old, so I guess it was natural that she went into full baby mode the minute GhostBuster came into the picture. Case in point — every morning when I get up and sit at the dining room table to write, Specter climbs up on my lap and gets her cuddles in (until I have to get up to get a second cup of coffee). After Buster arrived, he decided he would also like to hang out with me during my morning writing sessions. Apparently Specter thought that Buster's spot on floor was too close to my lap — she decided she'd now make camp on my shoulders, turning my hood into a little bed.
When I finally had to make Specter get down she went straight to Ghost Cat to begin suckling. Every day since, Specter has been after extra cuddles whenever she can get them. If she's not treating Ghost Cat like a pacifier she's climbing onto my lap to demand my love.
4. With interspecies sniffing sessions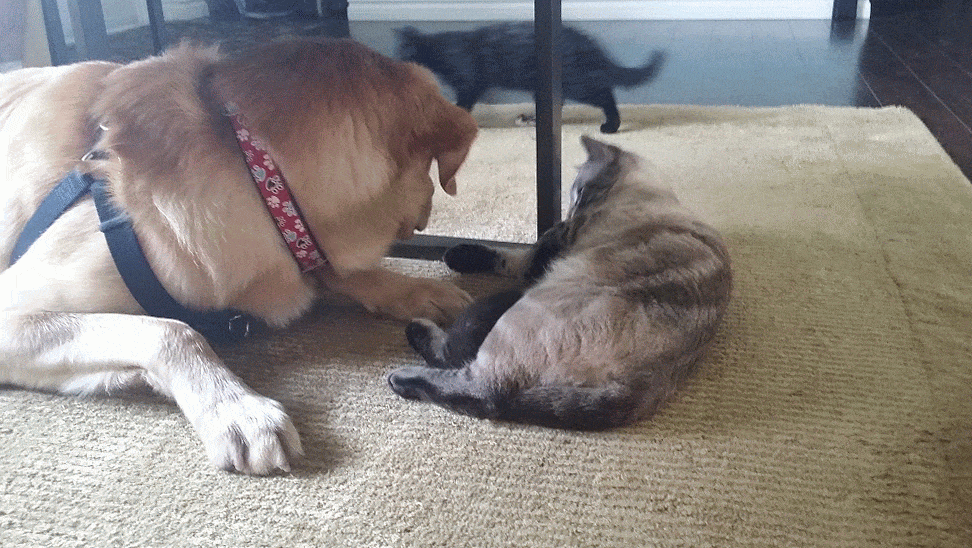 While Specter is busy being affectionate with me, Ghost Cat's been busy being affectionate with the dog. I've been pleasantly surprised by how well these two have been getting on. The first time I caught Ghost Cat letting Buster sniff her butt I knew a friendship was in the making.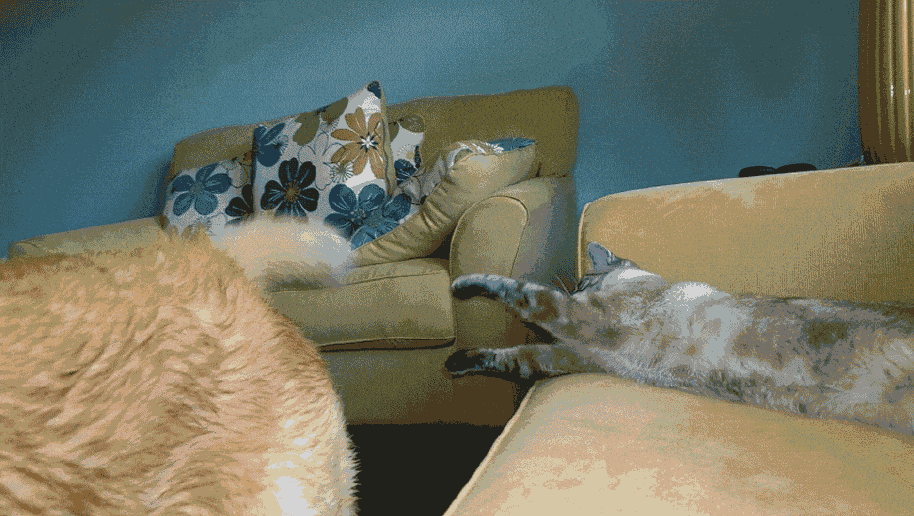 Now that they've been around each other for a while, they've taken to sitting under the coffee table together, and even begging for treats in unison. Ghost Cat likes to play a game that usually begins with her swatting at Buster's tail, and ends with them sniffing each other's behinds. It's all very classy.
5. By stealing food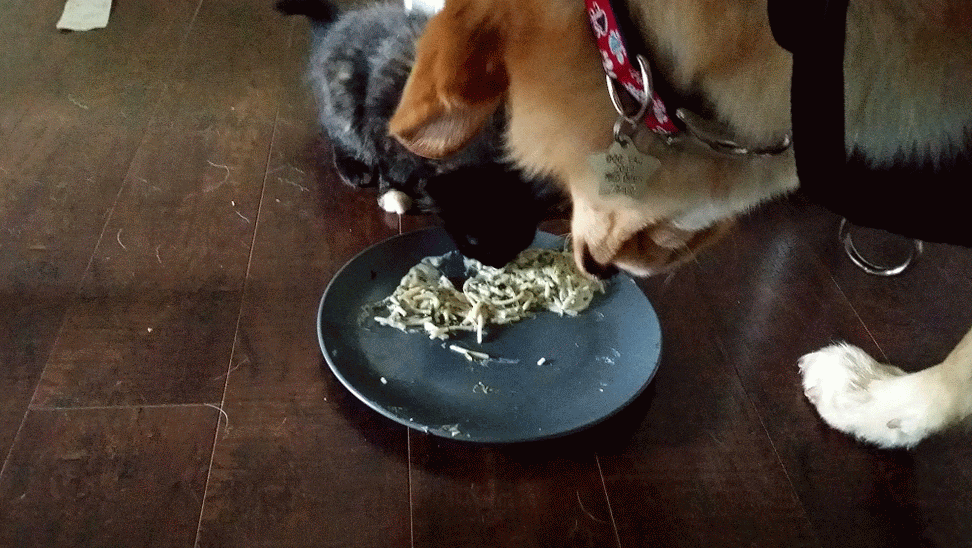 If there's one thing that Specter loves more than she hates Buster, it's food. During her initial hiss-and-run phase after Buster's arrival, I started giving Specter her treats only by setting them near or even on Buster, who would just lay there and mind his own business (he has a surprising amount of restraint and respect for the cats and their food). I think those experiences helped Specter realize that Buster was no threat. She got bold quickly after that.
The respect that Buster has for Specter's food does not go both ways, and she has developed an unfortunate taste for dog kibble. Specter figures she can poke her head into Buster's food bowl anytime she likes, even while he's eating. Buster doesn't mind, and lets her do it until one of the humans notices and removes the tiny troublemaker. He even lets her share in the human food leftovers.
I'm so happy that these three are now getting along. I feel like Buster really completes our little pet family, and it seems like the cats are starting to agree.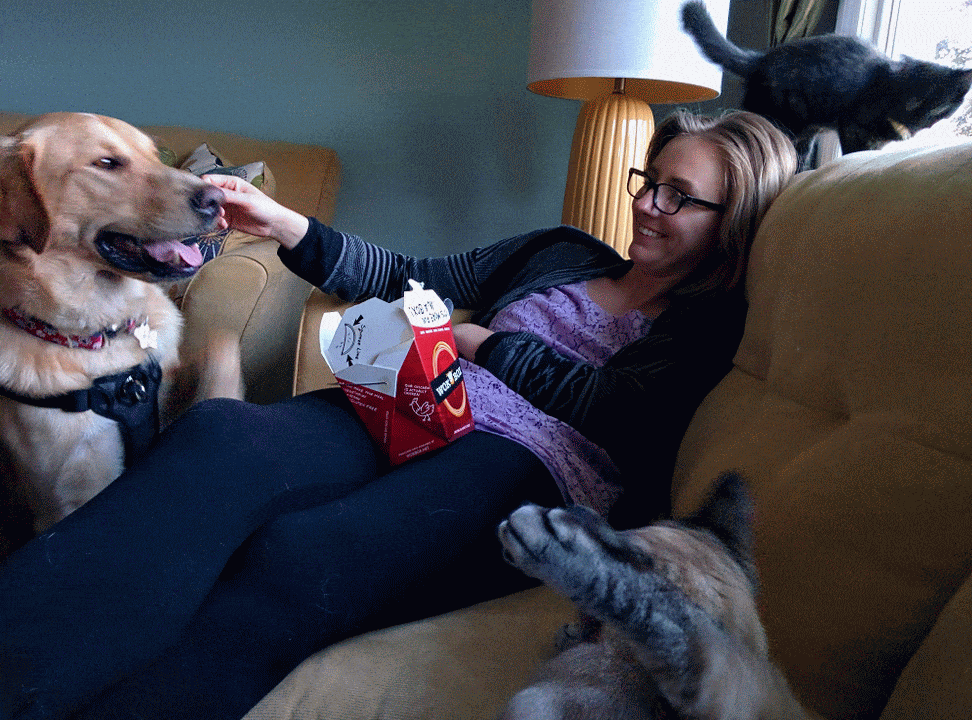 How do your cats react to dogs? Have you ever brought one home for good? What did your kitties think about their new roommate. Let us know in the comments!
Learn how to live a better life with your cat on Catster:
About the author: Heather Marcoux is Ghost Cat's mom. She is also a wife, writer and former TV journalist. Some of her friends have hidden her feed because of an excess of cat pictures. If you don't mind cat pictures, you can follow her on Twitter; she also posts GIFs of her cat on Google +.