You Don't Have To Be Religious To Follow This Decalogue
Recently I read the Pet's Ten Commandments at PetsHealth.com, and was touched by the list. I think a lot of "passive" animal cruelty (not giving pets the love and attention they crave, which can result in behavior problems) could be avoided if all pet owners understood that they're not "just cats." Cats and dogs (and other pets) are sentient beings with as rich an emotional life as you or I, and they need our love, care and approval just as they need food, water and air. Here are the Pet's Ten Commandments: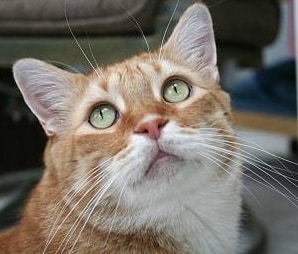 1. My life is likely to last 10-15 years; any separation from you will be painful for me. Remember that before you buy me.
2. Give me time to understand what you want from me; don't be impatient, short-tempered, or irritable.
4. Don't be angry with me for long and don't lock me up as punishment; I am not capable of understanding why. I only know I have been rejected. You have your work, entertainment, and friends, but I only have you.
5. Talk to me sometimes. Even if I don't understand your words, I do understand your voice and your tone. You only have to look at my tail.
6. Be aware that however you treat me, I'll never forget it, and if it's cruel, it may affect me forever.
7. Please don't hit me. I can't hit back, but I can bite and scratch, and I really don't ever want to do that.
8. Before you scold me for being uncooperative, obstinate, or lazy, ask yourself if something might be bothering me. Perhaps I'm not getting the right foods or I've been out in the sun too long, or my heart is getting old and weak. It may be I am just dog-tired.
10. Go with me on difficult journeys. Never say, "I can't bear to watch" or "Let it happen in my absence". Everything is easier for me if you are there. Remember, regardless of what you do, I will always love you.
[PHOTO CREDIT: Catster Superstar Louis Lebeau]
This article was written by ┬®Stan Rawlinson (The Original Doglistener).
A professional full time Dog Behaviorist and Obedience Trainer.
You can visit his website for more articles and training information.