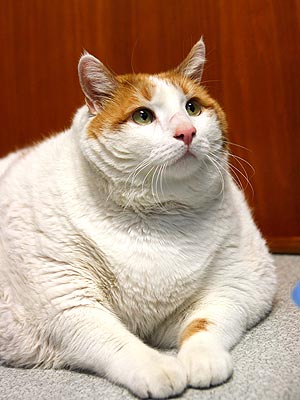 Oh, no, poor Meow! This big, big guy weighs in at 39 pounds.
If Meow were a human, he'd be the kitty equivalent of a 600-pound man, and that's not healthy at all — for man or cat! A healthy adult cat should weigh between 7 and 12 pounds.
Meow was recently relinquished to the Santa Fe animal shelter by an 87-year-old woman, who could no longer care for him. It's unclear how the kitty got to be so heavy, but shelter veterinarians now have him on a high-protein diet. At only two years old, Meow has difficulty breathing and can't engage in frisky feline play like other young cats.
But Meow's troubles are only temporary. Thanks to his celebri-kitty status, there is a list of families eager to adopt and care for Meow once he is available!
And in case you were wondering, Meow is not the world's heaviest cat. That title belongs to a 47-pound kitty; however, the Guinness Book of World Records has stopped accepting applicants for the record out of fear that owners may try to overfeed their cats.
Via the Los Angeles Times