Your cat's eye is made up of several different structures that work together to allow your cat to see. One of these structures is the cornea, and one of the issues that may affect your kitty's cornea is keratitis in cats.
First, what is keratitis?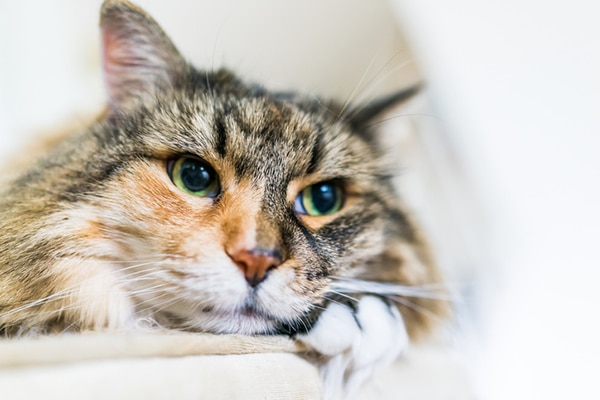 "The cornea is the clear 'window' for the eye," explains Nancy Bromberg VMD, MS, Dipl. ACVO, a board-certified veterinary ophthalmologist at VCA SouthPaws in Fairfax, Virginia. "It is composed of three major layers: the surface epithelium; the inner most endothelium; and the bulk of the cornea, the stroma, which is made up of layers of collagen. These layers are arranged in such a way that light passes through. The cornea also plays a role in focusing."
When the cornea is injured or disease affects the cornea, it loses its clarity, which impacts your cat's vision. One such condition is keratitis. The terms keratitis simply refers to an inflammation of the cornea. This inflammation is caused by a number of things. Keratitis is classified as ulcerative or nonulcerative.
What is ulcerative keratitis vs. nonulcerative keratitis?
With ulcerative keratitis, an ulcer — a break in the surface layer of the cornea (the epithelium) — causes the inflammation. "This can be caused by a scratch, walking into bushes, a chemical burn, etc.," Dr. Bromberg explains.
With nonulcerative keratitis, something other than an ulcer is causing the inflammation. "Eosinophilic, or proliferative, keratitis is most frequently identified in cats," Dr. Bromberg says. "It often is preceded by exposure to or infection with the feline herpes virus. Eosinophils are a type of white blood cell that increase during immune responses. The virus changes the immune response of the cornea, so that proliferative tissue, high in eosinophils, grows onto the surface of the cornea."
With this type of keratitis in cats, the veterinarian might be able to see a fleshy ingrowth of tissue, sometimes with a white substance, on the cornea.
What are the signs of keratitis in cats?
Signs of keratitis in cats may vary depending on the type of keratitis and how long it's been going on. In general, you might notice signs of discomfort like tearing, squinting, sensitivity to light (excessive blinking in light), rubbing or pawing at the eye, swollen and red-looking eye, eye discharge (sometimes yellow-green in color), color change, a hazy-looking cornea or visible lesions on the cornea.
How is keratitis in cats treated?
"Treatment of keratitis is dependent on the underlying cause," Dr. Bromberg explains. "Uncomplicated ulcers are usually treated with a broad-spectrum topical antibiotic. If the ulcer is infected, then stronger topical antibiotic more specific for the bacteria causing the ulcer are used. Viral ulcers are treated with anti-virals, frequently with an antibiotic to prevent secondary bacterial infection."
Once treatment starts, uncomplicated ulcers usually heal within 24 to 72 hours. However, if your cat has a concurrent bacterial or viral infection, it might delay the healing process.
Medications that suppress the ocular immune reaction, including topical corticosteroids and immune modulators, may treat eosinophilic keratitis.
"Keratitis is often a painful condition, especially when there is an ulcer," Dr. Bromberg explains. Left untreated, keratitis also threatens your cat's eye and eyesight. For these reasons, it's important not to delay making an appointment with your vet if you suspect your cat has something wrong with her eye.
Thumbnail: Photography ©Andyworks | iStock / Getty Images Plus.
Read more about cat eye issues on Catster.com: