Remote Controls for Cats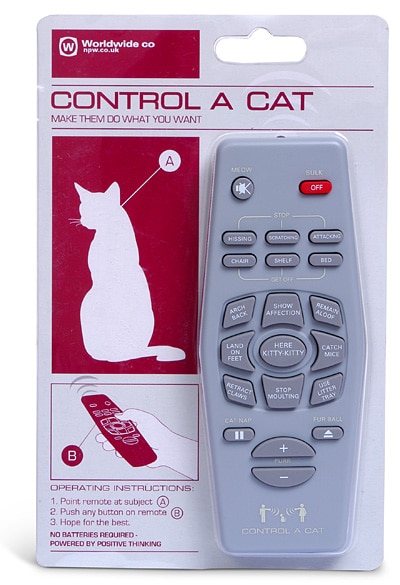 Cat author Dena Harris
pointed out a groundbreaking new product to me: A remote control for your cat! I can't tell you the number of times I've wanted to mute Mao (the vocal Siamese), or press a button that would get Rocky to finally hock up that hairball. This product appears to fill the bill. Even better, it requires no batteries and works solely on the power of pawsitive thinking. Here's the description from Think Geek's website:
Cats are known for many things. The dexterity to always land on their feet and the cleanliness of their fur coats. The ability to knock over a lamp or slam into a screen door and casually continue along as if nothing happened. The nerve to shred your furniture with their claws and somehow look cute doing it. The thoughtfulness of bringing home their latest bird catch and dropping it off at the backdoor as a "present" for you.

Cats are not known, however, for their ability to learn and obey the commands of their owners. That's where the Control-a-Cat Remote Control can come in handy.

Simply point at your cat, press buttons on the remote and hope for the best. With buttons for "Stop Scratching", "Show Affection", "Remain Aloof" and others, you'll be in control in no time. It's finally your turn to make your cat do what you want.

* Point at subject, press button, hope for the best
* 21-button novelty remote control
* No batteries required – powered by positive thinking
* Dimensions: 5.5″ x 2.2″ (14 x 5.5 cm)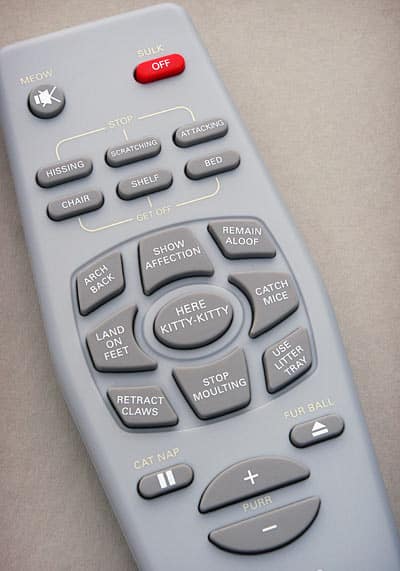 This amazing product is sold at
ThinkGeek.com
and sells for just under $7.