Summer is (sort of) on its way, and while the rain and chilly weather on the East Coast haven't allowed me to swap out my winter blanket for a summer quilt just yet, I've already started thinking of other ways to liven up my apartment.
As usual, cat decor is always top of mind for me, and I couldn't help but eye these sweet and stylish feline-themed conversation pieces, which would easily transform any old space from blah to aww.
When Emily Williams's daughter lamented over missing the family cat while she was away at school, the Etsy artist behind Ethel Dora came up with a creative solution to help keep Morrison the kitty around. Williams printed out the black-and-white feline's picture on some fabric and created a custom pillow for her daughter to squeeze anytime she was feeling nostalgic for her furry friend.
Now, you have the opportunity to buy a Morrison pillow or a custom version using a picture of your own beloved feline. The hypoallergenic pieces are made with a flat base weighed down with plastic beads to make them sit upright. In just three weeks, you can expect to have a plush doppelgänger of your very own.
Despite my penchant for making lists, I almost always forget to buy something when I go to the store, which is why a funky cat dry-erase board could be the perfect way to keep my shopping list in mind, especially when my mind is always cluttered with cats.
This adorable decal by Bumper Pet features a subtle gray chevron print and is self-adhesive and removable, so you don't have to commit to a lifetime of cat wall art. Printed using eco-friendly inks, it also comes with a dry-erase marker. You'll be happy to know that $1 from each sale goes to an animal charity, so your decor choice is also helping to do some good.
Need some inspiration to get your closet organized for the summer? Why not invest in some artsy hangers that double as ridiculously awesome wall art?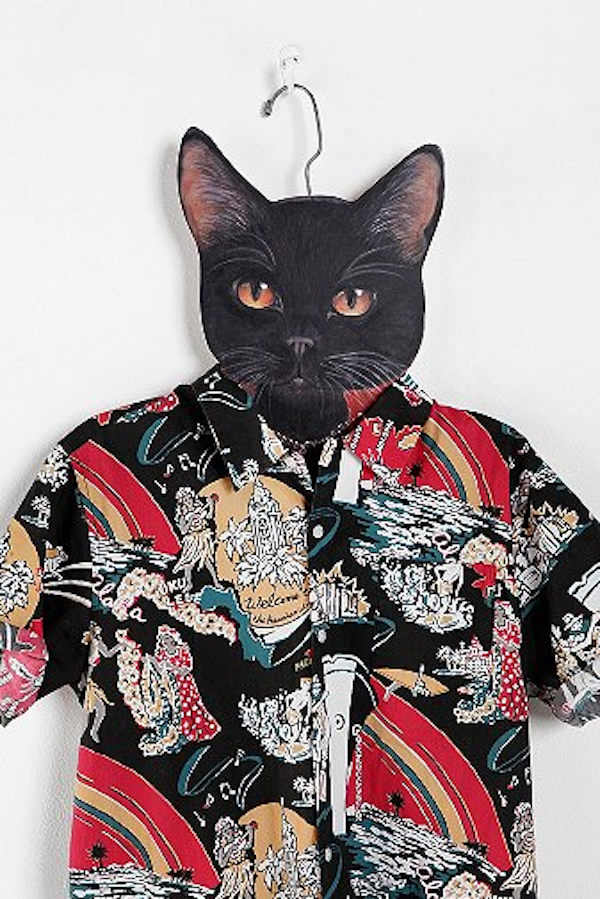 The oversized cardboard clothing hangers, which are also available in dog, fox, skull, and tabby cat styles, feature expressive animals with a knack for modeling some of your favorite fashions. Of course, the black cat is my fav, with her golden eyes and super-long whiskers — and who can resist a kitty in a Hawaiian shirt? (Unfortunately not included with purchase).
I always like to try to throw in at least one controversial item for argument's sake, and the latest feline piece I'm on the fence about is this juicer by IMM Living. The porcelain reamer is one part cute kitty and one part menacing kitchen tool; it will make quick work of any citrus unlucky enough to cross its path.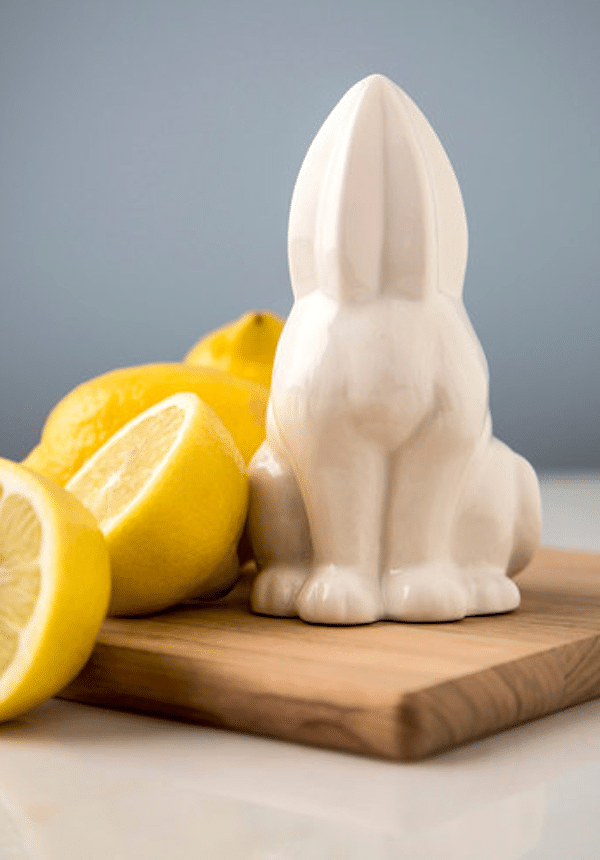 As a collector of unusual cat stuff, I'm intrigued by the unique implement; However, a kitty without a head is still a kitty without a head, and I'm unsure if it crosses the (very) thin line between quirky and just plain creepy. Thoughts?
When I was little I loved picking out adorable little stained-glass(ish) suncatchers to put on my bedroom windows — think rainbows, dolphins, and Snoopy. It's this sense of nostalgia that attracted me to The Round Window, an Etsy shop that sells an upscale version of the flea market finds I remember from my youth.
Artist Flora Jamieson creates contemporary, decorative stained-glass items in bold colors with a retro graphic aesthetic. All of her pieces are made out of glass from Poland and hand-painted and fired in a kiln. This kitty in a sweater design is the super-cutest, and you can even pick what color sweater you want your new pal to wear. Two paws up for this timeless design, which will brighten up any window around your crib.
Looking for more cat style? Check these out: