If you ever want to make the argument for why someone should consider adopting an older or disabled cat, or you just want to convince yourself, you could do a lot worse than going to the Tumblr page of 26-year-old Brittney, a cat lover and cartoonist in New York.
A lot of cats languish in shelters for years because they don't live up to the greeting-card ideal that people have in mind when they adopt a cat. First of all, most people want a kitten. This is understandable: Kittens are adorable, and you would have to be built out of granite not to be charmed by one of the little darlings. Adopters also want their cat to be healthy. Missing limbs, mangy hair, and chronic illnesses do not make for an easily adoptable cat.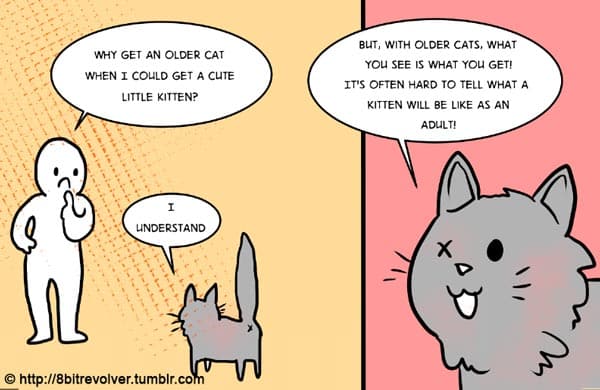 Brittney understands and sympathizes with both of these things but lays out the reasons that you should try to look past whatever standard of ideal is out there and consider what kind of love you can really expect to get from old and disabled cats.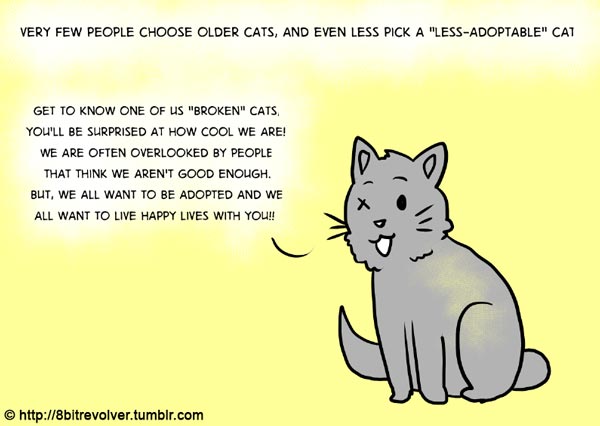 The first one you might have already seen: It's been making its way around the Internet since Brittney first put it up in March. It went crazy on Imgur, and just recently it got reposted by Tickld.com, giving it an even bigger audience, to which we say "hurrah." It's a beautiful, heartbreaking strip that should make lots of people rethink their options next time they go to a shelter to rescue a cat.
It's a simple strip: It just shows a person going to the shelter and exclaiming excitedly, "I'm here to adopt a kitten!" A gray adult cat with one eye steps in front of him and asks, "Wait a sec. Ever thought about an adult cat?" From there, the cat makes a gentle but persuasive case for why the human should consider a grown cat or one who's typically considered "broken." That is, deaf, missing a limb, or simply shy. Brittney says that the strip just started out as a "warm-up" but turned into something more: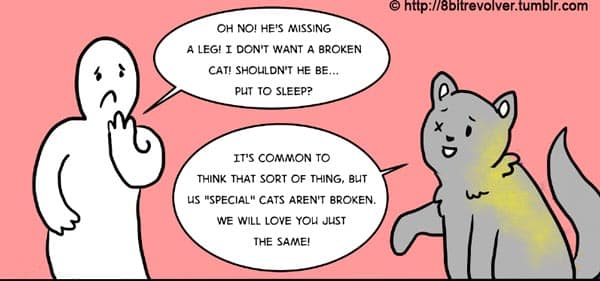 A while ago, I heard a story that broke my heart. A family went to a cat shelter to adopt. The daughter fell in love with a 3-legged cat. The father straight up said "absolutely not." Because he was missing a leg. That cat was that close to having a family that loved him, but the missing leg held him back. Why?! Many people have the initial instinct of "nope" when they see an imperfect animal. I get it, but less-adoptable does NOT mean less loveable. 9 out of 10 people will choose a kitten over an adult cat. And those 10 percent that would get an adult cat often overlook "different" animals.
The second strip, which Brittney published earlier this month, feels a little more personal, and for that reason, it cuts even deeper than the first. It's a monologue by a single cat, thanking his owner for the one year that they spent together.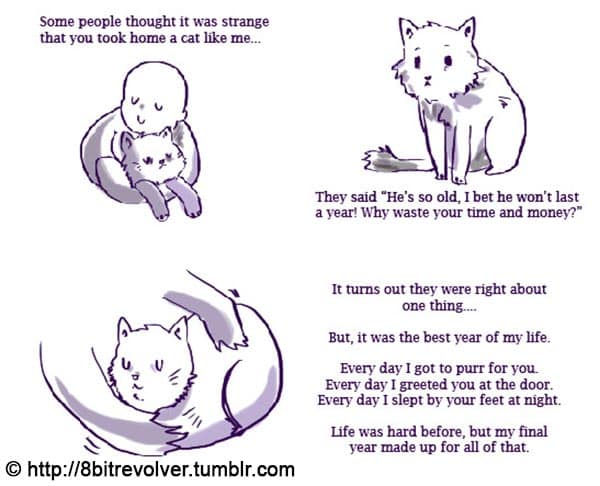 Some people thought it was strange that you took home a cat like me…
They said, "He's so old, I bet he won't last a year! Why waste your time and money?" It turns out they were right about one thing.
But, it was the best year of my life. Every day I got to purr for you. Every day I greeted you at the door. Every day I slept by your feet at night. Life was hard before, but my final year made up for all of that.
Take a look at Brittney's Tumblr for the whole strips. No cat lover will be able to look at them without being moved. And then think about them the next time you find yourself going to the shelter for a new cat.
Via 8BitRevolver
Laugh with us: