Cats and books are a comforting match. The combination drums up idyllic thoughts about sun-dappled afternoons spent in the company of your faithful feline while relaxing in a comfy chair and leafing through a captivating tome. So, it's no surprise that a growing number of kitties have decided to further their literary ambitions by taking up residence at independent bookstores across the country. Here's a spotlight on a highbrow clowder of cats who love nothing more than lounging on a pile of your favorite author's latest release.
Junie B. Jones / Cat Tales
The donation-based Cat Tales used bookstore in Portland, Indiana, is connected to and was created to help fund the Midwest Pet Refuge rescue. Junie B. Jones is a 4-year-old, affectionate girl who's been known to unexpectedly jump on a few shoulders in her time! The Cat Tales felines in residence vary, as some get adopted and others graduate to the bookstore to take their place. Junie is currently hoping to find her forever home. midwestpetrefuge.com; Facebook @MPRCatTales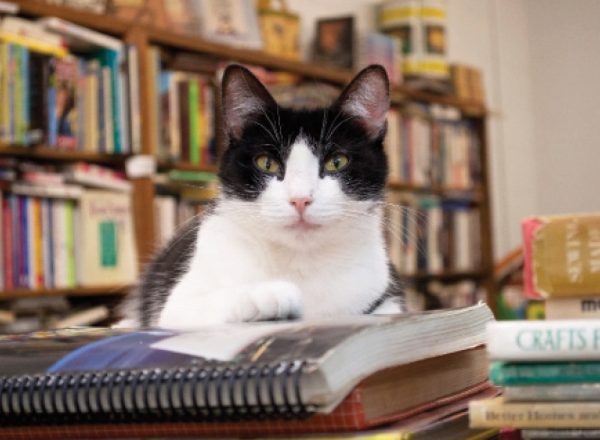 Dinah / The Dusty Bookshelf
Living at the Lawrence location of The Dusty Bookshelf in Kansas, Dinah has graduated to a figurehead role as the store's official mascot (and self-annointed queen). When not prowling the aisles, you'll find this sleek midnight feline recommending "dinahmite" approved books to the venture's visiting bibliophiles. dustybookshelf.com/lawrence; Facebook @The Dusty Bookshelf – Lawrence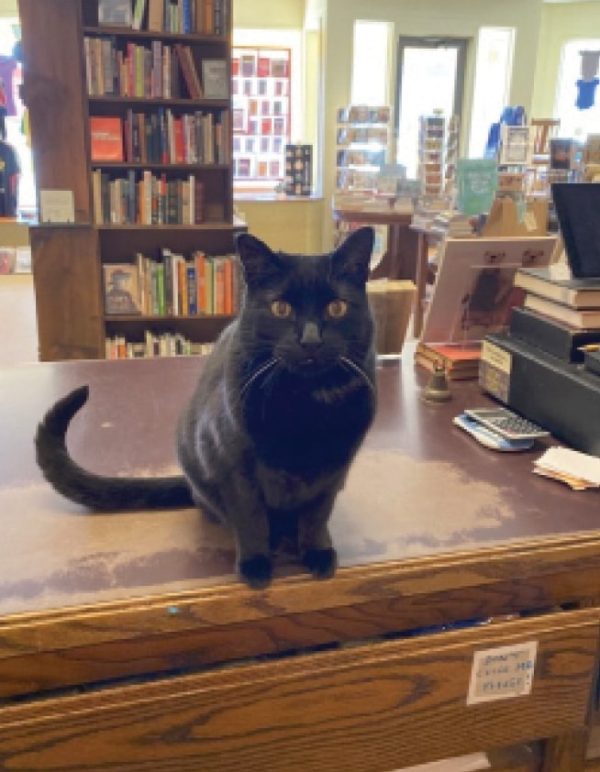 Tiny the Usurper / Community Bookstore
Tiny the Usurper is considered bookstore cat royalty. This runt of the litter ended up being adopted by the Community Bookstore in Brooklyn, New York. Tiny has since gone on to claim co-ownership of the venture (along with billing himself as the "fiercest predator in Park Slope" on his social media outlets). Tiny's recommended reading picks include the charmingly titled On Tyranny: Twenty Lessons from the Twentieth Century (by Timothy Snyder) and a little tome called Of Mice and Men authored by John Steinbeck. communitybookstore.net
Emma / Recycle Bookstore
Emma heads up a clowder of kitties who roam around the Recycle Bookstore in San Jose, California. Described by shop insiders as a "sassy sweetheart," this fluffed-up, black kitty favors hanging around the mystery section of the store — although curious browsers should be forewarned that Emma shows little tolerance toward being scooped up. recyclebookstore.com; Facebook @recyclebookstore
Huck and Finn / From My Shelf Books and Gifts
The 40,000 used books piled up in the Wellsboro, Pennsylvania-based From My Shelf Books & Gifts are overseen and cataloged by a couple of kitties named Huck and Finn. Taking their local literary fame to a wider audience, the duo has subsequently been honored by the store's owner and children's author Kevin Coolidge in a fiction book that details their adventures in the emporium over the course of a day. wellsborobookstore.indielite.org; Facebook @HoboBookstoreCat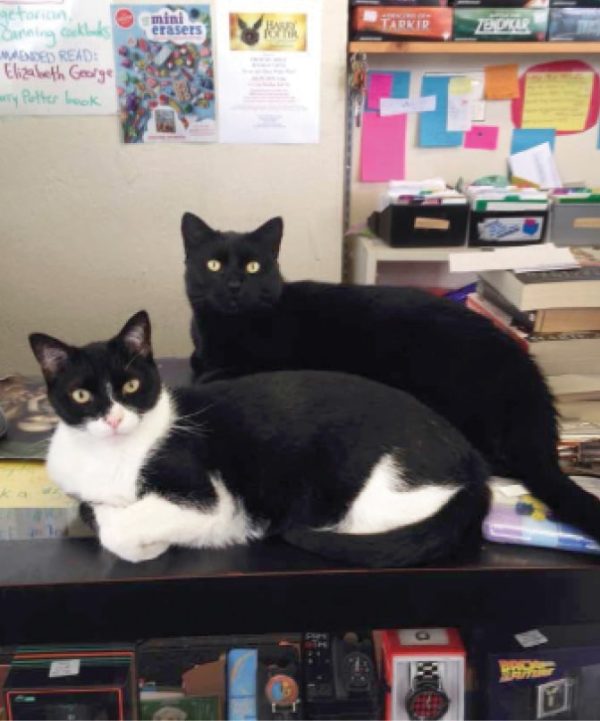 Apollo and Zeus / Iliad Bookstore
Apollo and Zeus are brothers who came to live at the Iliad Bookshop in North Hollywood, California, at the young age of just 8 weeks old. The pair's backstory involves being born in the litter of a homeless person's feline. When not snoozing in the non-fiction new arrivals cubbyhole, tabby Zeus is likely leaping onto the shoulders of unsuspecting customers while the blonde Apollo prefers to zip up and down the store's ladders. iliadbooks.com; Instagram @iliadbookshop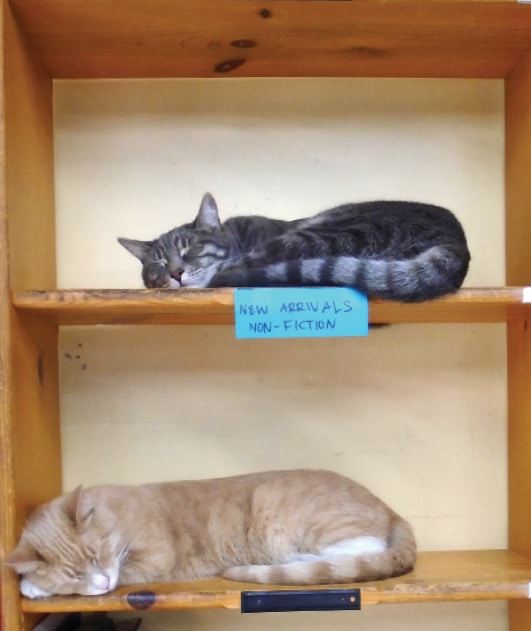 Show off your bookstore cat love with one of these fun T-shirts.
It's Hard to Trust a Bookstore Without a Cat T-shirt $23.85. zazzle.com
Bookstores. Cats. Life is Sweet Unisex T-shirt $32. outofprint.com
All I Need Are Cats and Books T-shirt $21.71 Redbubble.com