Pirate cats are legion these days. This week's one-eyed wonder is Willie, who also has upped the stakes by recruiting Skip, his official first mate who happens to be blind and in fact have no eyes. Here's how they navigate their world.
Willie's story begins in the adoptable-cat section of a Petco in Tennessee. His soon-to-be-savior, Kristen, sought some "kitty love" after her cat CC disappeared.
"I had no intention of adopting another cat as I was still clinging to hope that CC would be found," she says. "Willie was in the first cage but was the last cat I saw. He was curled up in the corner of his cage. I noticed he only had one eye and I instantly fell for him."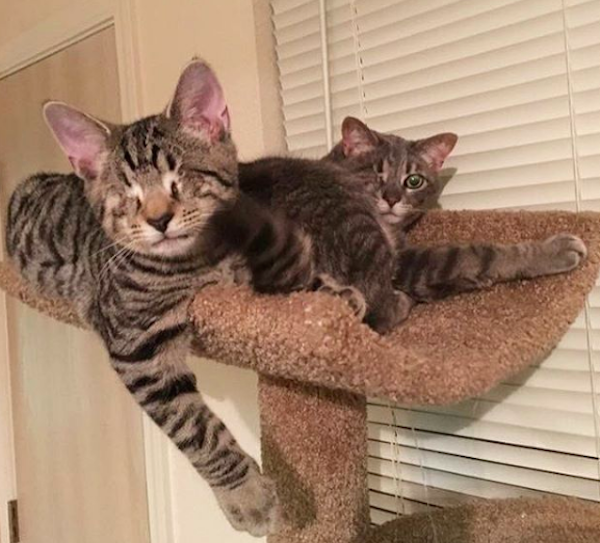 "I coaxed him to come forward and pet him," she says. "When I went to walk away, he literally stuck his arm out and grabbed me."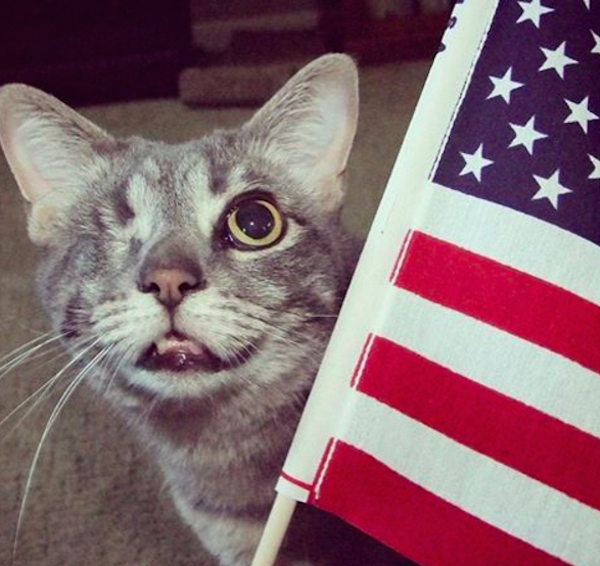 After wandering around the store and debating whether to take Willie home, Kristen says she saw another couple showering the Domestic Shorthair with love and attention. Her possessive instincts kicked in and she stepped in to formally adopt Willie.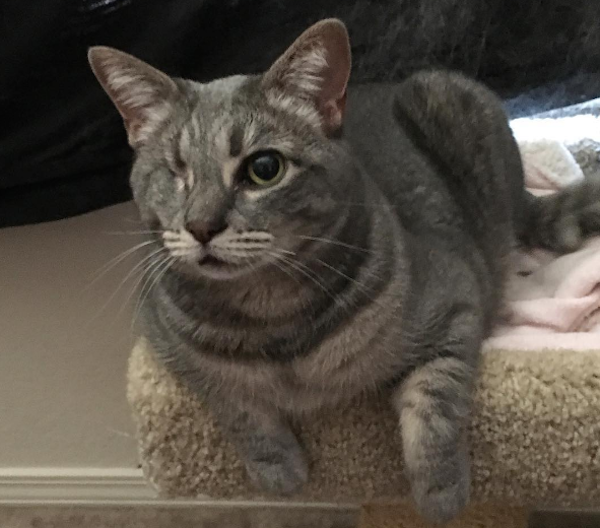 "I know what it's like to be unfairly judged by appearances," she says. "I knew that was happening with him too — and would continue. He deserves love too."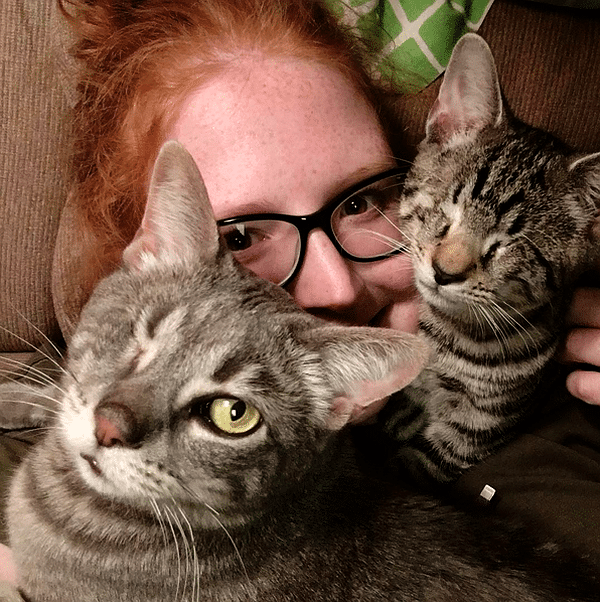 Digging into Willie's back story, Kristen discovered that he lost his right eye after suffering an injury and infection. A local rescue group, the Freedom Farm Animal Sanctuary, discovered him in distress and arranged for his eye removal — a procedure that saved his life. As Kristen says, he came to her as "a readymade pirate cat."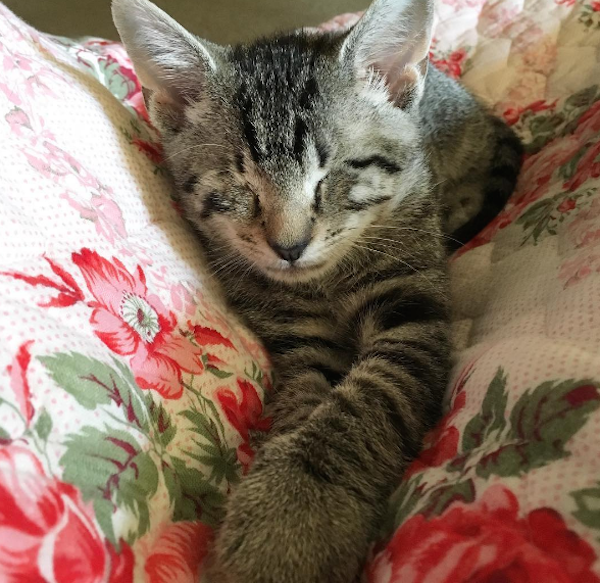 Willie's crew truly began to take shape in June of this year when Kristen agreed to foster Skip following his enoculation surgery. (He was also rescued by the Freedom Farm Animal Sanctuary.)
"He was so tiny and so pitiful," she recalls. "I was a nervous wreck. I've never taken care of a cat with such serious injuries, especially not a tiny kitten."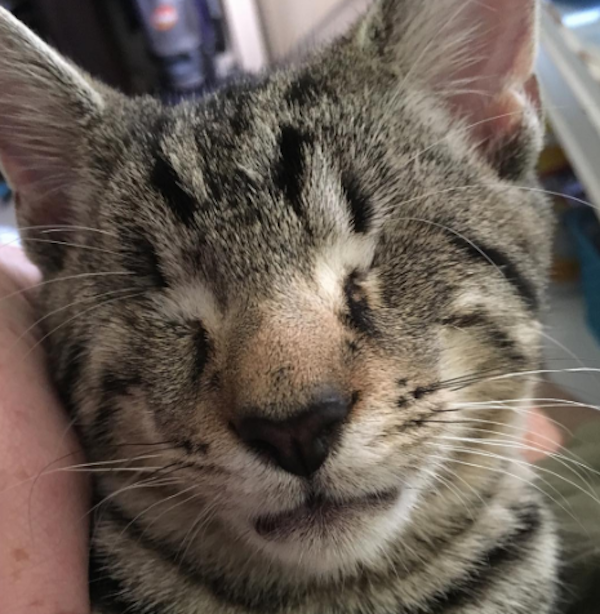 Nevertheless, Kristen did her research on eyeless cats — which included being moved by the book Homer's Odyssey (which documents the story of an abandoned blind feline) and following the Blind Cat Rescue Sanctuary's Facebook posts — and officially welcomed Skip as one of the crew.
These days, she describes Willie and Skip as inseparable. Skip follows Willie around everywhere — even if this intrepid captain might not be setting the most wholesome of examples at times:
"Willie has always been a troublemaker — he is a pirate, after all — and I think he enjoys having Skip around to help. Though I must admit, sometimes I'm glad Skip can't see what Willie is doing so he won't copy the behavior."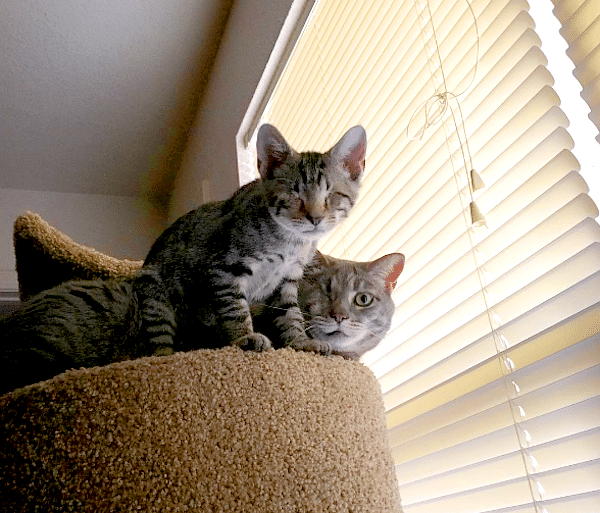 The seafaring duo's latest swashbuckling adventure involves a daring battle against that most feared of foes — a motion-activated trash can. As you can imagine, this can be a tricky enemy for two visually impaired cats.
After Skip made first contact with the trash can — a meeting you can view in all its glory via video — it seems that Willie has now taken the lead in the good fight. Kristen says he has already drained the batteries that power the lid, and an end to the epic campaign might be near.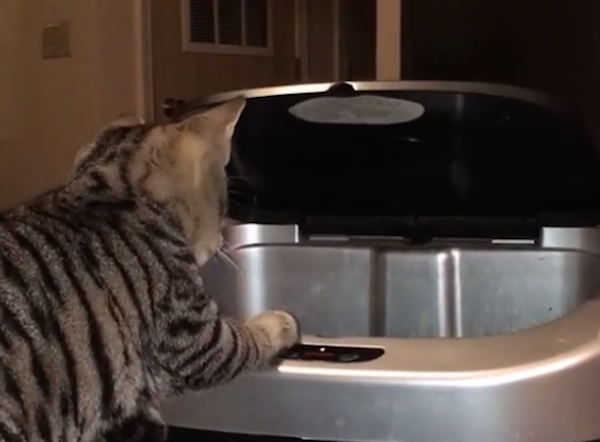 "I don't know if the trash can will be with us much longer," she reveals. "I might have to go to a step-on one. Willie knocked our old one over and then they'd both rummage through it and take stuff everywhere. You can't imagine the things I've found in my bed.
"They keep me on my toes, and I wouldn't have it any other way."
Follow Willie and Skip via their Facebook and Instagram pages.