Some people (myself included) have joked that Jackson Galaxy and I are different versions of the same guy. On the surface we're each big, bald-headed, cat-loving guys with distinctive eyewear, quasi-retro looks, and backgrounds in art and performance who live in the public eye to varying degrees. (Galaxy hosts Animal Planet's My Cat from Hell and wrote a book about his experience called Cat Daddy; I write this column.) At a conference last fall I was mistaken for him over a two-day period — and it was hysterical.
But after talking to him on the phone a few days ago, it's no longer really a joke. It felt like reconnecting with an old friend. Our ideas on appearance, intellect, animals, creativity, metaphysics, and how it all fits together are remarkably similar. (To add "uncanny" to the mix, Galaxy is recovering from back surgery, and on the day of our interview I was home with a pretty severe back injury.)
I'll add that Galaxy is far more advanced than I am on a lot of fronts. Our conversation made it clear: He is a man who's living the life the universe wants him to live — using everything he's learned in life to inform what he does. Below are excerpts from our conversation — and more are to come.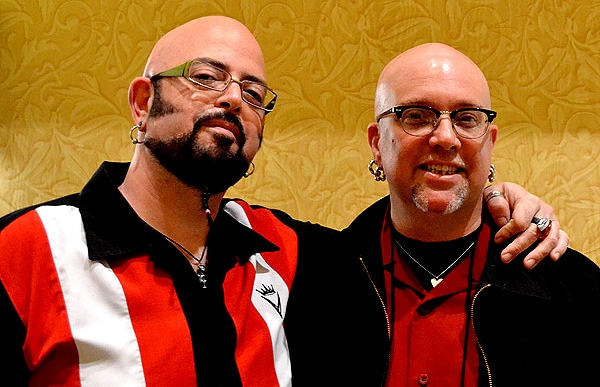 On paradoxes and assumptions
In Cat Daddy (which recently was released in paperback), Galaxy describes himself as "sensitive" and introspective, and definitely not a confrontational person, despite his appearance that might suggest otherwise. I've long seen myself in a similar way for similar reasons. I asked Galaxy how this paradox applies to men who love cats and to cats themselves.
"When you're a big guy [Galaxy was six feet tall by age 12 or 13], you're held to a certain stereotype," he said. "But by the time I was 16, I was the introspective singer/songwriter guy."
He was in a band, and he also went on to study theater and performance art. These are not the first things that come to mind when someone sees a big, butchy man. (Neither are cats.) Yet Galaxy says he has embraced this paradox.
"I'm psyched to confuse you," he says. "The first time a four-syllable word comes out of my mouth, I love to see that look on your face."
He says mistaken assumptions are also often made about cats — that cats are aloof, that they can't be trained, that they prefer to be by themselves, that they're not sensitive animals — and he revels in showing people what they didn't expect.
Why?
"When you humble someone by blowing their assumptions out of the water, you show them mystery," he said.
And cats are all about mystery.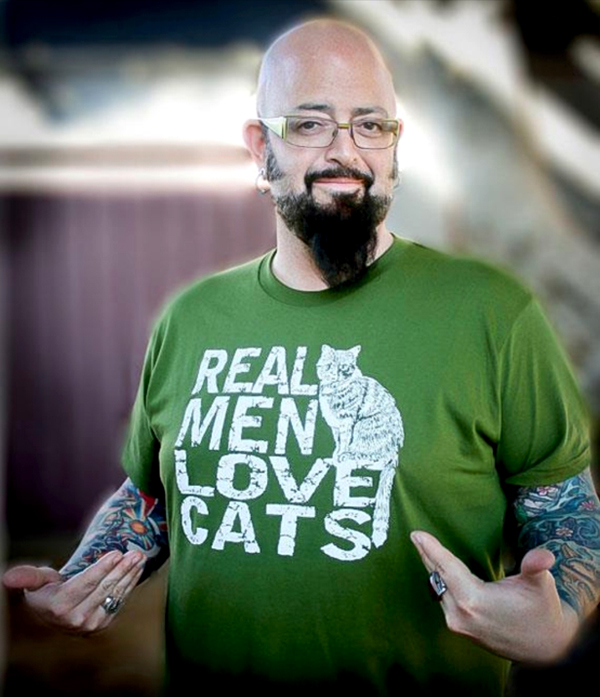 On cats and men
Speaking of mystery, I've long been puzzled why many people contend that men and cats just don't go together. I asked Galaxy about this, and he said he can see where such ideas originate.
"I've always seen [cats] as more of a feminine thing," he said. "I've seen women as more appreciative of mystery, where the male psyche is more of the conqueror — as in, 'Let's take apart the radio to see how it works.' We know how dogs work [more than we understand cats], so they've been more of a guy thing."
But more men are coming to embrace the mystery. On a recent book tour he saw more and more men in audiences whose numbers were in the hundreds — and lots of them standing up to be recognized as cat lovers.
"Mystery serves a great purpose in our lives," he said. "Cats, to me, they really symbolize that."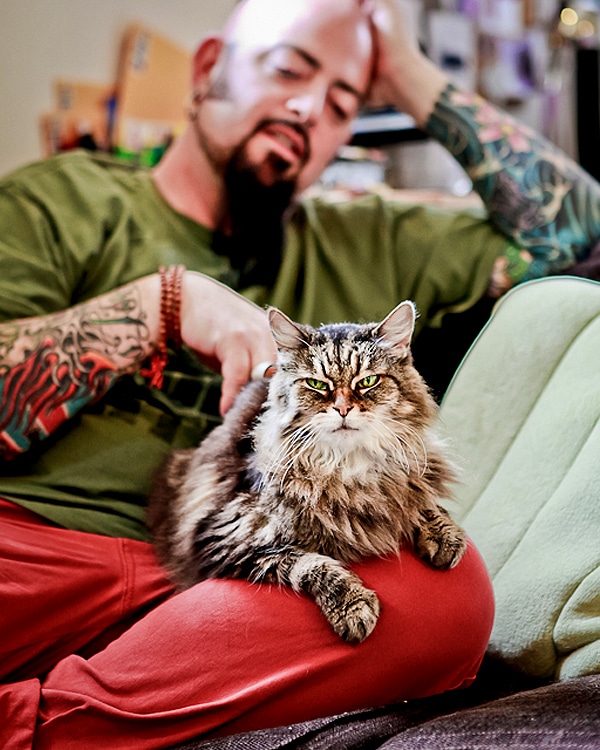 On being a performer
Another memorable part of Cat Daddy involves Galaxy's background as a performer. I asked him to describe some of the ways this experience helps him.
"I always thought my calling was in front of an audience," he said. "It's the only thing I thought I would be."
This, he said, has kept him grounded as My Cat From Hell has become more popular.
On a deeper level, he says it has helped him evaluate situations among people and animals, because performers study the behavior of those around them so they can incorporate it into their work.
An example all things working together, he said, involves a woman on his show named Megan and her cat Fi, a purebred Persian who had bounced between homes and shelters and who refused to use a litter box.
"Part of what my life as a performer and a shelter worker is," he said, "it's to allow Megan and my audience to appreciate this cat for being more than a poo-and-pee machine, and to take as much as we know and turn her life into a story."
So he asked Megan to write Fi's story — from Fi's point of view.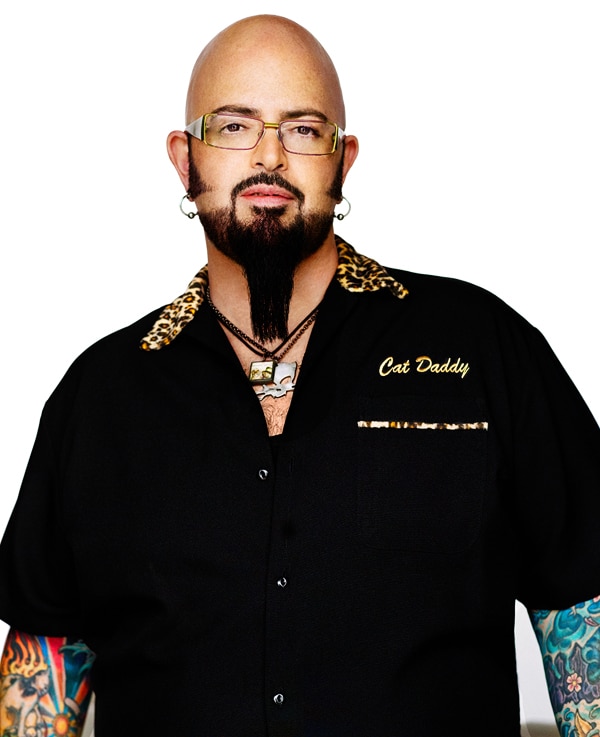 "Megan demonstrated incredible dedication," he said, "and she had also resigned herself to being the person who cleans up after the cat."
She invested her empathic skills in writing the story, and she and Galaxy eventually got Fi to use a litter box.
"I can promise you that cat won't be looking for a sixth home," he said. "That episode embodies how my life as a performer and an artist informs this work."
"This why I live this life," he continued. "It's amazing when the universe offers you proof, that there is a reason, there is a reason you were sent down this path."
Galaxy said that his celebrity status keeps him honest in very important ways.
"I'm held to a higher standard … by the people who work in the industry I love so much," he said. "I can't get away with being a prima donna. And I love that."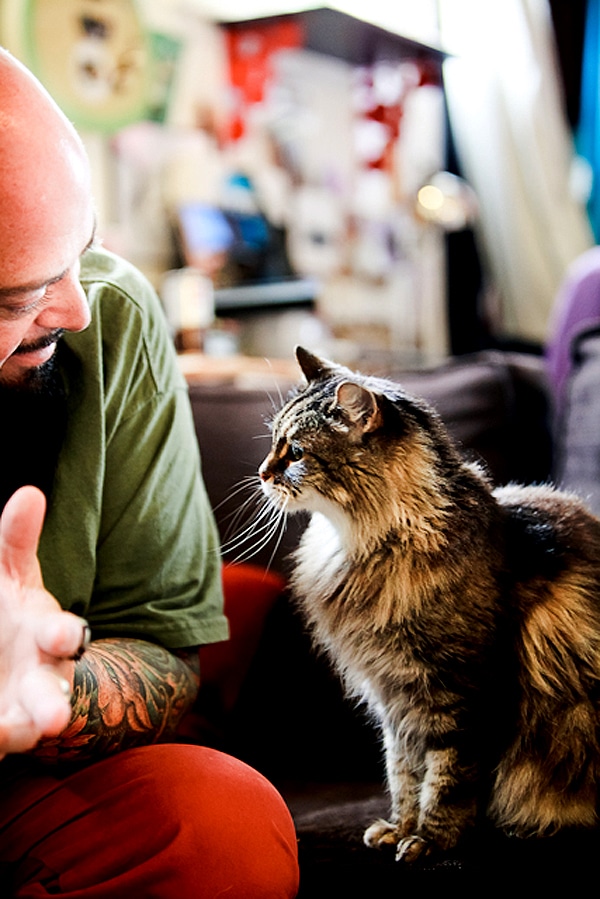 On what we owe cats
Since I've worked at Catster I've learned just how serious the cat-overpopulation problem is — and also how serious some people are about cats. Some can be quick to condemn anyone who disagrees with them on any point. So I asked Galaxy: What do we owe cats?
He was pretty clear: Help solve the overpopulation problem any way you can.
"You don't have to be the Mother Teresa of cats," he said, "but it means, for example, you don't walk by the strays. You go and you do something about it."
Asked whether he recommends people volunteer at shelters — or seek full-time work there when possible, as he did — his answer was simple: "Absolutely."
Among useful things most anyone can do is spending an hour here and there petting shelter cats to help socialize them. This makes cats happy, and a happier cat is a more adoptable cat.
"You can bring peace to these guys where they most need it," he said.
Galaxy also recommends reading and learning as much as you can about cat overpopulation, which is one of the ways he learned.
As for those who condemn others in the name of loving cats, he says, "Get out there and prove it."
"If you love cats so much, I'm not even going to listen to you unless you're doing something to help them," he said. "The people who feel entitled to go berserk when they're not out there doing something, that bothers me."
Yet Galaxy sees signs that his efforts are paying off. For example, when he has helped teach grade-school kids about pets and overpopulation, some of them approach him afterward and ask how they can get involved and eventually work to help cats like he does.
"It makes you want to cry," he said.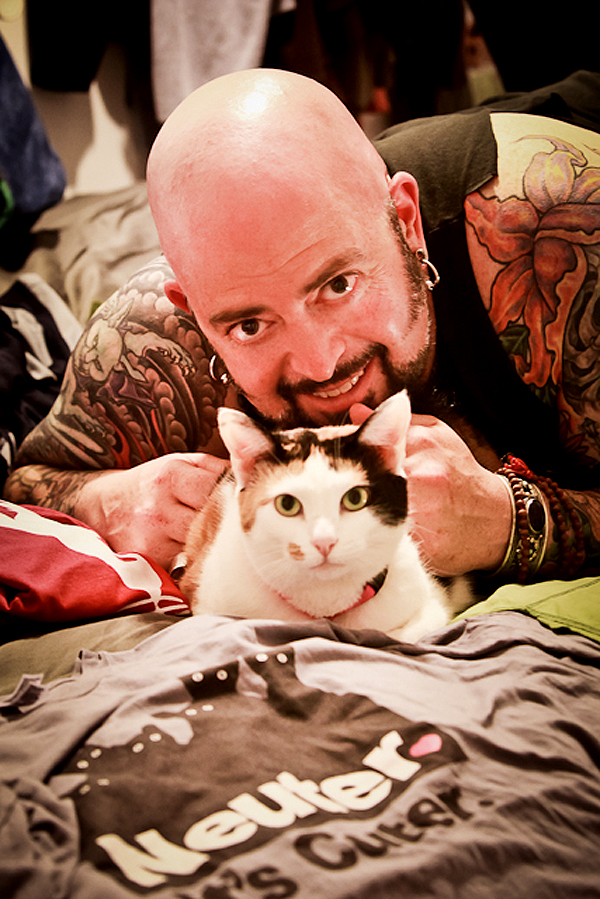 What's next for the Cat Daddy
Galaxy aims to establish a nonprofit group that will help shelter workers deal with overpopulation and end euthanasia. He says he's certain this solution will come from the inside.
"It [the nonprofit] will concentrate on elevating the shelter worker," he said, "because the final push of the no-kill solution begins and ends with people who work in the system — not from a think-tank, not from outside, but from inside."
If a shelter worker has an idea on how things can be done better, Galaxy said, that person deserves grant money, for example, and support in developing that idea. Timing is often crucial, he said, because shelter work is so difficult, and many people can't do it indefinitely.
"We can't afford to take our best and brightest and accept the fact that we're going to lose them to burnout," he said.
That's Cat Dandy to you, mister:
About Keith Bowers: This broad-shouldered, bald-headed, leather-clad motorcyclist also has passions for sharp clothing, silver accessories, great writing, the arts, and cats. This career journalist loves painting, sculpting, photographing, and getting on stage. He once was called "a high-powered mutant," which also describes his cat, Thomas. He is associate editor at Catster and Dogster.