When bad timing crushed my chances of a scheduled one-on-one interview with Grumpy Cat before the recent Friskies Awards, I was diappointed. So I channeled my inner Grumpy Cat and asked: What would Grumpy Cat do? Here's the advice I gleaned from thinking about it.
1. Go with the flow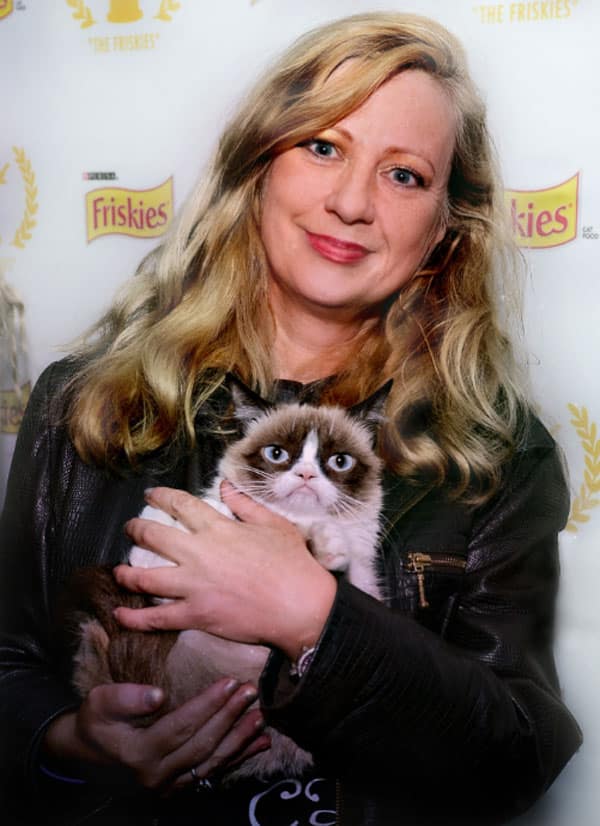 Sure, she might appear miffed or frownie-faced but she wouldn't pull a hissy fit or feel sorry for herself. Grumpy Cat has no ego. She doesn't care what people think. She's living in the moment. She would go with the flow — and that's what we both did. She serenely endured endless photo ops with strangers and at the end of the evening, not only did she end up in my arms as I'd wished for, but her mom, Tabatha Bundesen, snapped photos of me with Grumpy Cat after the crowds had gone.
Sometimes we don't get what we want but if we surrender to the flow of what is, the not-getting can turn out to be better than the original wish.
2. Put it out there and dream BIG
On October 24, 2012, the official Grumpy Cat website posted a small wish:
"We are considering creating a plush Grumpy Cat stuffed animal. The startup costs are insane. There is a prototype fee and we'll have to pay upfront for a minimum order of 1000-1500 pieces. The only way this will be possible is if we take pre-orders and/or have a successful Kickstarter campaign."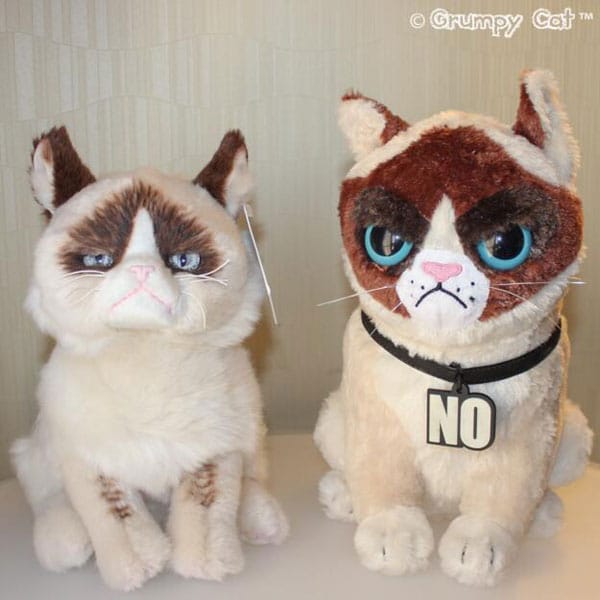 A year later, after Gund acquired worldwide licensing rights to manufacture and distribute Grumpy Cat plush toys, they are a reality. And TCG and Ganz of Canada were granted worldwide licensing rights to manufacture, distribute, and market a line of consumer products for Grumpy Cat and her brother Pokey, which are expected to hit retail shelves in December.
What a difference a year makes. The past year garnered an endorsement deal and a lifetime achievement award from Friskies; a New York Times best-selling book; Grumpuccino, a branded coffee drink; and countless T-shirts, mugs, and other branded Grumpy Cat merchandise. This is only a small part of a larger dream for Grumpy Cat and family. It's about building an empire with a feature film on the horizon and who knows what else. When you dream big, the world is your oyster — or plush-Mini Me.
3. Respect your natural rhythms
There are early birds and night owls, and it turns out both Grumpy Cat and I are night owls. She is famous for being dozy during the day even during media appearances but perks up at night, demanding attention and play between 3 and 6 a.m. She and those around her respect her natural rhythms.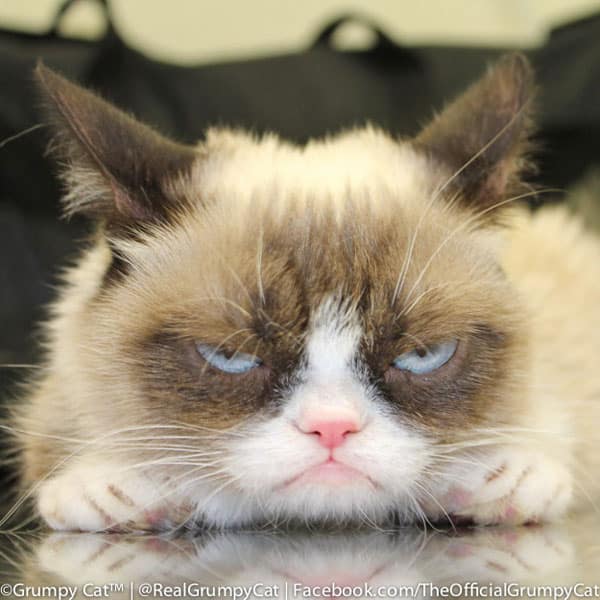 Mornings are my grumpiest and instead of forcing nature, I schedule creative work later in the day and evening. While most may not have as flexible a schedule as mine, we don't need to be slaves to an alarm clock. Everyone has the same 24 hours in a day. Identify when you are the most productive, creative or energetic and make the most of those hours. Don't feel guilty about taking a nap during the day instead of a coffee break if that's what your body needs. Grumpy Cat sleeps when she's sleepy and plays when she's perky. There's wisdom in respecting your natural rhythms whether human or feline.
4. The apple can fall far from the tree
Classic idioms like "Kids turn out like their parents" aren't always true. In fact, thinking we're destined to turn out like our parents can be self-defeating or limiting.
Grumpy Cat and her brother, Pokey, were born to a perfectly normal and lovely Calico mom named Callie. Their father, likely a feral, is an unknown influence. While Grumpy Cat had normal parents, she was born with genetic issues including dwarfism.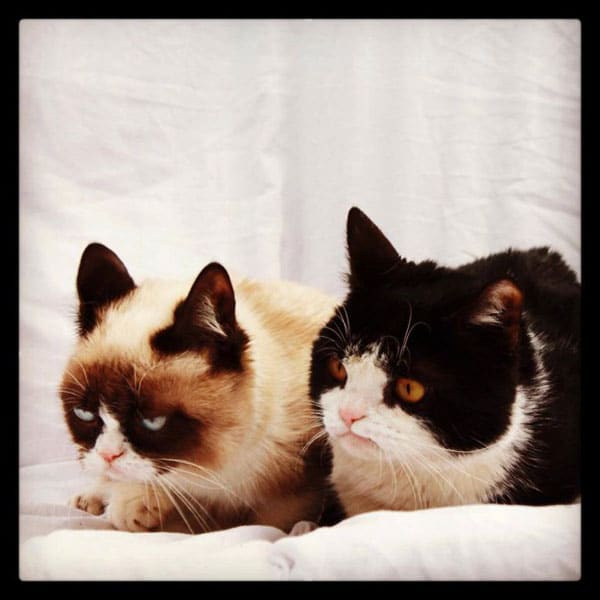 The apple fell far from the tree, and it's the best thing that could have happened to her. We are not our parents. Recognizing that we are individuals with a separate destiny from our parents frees us to be unique and celebrate that.
5. Happiness is a choice
Grumpy Cat is famous for saying no. Despite her deceptive perma-frown she's happy and unwittingly shares her secret: by making people smile and sharing, it makes others happy. She knows life isn't about pleasing everyone. It's impossible and peopleÔÇôpleasers are some of the unhappiest people on the planet. When you feel overburdened and put-upon, don't feel guilty for saying no. It means saying yes to honoring your limits.
Grumpy Cat, like all cats knows how to live in the moment. It's where happiness resides. Happiness isn't about being perfect; it's about accepting imperfection and making the choice to be happy. It's an everyday, moment-by-moment choice. Grumpy Cat doesn't lament that her legs are too short, or that she looks funny. Life is too short and besides, she's happily running all the way to the bank on those short little legs.
Why waste time and energy being resentful, angry or jealous? The grass or catnip isn't greener on the other side. By accepting our limitations and deciding to be happy anyway, who knows what unexpected rewards are waiting to be reaped.
About the author: Layla Morgan Wilde is a holistic cat behaviorist, an award-winning writer/photographer and founder of the premier online magazine Cat Wisdom 101. A passionate advocate for cats, she founded the Toronto-based Annex Cat Rescue in 1997. In addition to her blogging at Cat Wisdom 101, she blogs at Boomer Muse, contributes to Petfinder.com and Nordic Spotlight. Wilde is a professional member of the Cat Writers' Association. She lives in Westchester County, NY, with four cats.