Here at Catster, I am the only one of our editorial team who is single. This is entirely by choice. I love being single. Can I hear it for all the happily single ladies out there?
I also love casual dating. I'm still new to San Francisco and pretty evenly split between introversion and extroversion, so anyone I meet I treat as a possible New Best Friend. I'm receptive to finding lovers, but, after a streak of serial monogamy, I'm happy to take my time developing meaningful relationships.
I may or may not have an OkCupid profile through which I've met a couple of folks who've become my friends. I like online dating sites. Back when Facebook was brand new and a lot smaller, I met my college friends by combing through mutual interests. As a writer and as a web native, I am confident expressing myself online. I'm perfectly fine and charming in person, but a lot more witty and articulate in text.
In my post about the next generation of cat dudes, someone wondered about dating sites for people who like cats. And why not? There are lots of specific dating sites — it helps narrow things down. So I did a little Internet research.
Purrsonals was among the top hits in a search for "dating sites for cat lovers," along with the sites Single Cat Lovers and Must Love Pets.
Sign me up!
1. Purrsonals
While none of the sites offers particularly appealing interfaces, Purrsonals is the most aesthetically pleasing of the bunch. Except for this part: A video lady who, without warning or invitation, introduces the site to you, appearing on screen like a digital Tinkerbell. "We made Purrsonals just for you," she coos, cat in arms. Kind of annoying, but whatever.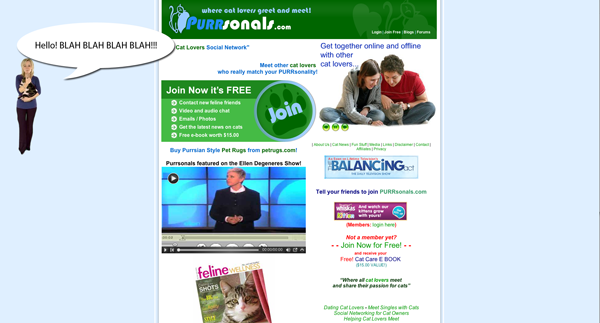 Registration was typical enough, although the personality criteria (which you have to fill out) felt a little limiting — how on Earth do I describe the personalities of the social groups I belong to?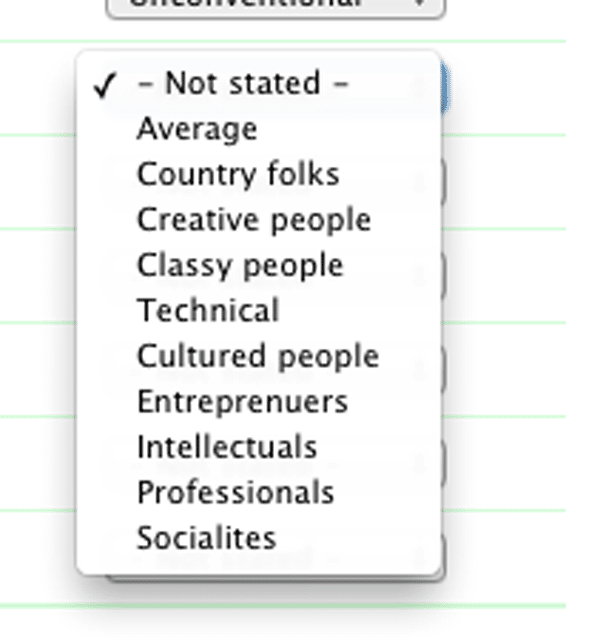 When it came to searching for people, Purrsonals fell flat — I was among only three results in San Francisco within my age range, and the only one with a photo. Not that a photo is necessarily an accurate representation of a person's appearance, it's always nice to get an idea of who you are talking to.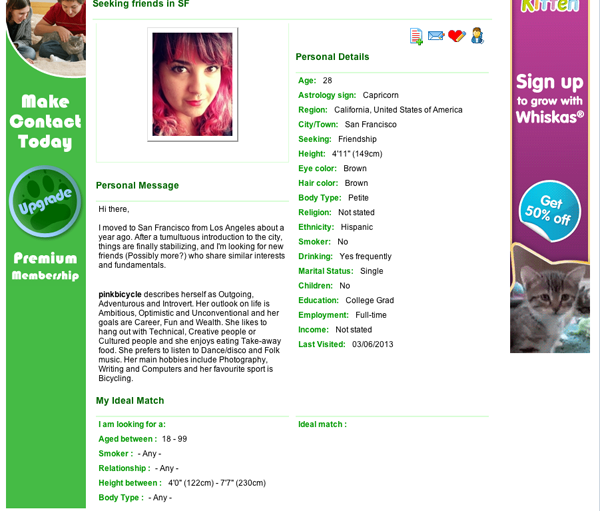 Sadly, I have to conclude that Purrsonals is a real bummer in the summer. It seems that in order to message someone you're interested in, you have to pay for a higher level membership, and, frankly, no thanks.
2. Single Cat Lovers
Single Cat Lovers is even more dismal, unfortunately. It's not too pretty to look at it, and while registration was relatively straightforward, I didn't like being forced to enter my physical attributes. I don't want to talk to someone who might immediately dismiss someone on height alone (because, let me tell you, I thoroughly lack it).

And this was weird: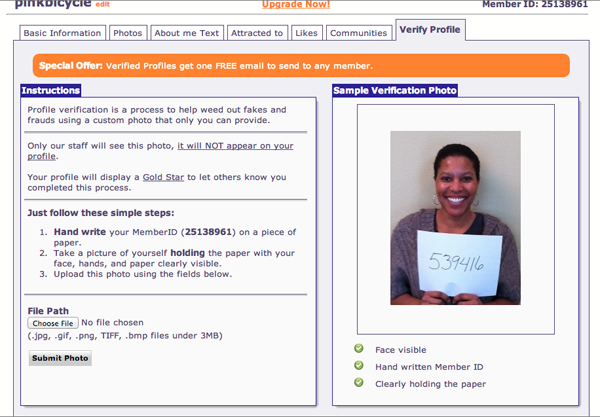 Never mind.
3. Must Love Pets
I was most wary of Must Love Pets because, I mean, look at this:

And I was right to be wary. Registration was easy enough, but the accompanying email pushed paying for a "premium membership." (Really, to make any dollar amount worth it, it would have to be a different site.) Like Single Cat Lovers, Must Love Pets required me to categorize my physical attributes. Like I said, I don't want to be friends with someone who places so much importance on body type.

Maybe it's a generational thing, but I thought this was a little odd:

And if you don't have a digital camera, smartphone, newer computer, scanner, or tech-savvy member of your family, then you can mail a photo to headquarters and it will upload it for free, which might reflect something about the site's users.

And though it's called Must Love Pets, the site doesn't seem very pet-oriented. I got out of there.
These aren't places I want to look for love. Purrsonals is clearly the best of the three, but they all underperform. Which is really too bad, because they're missing an opportunity to cater to a really receptive community. I don't think there's anything wrong with dating based on similar interests or beliefs such as a love of cats — after all, it's better than falling for someone and then finding out he or she is deathly allergic to cats.
Would you sign up for a dating site specific to cat lovers? Have any of you used Catster as a "dating site?" Did you have any luck? Do tell in the comments!
More about cats and cat dudes on Catster: