Quitting smoking is, without a doubt, the most straightforward thing a person can do to increase his or her life expectancy (although not always the easiest). Smoking causes, contributes to, or exacerbates all manner of health problems in people including cancer, heart disease, and asthma.
But is smoking always bad? Might there be some rare cases where the benefits of smoking outweigh the risks? Most people know that smoking is generally a poor health decision, but some centenarian smokers are out there living happy lives. And some 20-something nonsmokers die of lung cancer. Smoking is bad for health on average, but some individuals are far from the average.
The benefits of regular heavy smoking never outweigh the risks, I could imagine rare individuals for whom the pleasure of an occasional cigarette outweighs the health risk. The stress reduction enjoyed by that individual may cause more benefit than the harm caused by the cigarette's tar. Maybe. In theory.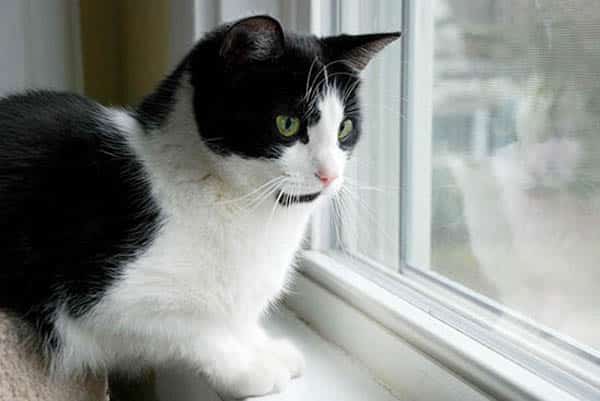 What does this have to do with cats? If you're thinking – "Should I let my cat outside?" — letting your cat go outside is the veterinary equivalent of smoking. It significantly reduces feline life expectancy. Yes, some outdoor cats live into their 20s— just like some smokers live to 100. But it puts cats at increased risk of all manner of problems including infection, predation, trauma, hypothermia and myiasis (that's a fancy word for getting infested with maggots).
For my entire career I have urged (online and in person) cat owners to keep their cats indoors. (So don't call me greedy— outdoor cats get into much more trouble than their indoor counterparts, so they're far more lucrative for vets.)
My editors at Catster recently asked me to address this in depth. One of them wrote: "Is *any* outdoor exposure too fraught with bad consequences to even consider? I know that lots of evil lurks out there … but is there any level of exposure you'd consider acceptable?"
My knee-jerk reaction was a simple no. But I thought about it, and about life in general, and I realized that there are two things in this world that really make me cringe. The first is outdoor cats. The second is absolutist people who see the world in black and white and refuse to acknowledge that arguments have two sides.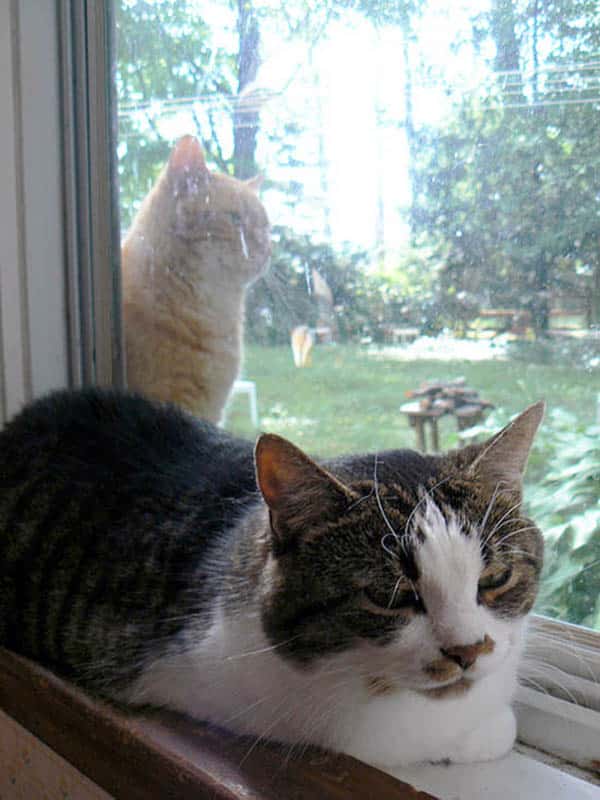 I have discussed the cons of allowing cats outdoors multiple times on Catster. For another dissertation on the matter, click here.
Today I'll cover the pros of letting your cat outdoors. Here are some of the arguments that might be put forth for allowing cats to go outside.
Cats who go outside are less prone to obesity. Free-roaming cats naturally burn more calories than those that sit on the sofa all day. They therefore are less prone to diseases associated with obesity such as diabetes and chronic kidney disease. Of course, part of the reason why outdoor cats are less susceptible to these diseases might also be because they die of trauma, disease, fights, and other horrors before they are old enough for these diseases to become a problem.
Outdoor time might be good for a cat's mental health. The cat may enjoy being outdoors. True. Many cats really seem to enjoy being outside, just like many sailors enjoy getting drunk and then brawling and visiting brothels. It might seem like fun at the time, but it's not healthy behavior, and those who live through it often regret it later.
Outside time allows cats to express natural behaviors that might be suppressed indoors. In other words, they get to hunt. This might be good for the cat's mental health, but it decimates (or is perceived by many to decimate) local wildlife populations. Nobody really misses rats, mice, or gophers. But some people get very upset about the salamanders, lizards and snakes that fall prey to cats. Legions of people are up in arms about feline-related songbird death. Don't forget that hunting comes with risk. While your cat is hunting mice, a coyote or hawk may be hunting your cat.
And how about those wildlife fans who are angry about cat predation? Do you think that there might be any of them in your community who have decided to take Dexter-style action against the local cats? Or any people who are simply serial killers in training currently practicing on cats? Over the years I have read or heard of many stories of serial cat killers, including the bow-and-arrow killer who stalked cats in my native Boise, Idaho, when I was a child as well as someone who might currently be using rat poison in the Bay Area to kill cats. Also, don't forget that many parasites — including Toxoplasma, lungworm and some tapeworms — are spread through feline predation.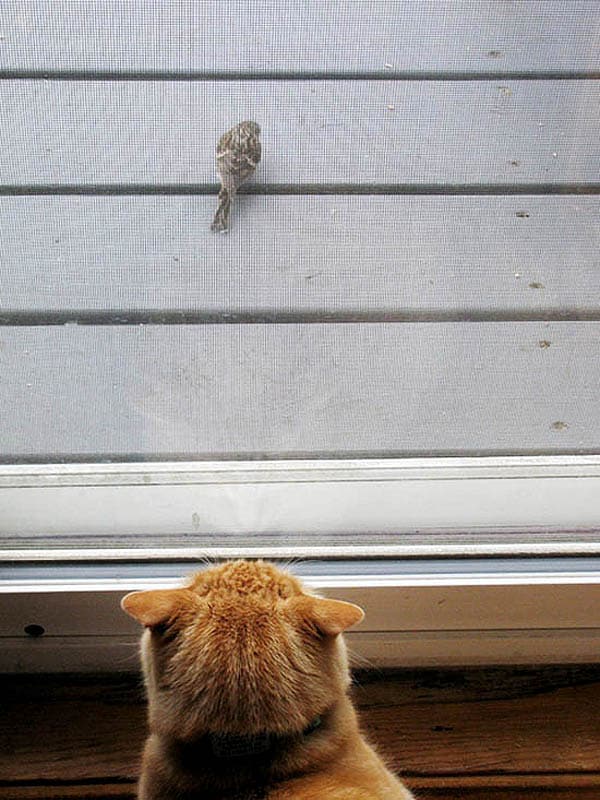 Cats who go outside often urinate and defecate outdoors so there is no stinky litter box in the house. Although it's great to have a nice smelling house, that goal is also achievable by keeping the litter box clean. I should also point out that your neighbors probably don't appreciate finding cat poop in their gardens. Feces can spread diseases including Toxoplasmosis, which in turn could cause your neighbor to get sick or have a miscarriage. Also, if your male cat urinates outside, you might not notice and be able to intervene if he develops a urinary obstruction.
Cats need to go outside to produce vitamin D. This "pro" is a false argument. Sunlight is not involved in vitamin D synthesis in cats. It does, however, contribute to sunburn and skin cancer.
Outdoor cats can consume grass, through which they obtain valuable micronutrients. I've seen no evidence that grass contains vital nutrients for cats. I know with certainty, however, that grass can lodge in the nose and throat, leading to an expensive veterinary procedure. And I also know that some grass is sprayed with potentially toxic pesticides.
If I don't let my cat outside, he urinates all over my house. I have tried behavioral modification, medications and collaboration with professional behaviorists but nothing works. It's either let him outside or put him to sleep. OK, you got me with this particular Hobson's Choice. Rehousing such cats is virtually impossible (unless you can find someone who does not object to cat urine in the house), and I am sorry to say that such cats are actually not uncommon. This is one of the rare instances in which I reluctantly sign off on letting a cat outside.
Cats who go outside under supervision and are kept on leash or in a fenced patio can enjoy the outdoors while suffering minimal risk. True. Sort of. However, don't forget that cats can slip harnesses and then get creamed by cars. They can climb (and fall from) trees and fences in a heartbeat. And even leashed cats are at risk of exposure to feline leukemia virus.
There you have it. I have tried to set up solid arguments for allowing cats outside, and for the most part I have come up short. Here's my take: Enjoy a rare cigarette if you want one (although never in the presence of your cat). But keep your cat indoors.
Got a question for Dr. Barchas? Ask our vet in the comments below and your topic might be featured in an upcoming column. (Note that if you have an emergency situation, please see your own vet immediately!)