Editor's note: After you read this, make sure to read part one of Marci's story, in which she built a catio!
For years I gazed up at my 19-foot ceilings envisioning cats walking above my head or peering down at me like furry gargoyles. Two dormer windows overlooking the cul-de-sac begged for a kitty silhouetted against the light. I also thought of hairballs plummeting on my head and sliding down walls, but the dream endured.
Due to a financial windfall this year, my dream was about to come true, at least in part. I drooled over photos of the famous Walker cathouse in San Diego and my mind spun with possibilities. Having high ceilings to work with just made it spin faster, so it was impossible to decide.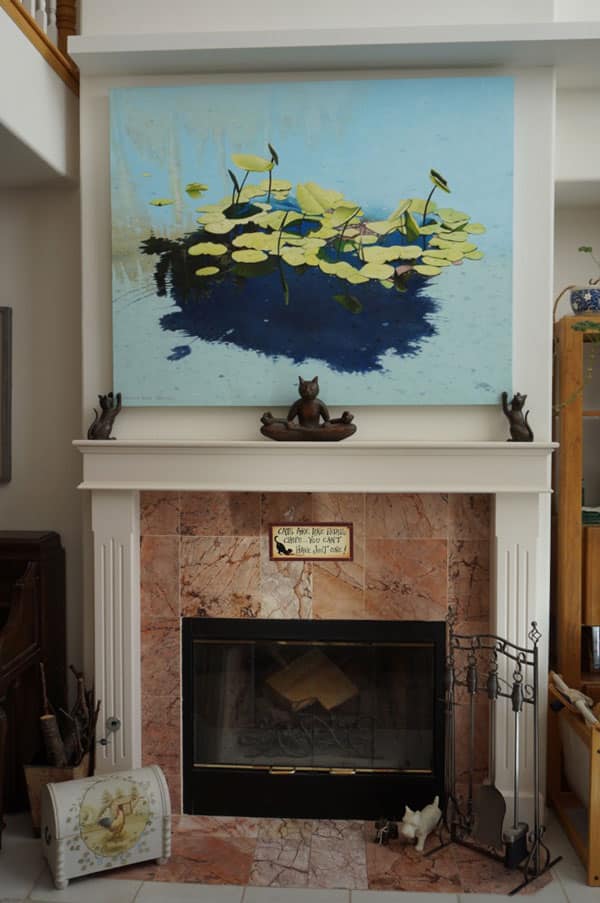 A cat rescue friend told me about a fantastic house in Santa Barbara, 45 minutes from me. Peter, the owner, is a custom contractor and obvious cat-lover (he has 18, indoors-only!). I called him, hoping he would invite me over with my camera. He did, and what I saw convinced me I'd found my builder. A floating stairway, a Swiss cheese play platform above the living room, a climbing pole with spiral ramp … it just went on and on throughout the whole house.
That was a year ago, while I was still in the dream stage but with no funds to fulfill them. Peter agreed to come look at my house with the intention of a potential job. I knew he'd have some great ideas. "We look at the home and design walks to get the cats to windows, skylights, pot shelves, etc., which we know they enjoy," he told me. "We also consider the artistic look of the walks and how they will add to the room aesthetically."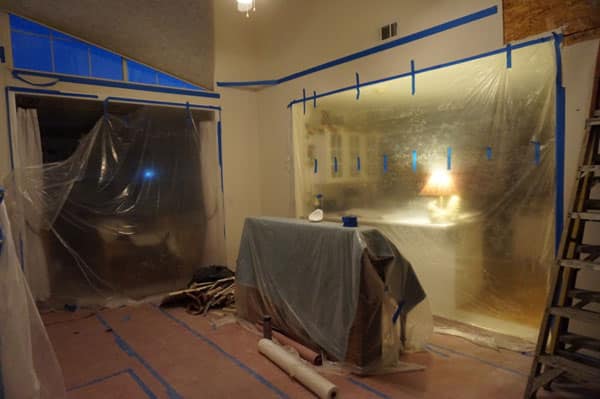 Peter reassured me that safety would not be an issue. "We usually do not build open walks more than seven or eight feet off the ground. I have built some in my house that are 12 to 14 feet high, but we enclosed them with dowels to prevent the cats from falling or jumping."
"Cats like to go high," he continued. "They love shelves up near skylights or just high up in a room. We try to incorporate climbing/scratching posts because cats like them. We also make sure to allow for human access to all areas. That is, we won't build a tunnel or area that cannot be reached, in case you need to grab the cat, clean, etc."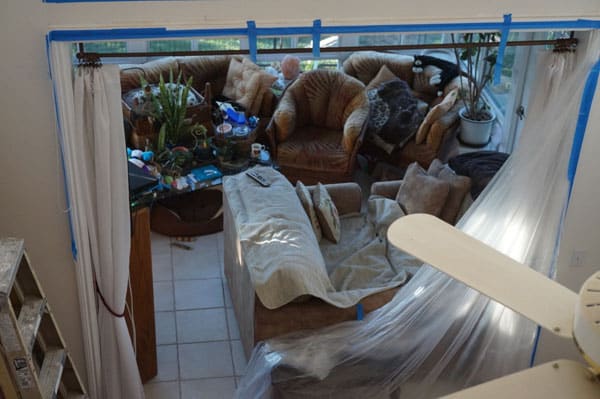 Now, with money in the bank and the impending construction of three new homes behind me cutting off my view of the La Purisima hills, I jumped into a remodeling project to make a reading loft. This was the perfect time to add those skywalks for the cats, so I called Peter. (I also asked my realtor how the intended project might affect the future selling price. Both she and Peter assured me that it would not be an issue. Case in point: The San Diego house was recently sold to non-cat people, who took out all those wonderful ramps and tunnels!)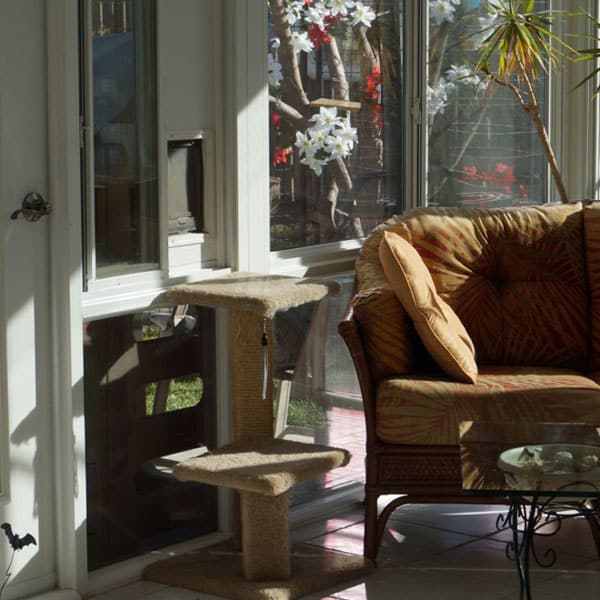 It was not in the cards (or pocketbook) to go as elaborate as Peter's home, but I was determined to add some custom beauty to the great room walls in the form of kinetic catwalk art deco.
After I obtained the permits, a steady stream of workmen descended upon the house in early October. Demolition and construction began with an expected completion date of two weeks (yeah, right). The living room was emptied of furniture, paper was taped to the tile floor, and plastic sheeting hung to seal in as much of the swirling dust as possible.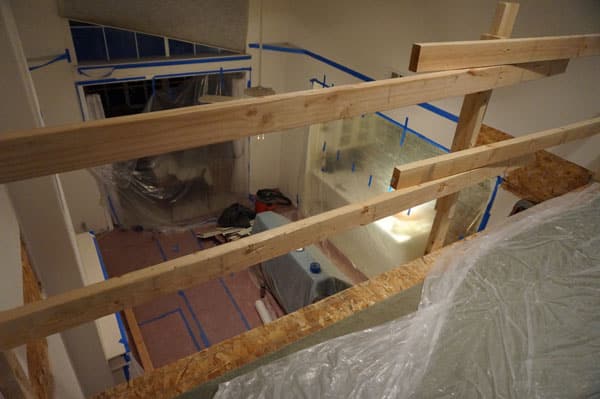 All this freaked out my four rescue cats and Scottish Terrier at first, but by day two the cats decided it was really an amusement park set up just for them. They'd sleep all day and play all night. I'd wake in the morning to find large holes in the flooring paper and various plastic sheets partially pulled down, with the remaining edges just barely hanging on by a piece or two of blue tape.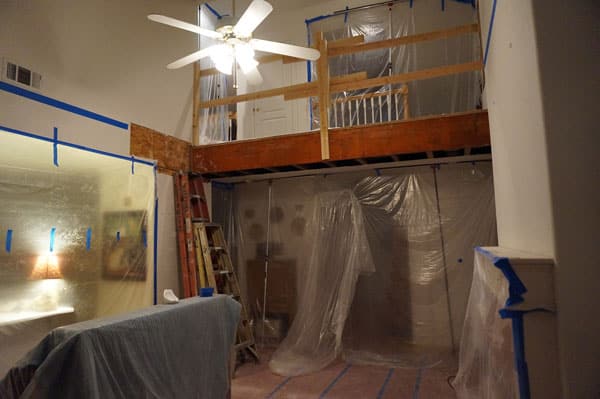 The eight-foot arched window was the perfect place to add a sunning/napping/bird-watching shelf. I wanted to add an artistic element to the catwalks so, loving curves, we designed the two corner and main window shelves in sculptured arcs to mimic the window. The side walks and corner shelves would be about nine and half feet from the floor, and the window shelf a bit lower. The staggering of the shelves added a very pleasing effect by breaking up an otherwise straight line. Purrfect!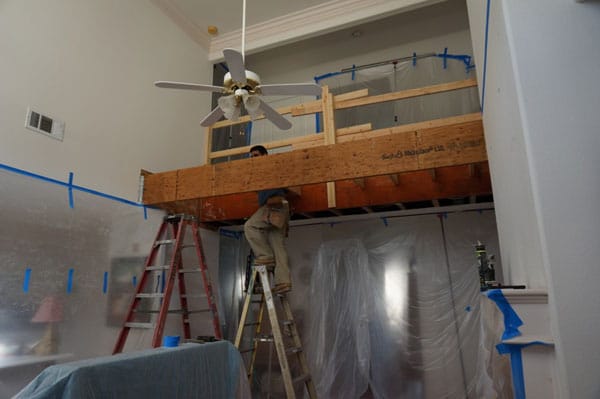 The two-week schedule stretched to four, so I was away at the Cat Writers' Association (CWA) conference in Dallas while the catwalks were being installed. Peter was kind enough to send a couple of photos that I gleefully showed to my cat-loving colleagues. I so wished I had set up a nanny cam so I could watch the cats after the workmen left for the day.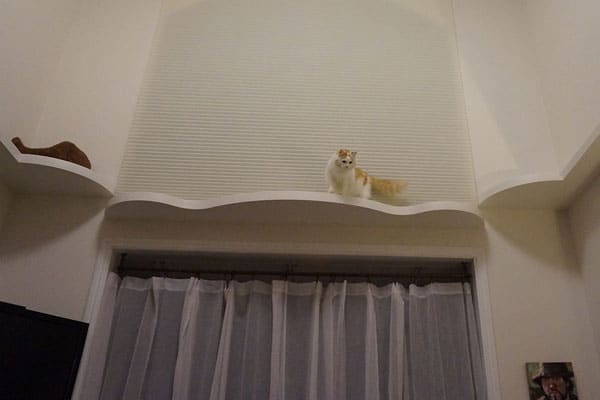 When I returned home I found no evidence of paw prints on the new walks, much to my dismay. Peter and I discussed whether the space between the balcony spindles might be too narrow.
That evening at treat time, I tossed tidbits out onto the ledges instead of on the floor. After a bit of hesitation (there is a three-inch gap between the balcony and the catwalk), Barney and Nemo proved once and for all that males will do anything for food (and sex, but I don't have THAT kind of cat house). Both were even able to turn around easily and come back.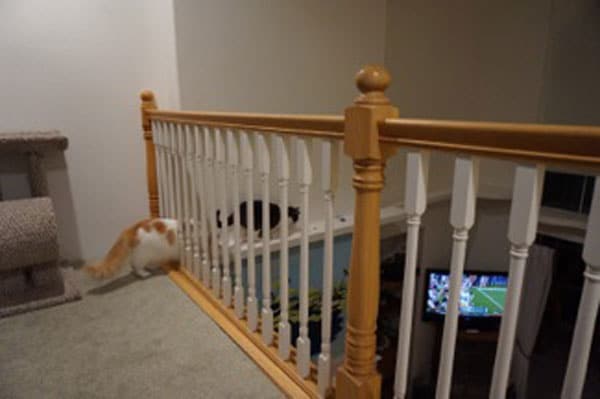 In Dallas I scored the best door prize ever: an Urban Pet Haus Large Wave Perch, something I dearly coveted. It was the perfect accent piece to install just above the long straight skywalk.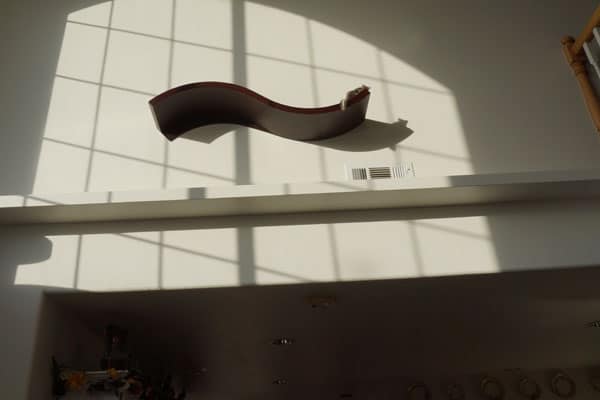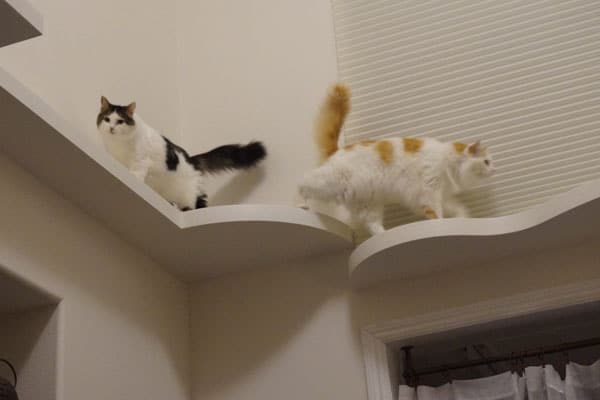 The catwalks are getting lots of use, especially at evening treat time and during the night, made evident by the corner cat bed on the floor one morning. (I really have to get a nanny cam set up.)
Nemo is in heaven and has become a base jumper. A favorite exit strategy for him is to leap from the window shelf to the couch below. Sometimes he runs back upstairs to do it again, just for the fun of it. Since the landing place is soft, I do not worry. After all, he used to jump down from the roof onto cement before I secured the catio!
Here's a short video of Nemo leaping down:
Since my home is open and bright, I opted to stay with neutral colors so that the walks would blend into the walls and not compete with the artwork I intended to hang. The finished product looks like it came with the house.
Giving substance to your dreams is really what it's all about. In my house, those visions include my cats. I'm happy, I have happy kitties, and I also have more empty space. There are two large back-to-back pot shelves with a common wall just begging for a couple of Swiss cheese tunnels and also those dormer windows. The living room corner needs a new sisal-wrapped tree that will go up to the new walks. I know this is only the beginning of a never-ending project.
Brought up in a home that spent every penny wisely, I justify my expenditures by knowing I am enriching both my life and that of my cats. Since mine are indoors-only (except for the awesome catio I built them) I asked for advice from Amy Shojai, fellow CWA member and certified behavior consultant.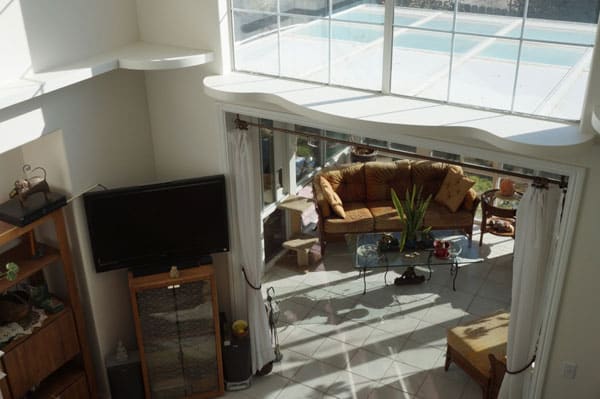 "Different heights, different textures … your cats will tell you what they want," says Amy. "The more cats you have the more options you need."
One of my favorite pastimes is designing and building things, so that advice is just pouring fuel on the fire. Inspiration and funds are all it takes to turn your own home into a kitty fantasyland. If you are handy with a hammer and saw, there is no telling where those weekend projects will end.
As a first-timer, I went professional this time. The project did go over budget due to last-minute changes and additions, but I heard my cat-loving dad whisper, "It's only money," in my ear as I wrote the check. Thanks, Pop, for it was you who left me the windfall when you passed last February.
Find out how Catster can teach you more about your cat:
Read more by Marci and more about catios: