Cat carriers are a fact of feline life. Cats must travel now and again — at least to vet visits — and the carrier is a must when it comes to traveling safely. Most cats are well aware of what's happening when they spot the carrier, and they take off like a bat out of hell. Other kitties don't really mind it — it is kind of a box, after all.
My three cats are all over the board when it comes to the carrier. Cosmo wants absolutely nothing to do with it. He has never willingly stepped inside of it, and runs for the hills when it appears. The funny thing is, he's the only one who doesn't whine and make a fuss during car rides. After traveling with my loud-mouthed girls, his silence is welcome.
Sometimes when the Pet Taxi is sitting out and he has to walk by it, he swerves to walk as far away from it as possible. It's like he thinks it's some kind of black hole that will suck him in. I know that if you leave the carrier out all the time, the cats are supposed to get used to it. I tried it, and although it made a difference for Saffy, Cosmo was having none of it.
Saffy was never one who loved the carrier, but when it sat in the living room for a while, she did burrow inside of it once or twice. When she did, I was quick with the camera and created some funny photo ops for my blog. Of course, as soon as I grabbed the camera and stole a couple of shots, she abandoned the carrier and never willingly went back inside. I'm sure she did that just to irritate me.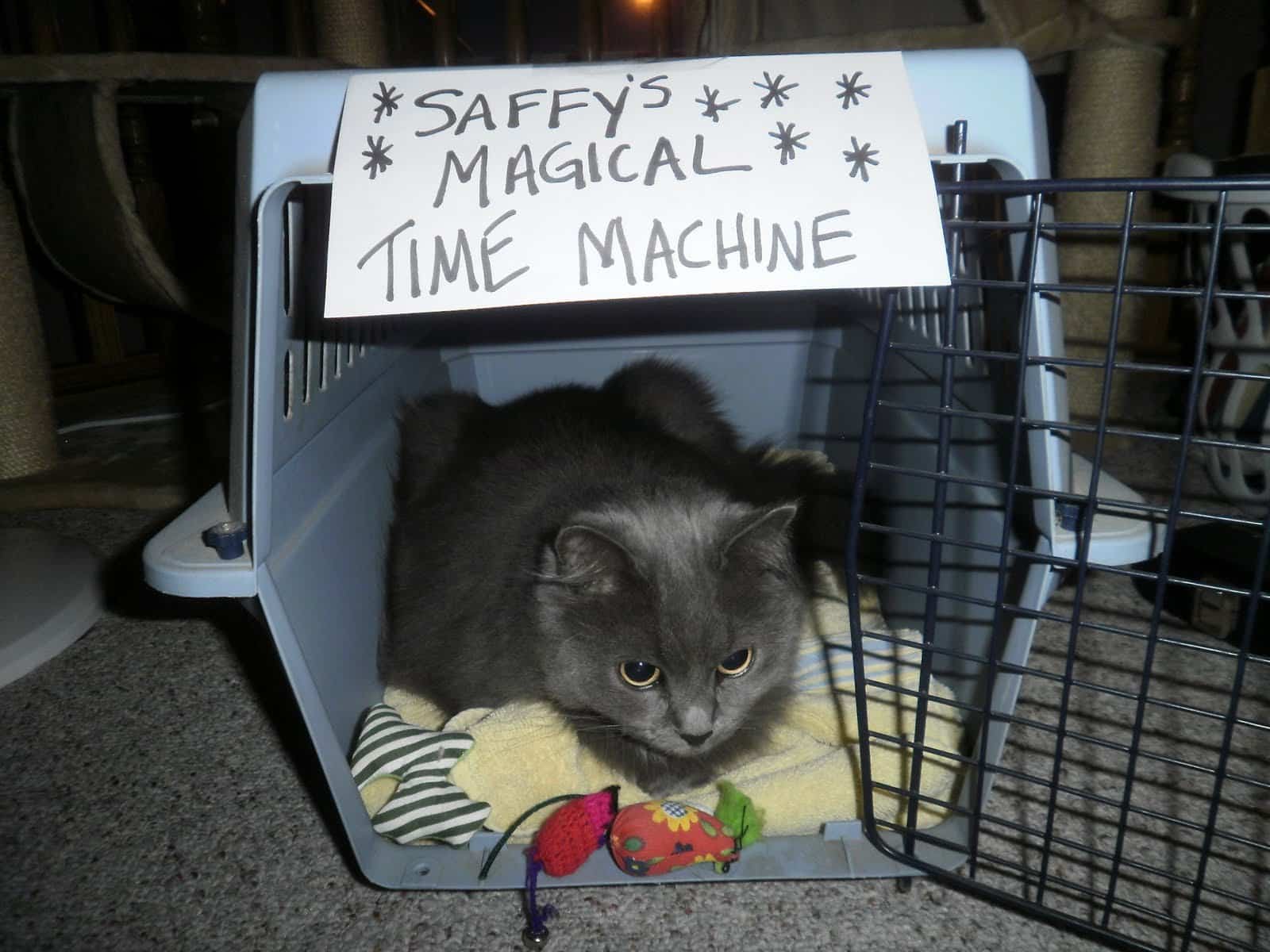 Once in the car, Saffy lets loose with deep, moaning howls. She's been to the vet countless times, but each "song" is a dirge of despair. Sometimes I sing along with her — we have mad harmonizing skills when it comes to dirges. Plus, it somehow makes the time pass more quickly.
If the carrier's door is open, Phoebe finds her way inside in a matter of minutes. She loves the cozy little cave and will nap there for hours. Because of this, I never have any trouble getting her inside when it's time to travel. Sure, she's all over the carrier when the door is open, but once I close the door and transport her to the car, she's suddenly certain she's about to die. She releases these little high-pitched, clipped mews nonstop for the entire 10-minute drive to the vet's office. I'm here to tell you that those 10 minutes feel like 10 hours. At least.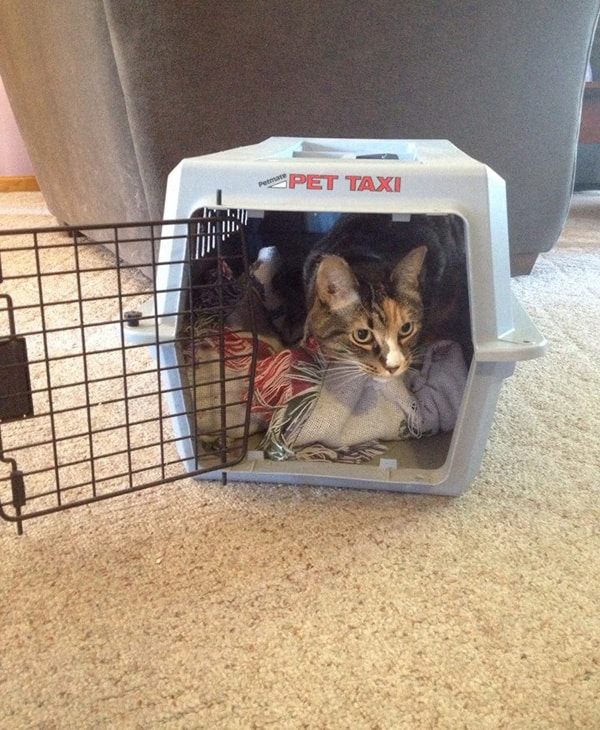 When we return home, she tends to avoid the carrier for a few days. Then it's like she forgets all about the anguish of the car ride and climbs back inside the thing. The poor cat is plagued with a combination of post-traumatic stress disorder and short-term memory loss.
My three cats do have one carrier-related behavior in common. As soon as one of them returns from a vet visit and is released from the confines of the Pet Taxi, the other two immediately rush over to smell the cat and carrier. It's like the freshly vetted cat had just returned from an alien abduction. I'm quite certain they must be thinking, "We're next."
How does your cat react to the carrier? Tell us in the comments!
About the Author: Angie Bailey is a goofy girl with freckles and giant smile who wants everyone to be her friend. Loves pre-adolescent boy humor, puns, making up parody songs, and thinking about cats doing people things. Writes Catladyland, a cat humor blog, and authored whiskerslist: the kitty classifieds, a silly book about cats wheeling and dealing online. Partner in a production company and writes and acts in comedy web series that may or may not offend people. Mother to two humans and three cats, all of which want her to make them food.
Read more by Angie Bailey: