Do you find your cat sexy? Okay, that sounds more than a little on the creepy side. I guess what I meant to say was, is there something alluringly provocative about the feline form?
I was musing on this racy conundrum the other day after a friend told me she runs a burlesque night. My immediate question: Do any of the performers ever base their acts on cats? It turns out they do! So I went about tracking down and interviewing three professional burlesque artists who have channeled cats into their acts. Here's a peek into their world.
1. The Crazy Cat Lady Routine
Ginger Snaps is a burlesque artist with a couple of cat-themed routines in her repertoire. I asked her about a little number called Crazy Cat Lady. (You can see a video of the routine here — but this and others we link to in this post dabble in the risqu├®. Do not watch them at work if your boss opposes a little tassel twirling.)
Catster: What inspired the Crazy Cat Lady performance?
Ginger Snaps: This is easy — I am a crazy cat lady, so it was suggested to me by a friend that I do a number to match my obsession! I always manage to spend all my money on my cats; they both see freakin' specialists and have better healthcare and toys than me! I already had another cat-themed number to "Pussy" by the Lords of Acid, so this was the next logical progression.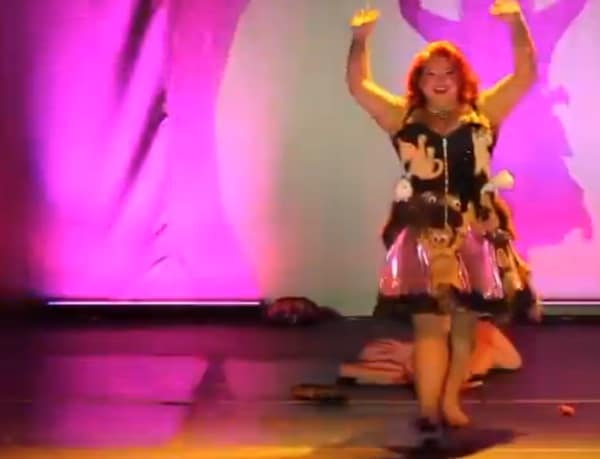 Where did you source the cats that are on your costume?
The cats I throw off are various small stuffed animal cats like Beanie Babies and even a Mr. Bigglesworth from Austin Powers — I raided my friends for tiny cats. The skirt of cats is made out of felt cats with goggly eyes and feather boa tails. I really wanted them to have big eyes to read well from the stage.
What is it about the way cats move that makes them a good source of inspiration for a burlesque routine?
Cats have a great mix of slinky and spastic, so there are so many moves to draw inspiration from. Everyone's seen the cat done as sexy, but with my Cat Lady number I wanted to draw from their weird side with sudden changes in mood and temperament.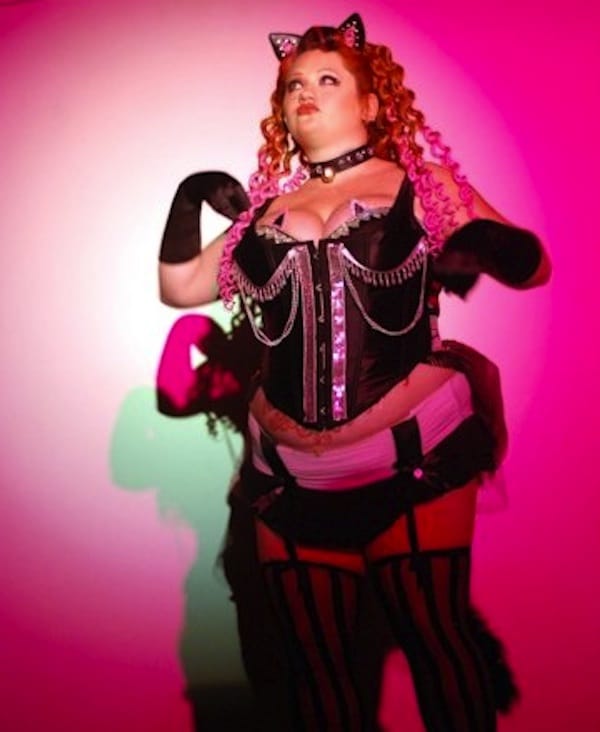 Would you consider cats to be sexy animals?
For sure. They're rife with slinky moves and awesome flexibility!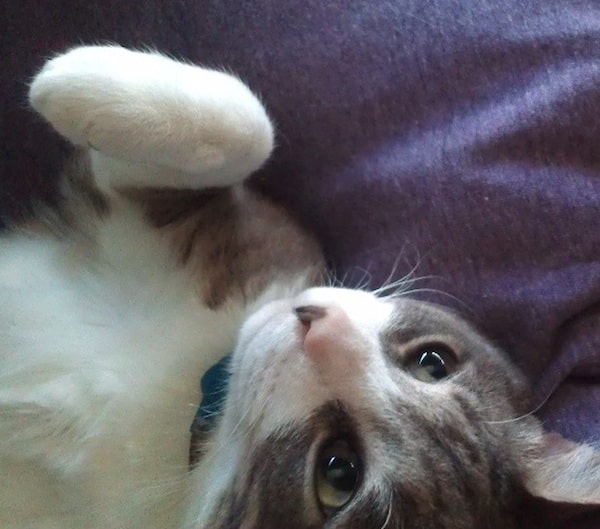 Do you have any cats yourself?
I have a Cornish Rex named Bacchus who I got from a shelter in Florida, and a small gray-and-white cat named Piglet. I found Piglet outside my apartment and he was all snorty — it was calicivirus making him a chronic snuffler — and sounded like a tiny pig.
2. The Vocabulary of Cat Burlesque
Runaround Sue is the executive director of the Sugar Shack Burlesque in New York City. I pressed her about the deep philosophy behind cat burlesque and the time she took to the stage in feline attire.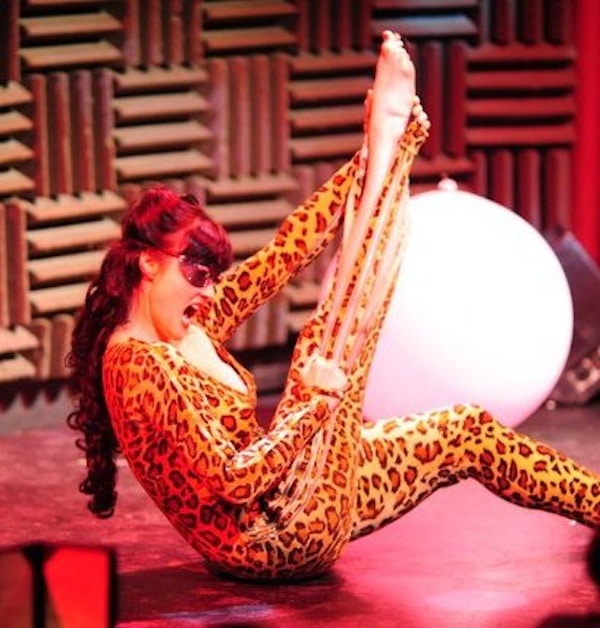 What's the story behind your routine in a cat costume?
The performance and outfit came about when I was helping my roommate do research into a show about Wonder Woman. We went up to William Moulton Marston's grandchild's house, as she has a museum there, and that's when I first discovered the villain Cheetah.
I thought it would be fun to use both the temperament and the physicality of a cat as a new vocabulary. You have your own physical vocabulary when you're engaging your audience, but when you have the physicality of a cat you have all these other moves you can do like stretching and being playful. There's the archetype of a cat which I think is rather coy and powerful and slinky and seductive while also being guarded.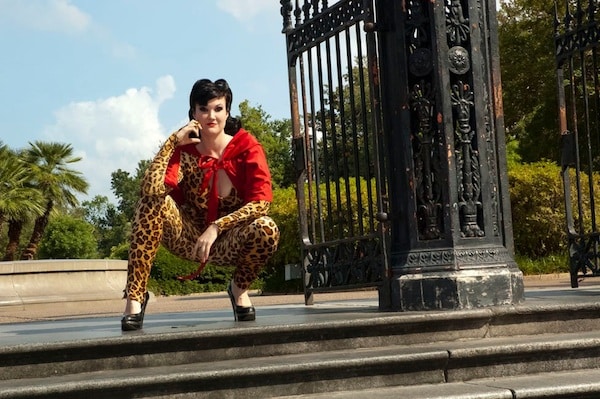 So were you attempting to channel Cheetah, or cats in general in your routine?
I started out as the villain, but I didn't do much research into it — I just knew she was this character who was a socialist who traveled to Africa and somehow got changed by a priest into this villain that became a cat! I didn't have a cat routine and I was really excited by the costume — it has a bunch of different zippers. I worked with a costume designer, and if you notice, on the leg there's three zippers, two on the arm, and one on the side.
I took the idea of scratching, and as I scratched I removed the costume. People loved it! In addition to the costume, I also come out with a huge ball; it's three feet in diameter. I was thinking how a cat would play and what sort of props a cat would use. In the end, I pop it and it's full of glitter! It goes back to the scratching again.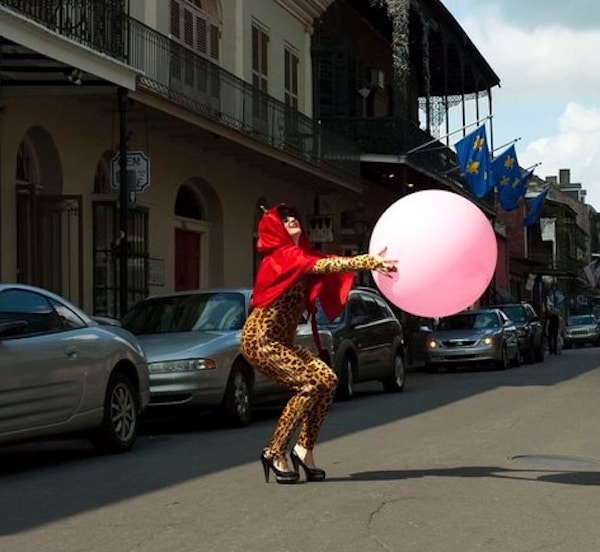 Would it be possible to have real cats on stage as part of a burlesque routine?
You know, there's the golden rule of performance, which is you should never work with children or animals because they always upstage you! I also think cats are so independent it would be very difficult to trust them to follow the choreography.
I have seen people do acts with dogs, though — dogs are very trainable. My friend Bunny Love has a dog named Belvedere and they do an act that's a parody of Lady and the Tramp. They're sitting at a table and they eat spaghetti together. She's trained the dog to remove her socks and some of her clothes. She's also trained the dog to howl along to the song. But in general, I'd say that anyone can check out burlesque in their town and more often than not, girls are altruistic and have huge hearts and often times you can find shows that are paired with local animal shelters.
Do you have any cats yourself?
No. I'm not responsible enough to take care of an animal!
3. A Tribute to a Beloved Cat
Peekaboo Pointe bills herself as "the fastest tassel-twirler from east to west." She came up with a feline-themed routine in honor of Jinx, her cat who passed away. (See the video here.)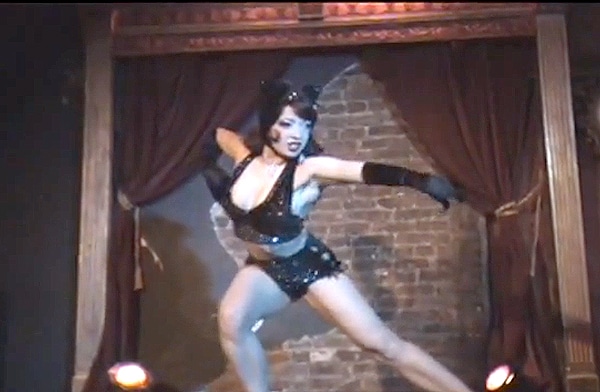 What's the story behind your routine Cat?
I wanted to make a bad-ass cat routine, not a cute one, as a tribute to Jinx. He was a tough cat and so special to me.
What was Jinx's personality like?
Jinx was a badass. He had a real attitude and if he didn't like you he would give you the side-eye, but he would never lash out. But he was my man and he was always there when I needed him. We would spoon and snuggle all the time. He was an all-black Maine Coon, about 20 pounds, so there was a lot to snuggle! We had a very special relationship. Jinx was just one of those cats that really gets you.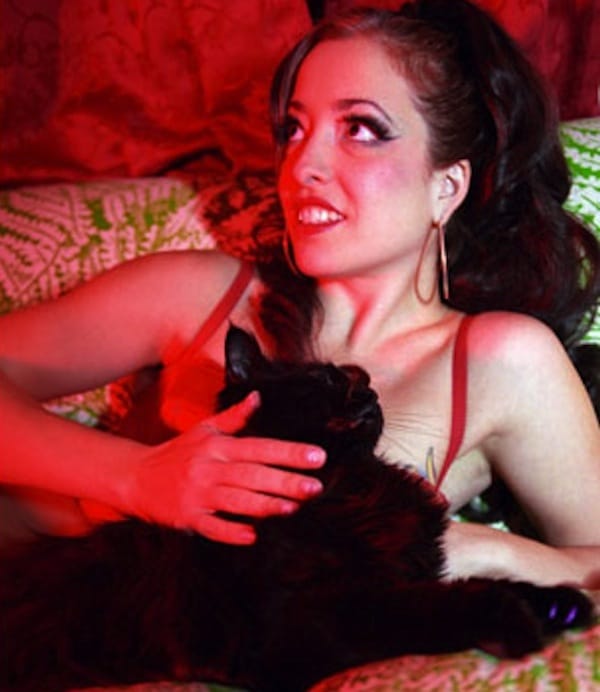 Is anything in the routine inspired by moves or mannerisms Jinx used to make?
There aren't really any moves that I used of his, but the feeling is there. He was a tough guy, but when he wanted to cuddle he did and he loved it. I wanted my number to be fierce and loving at the same time.
Why are cats a good source of inspiration for a burlesque routine?
Cats have a certain grace in their movement; they're confident with their steps and seem to glide while jumping. Yes, cats are sexy! They slink around with confidence and slide into cuddles. They take what they want when they want it!
About Phillip Mlynar: The self-appointed world's foremost expert on rappers' cats. When not penning posts on rap music, he can be found building DIY cat towers for his adopted domestic shorthair, Mimosa, and collecting Le Creuset cookware (in red). He has also invented cat sushi, but it's not quite what you think it is.