Cats love couches. They love to sleep on them, shed on them, and scratch them. Before my husband and I brought our girl Ghost Cat home from the shelter, we didn't really give a lot of thought to how she could damage our living room seating. Our couch was a tiny, cheap, red-pleather panic buy that we'd picked up when our old hand-me-down hide-a-bed wouldn't fit into a basement apartment. By the time we adopted Ghost Cat, we were high above-ground in an apartment that could have handled a full-size couch, but we hadn't bothered to upgrade to grown-up furniture. It was a darn good thing we hadn't.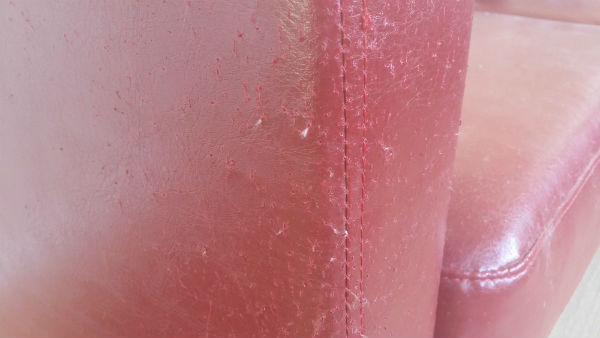 Apparently Ghost Cat needed to sacrifice a couch to the scratching gods before she could learn to keep her claws off the sofas. For me, the loss of that couch was the beginning of several lessons learned in sofa protection. Here's the five tips I've picked up to keep my cats happy and my couches hole-free.
1. Break a bad habit with a better option
Honestly, I blame myself for what happened to the little red couch. It was so not Ghost Cat's fault at all. When we first brought her home we thought we had everything she could need — a litter box, lots of flashy toys and treats. We thought we had everything, but we had failed to get her a proper scratching post, so Ghost Cat turned the side of the couch into a pincushion.
Eventually I read the article "Ask a Behaviorist: How Do I Get My Cat to Stop Scratching the Furniture?" and wised up. Clearly, we needed to give Ghosty something to scratch — and put it right beside the couch. My husband and I headed off to the store and came home with an expensive (but perfect) little Ghosty tree house, complete with wall-to-wall carpet and a scratching post. I swear, the very day we put that thing next to the couch, Ghost Cat became completely uninterested in scratching the fake leather.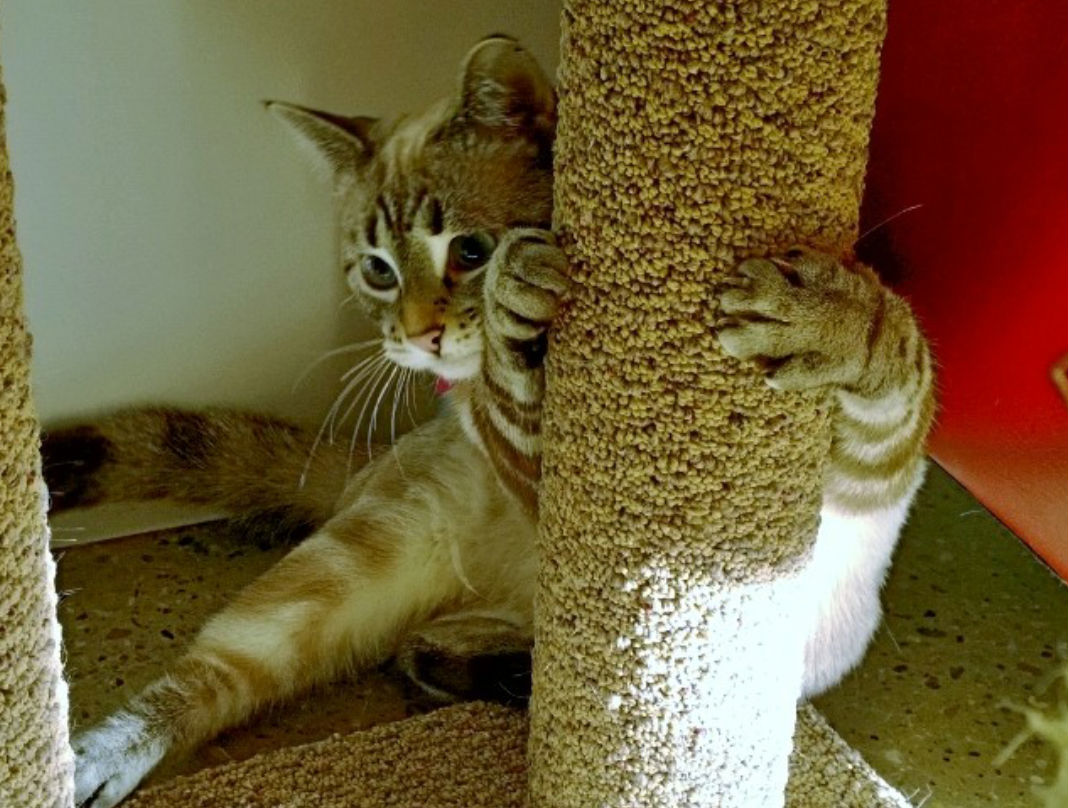 Unfortunately, our pricey purchase wasn't very sturdily constructed, so the edges of the carpet started to deteriorate quickly. We fixed it with duct tape for as long as we could, but it was beyond repairing by the time my husband packed up our moving truck for a 300-mile drive.
2. You gotta have scratchers, but they don't have to be expensive
My first mistake was not getting Ghost Cat something to scratch the same day we got her. My second mistake was paying a bunch of money for something that was frayed and covered in duct tape in under a month.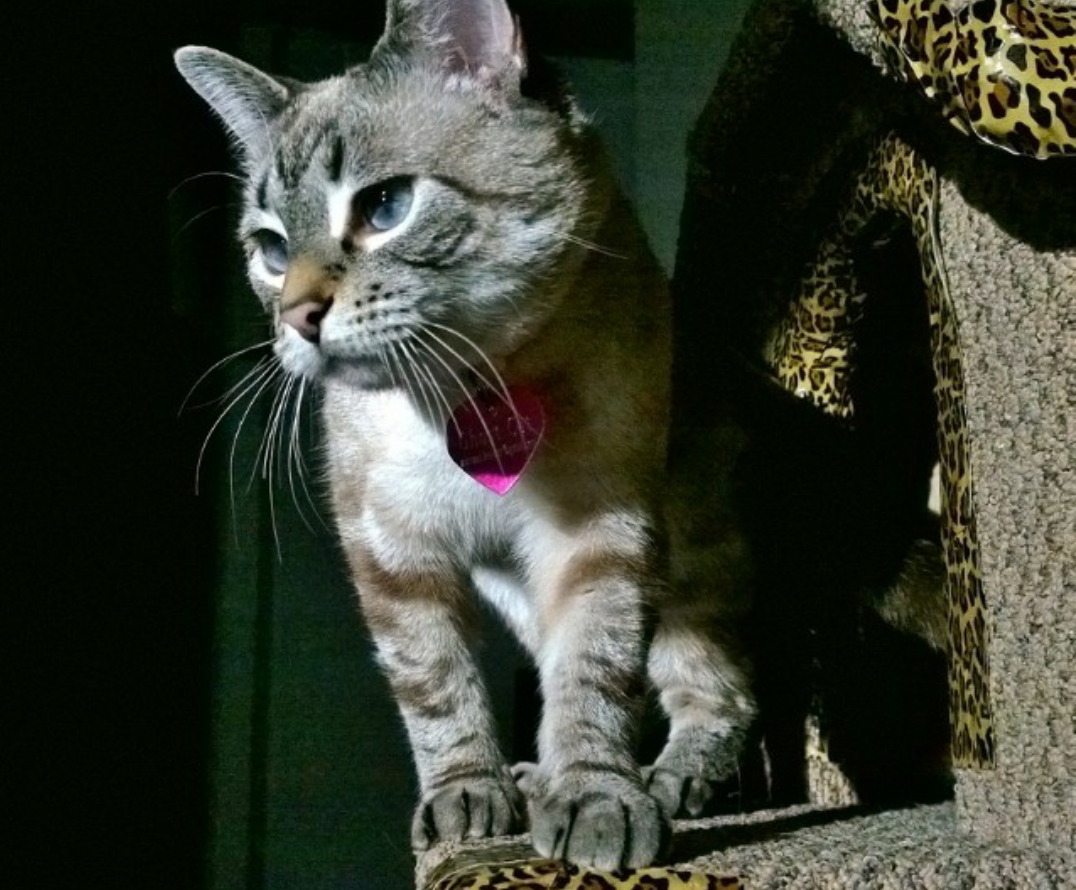 After the big move my husband, Ghost Cat and I stayed with friends while we waited to get possession of our new house. I had picked out a great big carpet-covered scratcher at a local pet store and was totally excited to replace Ghosty's tree house, but my husband took one look at the nearly $200 price tag and told me I was crazy. He suggested I pay attention to what our friends' cats were scratching. Our hosts didn't have any giant cat trees, but instead had plenty of those little corrugated cardboard inserts for their felines. They also had very nice leather furniture that wasn't getting clawed. I followed their lead and picked up some cardboard scratchers.
3. Make realistic furniture choices
When we finally got the keys to our new house we decided it was time to step up our furniture game. The old, red pincushion couch went out in the sunroom (Ghost Cat's favorite room in the house). My husband got a great deal on a leather couch, but I was concerned about that delicate material. He put that one in the basement. It was just a little too soft to withstand nearly constant contact with cat feet. For the living room, where we would be spending the most time, we found a discounted corduroy sofa set. The tightly woven material doesn't easily allow for little claws to puncture it, so it was a good choice for such a high cat-traffic area.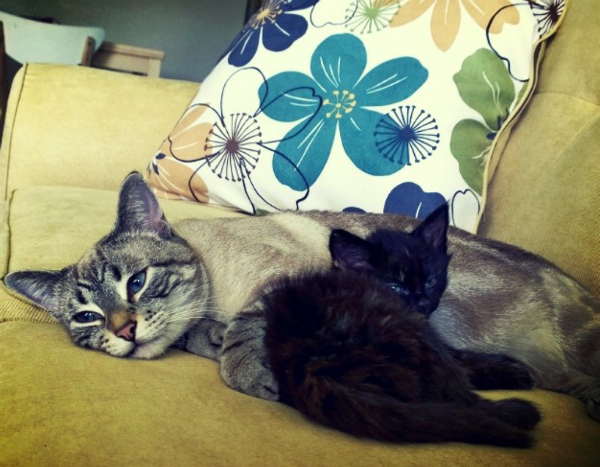 4. Be a consistent pet parent
When Specter the kitten arrived, we had to make sure we enforced the furniture rules with both cats. I think in some ways, training Specter not to scratch has almost been easier, because unlike Ghosty, Speck has never, ever been allowed to scratch the couch. If we hear the beginnings of a scratch on the corduroy we're quick to pick up the guilty cat and put them on the floor. Since they both love to be on the couch (with each other and with us), getting kicked out of the cuddle session is enough consequence to put an end to any almost-scratching. We also have to watch that the two of them don't get too crazy when they're playing on the couch. When the paws start flying (as fun and funny as it my seem), it's time to take the game to the floor.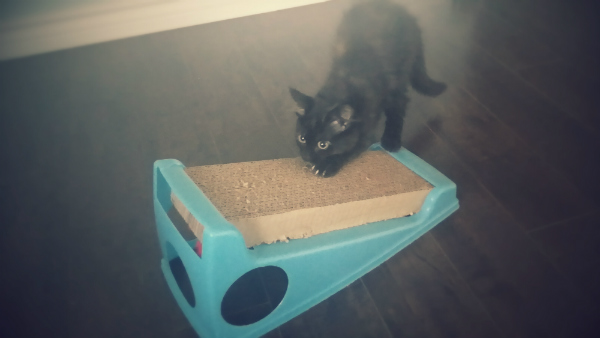 5. Always keep a scratcher couchside
Sometimes my heart skips a beat when I hear the scratching while I'm sitting on the couch, but despite the misleading sounds, my furniture is not the target. Those corrugated cardboard inserts I mentioned before? I would seriously recommend keeping them close to the couch at all times. I picked up one for three dollars at a thrift store and keep it beside the upstairs furniture, while we have another one nailed to a post near the basement couch.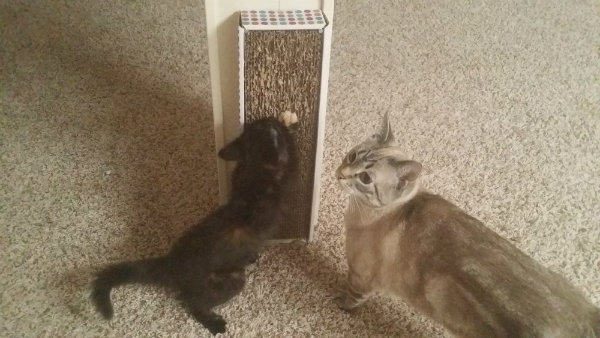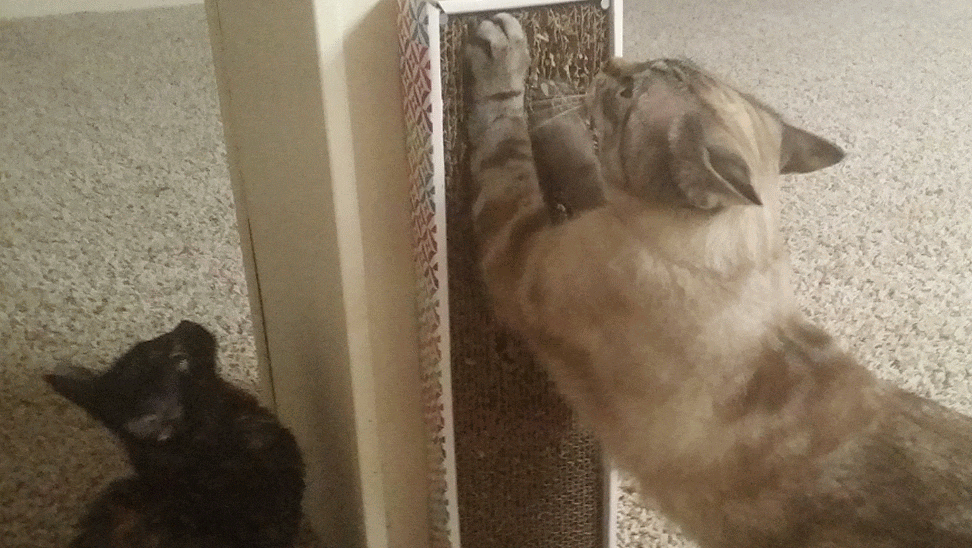 If the cats really need to flex their scratching muscles, they don't need to go far. My babies can jump down, have a little scratch, and be back on a warm lap without having to walk more than six inches.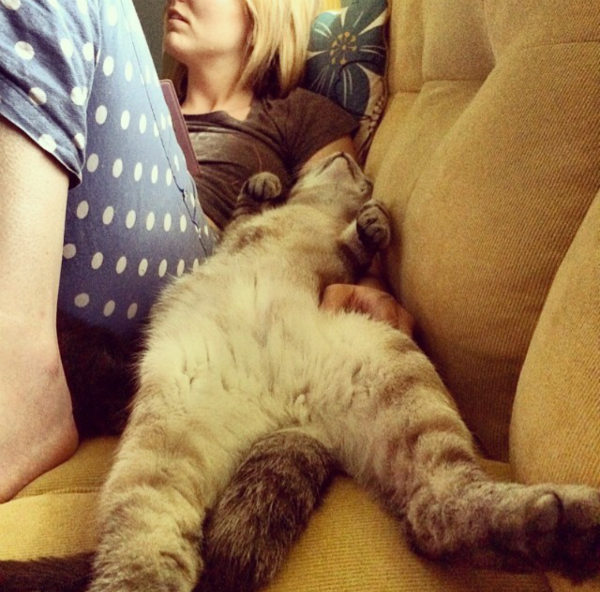 I like having a nice couch, and I like having cats. I think as long as I make sure my girls have their instinctive scratching needs fulfilled (and regular nail trims), I don't need to choose one or the other.
How do you keep your furniture safe from sharp paws? Any tips I missed? Let me know in the comments.
Read more about scratching:
Learn more about your cat with Catster:
About the author: Heather Marcoux is Ghost Cat and Specter's mom. She is also a wife, writer and former TV journalist. Some of her friends have hidden her feed because of an excess of cat pictures. If you don't mind cat pictures, you can follow her on Twitter; she also posts GIFs of her cat on Google +.