I work at home. That means I have constant access to my cats, which is both a good and sometimes not-good thing. Mostly, I think it's great. But there are instances where it seems that cats are doing everything in their power to distract me from my work. Maybe that's a good thing? Life shouldn't be all about work. Could this be the great lesson of these teachers?
How do your cats keep you from your work? Here are some of the tactics mine use, and my solutions.
1. Tactic: The cat sprawls all over your work
Where energy flows, there the cat will go. It seems that a cat just knows what papers you need to see, read, or work with. Those are the first things that cat will sprawl all over. If he's a big muscular cat, even better. You couldn't possibly move him, and he doesn't want to move, anyway. Wouldn't you rather look at me, mom? Why are you messing around with these boring papers, anyway? Hey, he might have a point.
Solution: Take a breath and turn away. There's probably something better and more fun to do. Eventually, he'll get up and off the papers! If you're in a public workplace and don't have the benefit of a kitty paperweight to remind you of what's really important, well, you'll just have to exercise more self restraint. We can't work all the time, can we?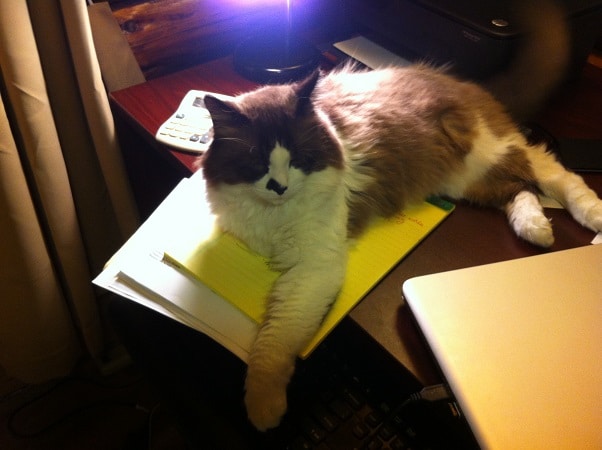 2. Tactic: The cat edges onto your keyboard so you can't type
How cute is this? And subtle, too! Before you know it, the cat is completely across your keyboard and impeding everything you try to do. Or worse, she has completely destroyed your work. Hmmm, are there some kitty lessons in non-attachment here?
Solution: Save your work constantly!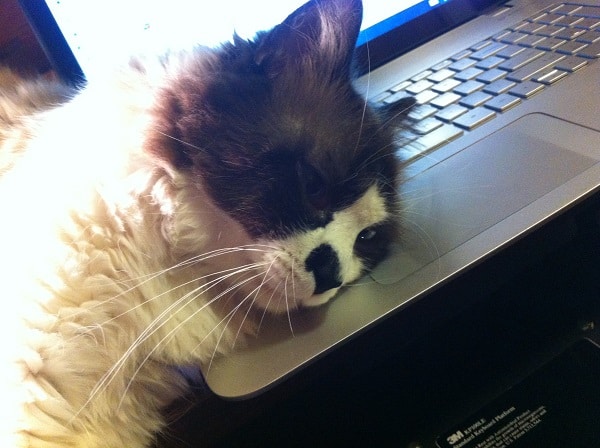 3. Tactic: The cats break into a screaming fight just as you are deepest into your work
This never fails. It seems that cats have an unerring sense for drama. The same thing could happen in an office without kitties. Hey, humans can create plenty of drama of their own.
Solution: Harness the drama! That's right. There are opportunities everywhere and this is one of them. If you're a writer, perhaps the cat drama is an idea for your next article. If you're working at something else, maybe there's a message in the drama for you.
4. Tactic: The cat is acting so darned cute that you can't possibly focus
This gets me all the time. Just now, I was interrupted with a moment of cat cuteness that I never could have imagined. Thank goodness for the ease of grabbing a phone and getting several photos of it. Sure, it probably took me from my work for 15 minutes, but this cute cat moment might never happen again. If your cats love to pose, even better.
Solution: No solution here: Breaks are a good thing! They give you energy, and you come back to your work revitalized and ready to go. Let yourself be interrupted sometimes.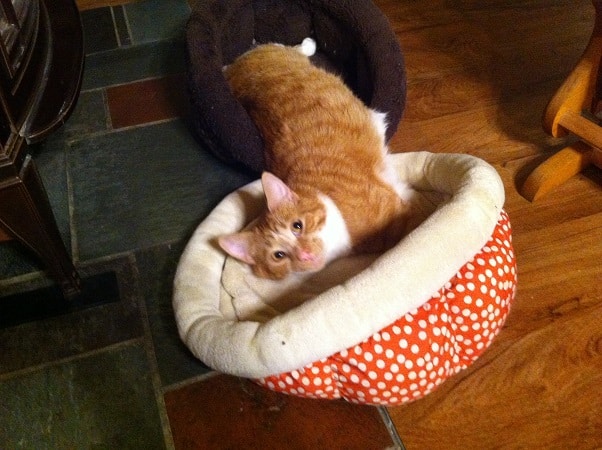 5. Tactic: The cat hogs the chair so that you never really settle in
Jamie Bluebell is my great teacher here. She loves to hog my chair. So we share it, constantly. I'm often sitting on the edge of the chair, which means that I never really completely sit still. That's probably a good thing. Being on the edge of the chair reminds me to get up and walk around. This is the best thing possible for the body.
Solution: Get up and move. We weren't built to sit and sit and sit for hours. Your body will thank you for it. And your cats will, too, because if you're up, you can play with them or feed them or any number of things.
6. Tactic: The cat breaks your Internet!
Zorro is very original, and he came up with another way recently to distract me from my work in a big way, when he vomited on my modem. Oh, Zorro!
Solution: The internet is not infallible! Get a modem that will stand up to disaster. Put it in a safe place. Be prepared! Even in a place without kitties, an errant cup of coffee or something could do some serious damage.
Kitties are so smart. They see how hard we work. They're just trying to show us how to have a little fun. After all, at the end of your life, do you want to say, "I worked very hard every day" or "I played a lot with my kitties and gave them all kinds of love"? Think about it!
How do your cats distract you? Do you take the bait? Tell us in the comments!
More by Catherine Holm:
About Catherine Holm: Told that she is funny but doesn't know it, accused of being an unintentional con artist by her husband, quiet, with frequent unannounced bursts into dancing liveliness, Cat Holm loves writing about, working for, and living with cats. She is the author of The Great Purr (cat fantasy novel out June 1), the cat-themed memoir Driving with Cats: Ours for a Short Time, the creator of Ann Catanzaro cat fantasy story gift books, and the author of two short story collections. She loves to dance, be outside whenever possible, read, play with cats, make music, do and teach yoga, and write. Cat lives in the woods, which she loves as much as really dark chocolate, and gets regular inspiration shots along with her double espresso shots from the city.