I have a 2-year-old spayed female cat. I got her when she was about 3 weeks old, and I had to handraise her because her mother was feral and the kittens were scooped up and rehomed. I have her two siblings also.
She has what I believe to be cerebellar hypoplasia. I have looked up this condition and it says it should be obvious right away, but I swear she didn't develop signs until around 10 weeks. I watched a video on a cat that has this and IT IS HER TO A TEE!!! Her siblings are all normal.
I did take her to the vet and they put her on steroids, but there was no improvement. They also X-rayed her and found nothing wrong. Is it possible that she went undetected with this till 10 weeks, or am I wrong on the condition?
Valerie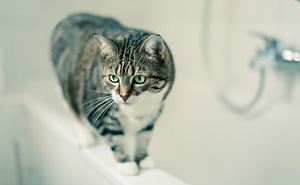 Cerebellar hypoplasia is a brain disorder that is not uncommon in cats. The cerebellum helps to control posturing, coordination, and precise movements. Cats with cerebellar hypoplasia typically exhibit abnormal walking, playing, and running patterns and appear to have poor balance. However, as long as they are kept indoors, they generally lead essentially normal lives.
In utero or immediate postnatal infection with certain viruses (most notably, the feline panleukopenia virus) is known to cause cerebellar hypoplasia, as can vaccinating pregnant cats with certain types of vaccines. Other cases occur for reasons that cannot be determined. It may affect entire litters or only individual kittens.
Most cases of cerebellar hypoplasia are evident as soon as the kittens start trying to walk. However, I have seen many that did not show symptoms until much later, and a diagnosis at 10 weeks old is not extraordinary. Younger kittens are generally uncoordinated, and the characteristic clumsiness may not be noticeable until kittens grow into what should be a more agile phase. It is also possible that delayed pathology does not lead to symptoms in some individuals until a later time.
Several more serious brain diseases can cause symptoms that are similar to those of cerebellar hypoplasia. These diseases tend to cause symptoms that become progressively more serious. However, in my experience cerebellar hypoplasia is the most common cause of uncoordination in kittens and cts. The symptoms are not progressive, and the syndrome is not life-threatening.
Cerebellar hypoplasia is generally diagnosed by observation of the characteristic symptoms. If desired, an MRI of the brain may confirm the diagnosis.
There is no treatment for the syndrome. Valerie, I do not recommend any more steroids for your cat. As I have mentioned, the syndrome generally does not compromise well-being or longevity. Cats with cerebellar hypoplasia should be kept indoors — their lack of coordination makes them vulnerable to injuries and attack by predators. They generally do not require other significant accommodations. Most cats with the syndrome adapt very well to thier situation, and they generally make happy, friendly, lovable pets.