Editor's note: This story originally appeared in the March/April 2016 issue of Catster print magazine. Click here to subscribe to Catster magazine.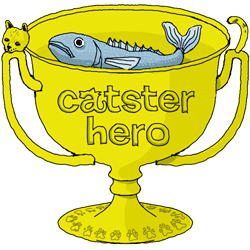 Weighing 24 pounds, Elmo the cat had reached his breaking point. Because of severe arthritis, the 7-year-old Siamese walked with a limp and struggled to use the litter box. He didn't want to play with the other cats in his home. Elmo needed to lose weight, but diet alone wasn't working, and he lacked the mobility for exercise.
Desperate to improve their kitty's quality of life, Elmo's owners sought assistance from the University of Tennessee College of Veterinary Medicine's Canine Arthritis, Rehabilitation, Exercise, and Sports Medicine Center, also known as CARES. As the name
implies, CARES is primarily intended for dogs, but a growing number of cats have also found relief from spinal injuries, knee problems, and osteoarthritis thanks to aquatic therapy.
"The buoyancy of the water helps weak animals be in an upright position to move," said Dr. Marti Drum, a clinical assistant professor at the university. "The water reduces the weight they bear, but it also provides resistance. For arthritic or painful joints, that impact is what hurts; that's why they move better when they're in the water."
For Elmo, aquatic therapy made a big difference. Thanks to a series of 30-minute sessions walking on an underwater treadmill, he was able to lose weight and regain mobility. Before long, the handsome chocolate-colored kitty was back to jumping on countertops — and the transformation happened sooner than anyone expected.
"Even by the time he lost a pound, the response he had shown in his activity level was far more than I would have expected," Drum said. "It was a dramatic change — the combination of the diet and exercise was extremely important, not just because he was overweight or obese, but because he had very severe hip arthritis."
CARES staff also attempted to swim with Elmo, but the kitty did not appreciate the life vest and refused to participate in that activity. Just like swimming wasn't right for Elmo, aquatic therapy is not the best fit for every cat. Drum said the right personality is required to make a cat a good candidate for the treatment.
Cats who are curious and easily motivated often adjust best, while timid or aggressive kitties are not a great fit. "When cats are motivated by food, it's actually not that hard to earn their trust," Drum said. "The cats that are most difficult to work with are the fearful cats, the ones that just kind of freeze. They're like, 'If I just become a ball and don't show any signs of life, maybe you'll leave me alone.' Those are the most challenging of all."
To demonstrate that cats are, in fact, capable of being trained, Drum uses the skills of her own cat, who is extremely outgoing and food-motivated. Using clicker training, which uses a clicking sound to tell an animal when he or she has done something right, Drum has taught her cat to walk on a leash, go swimming, and walk on an underwater treadmill. Her cat doesn't have any ailments of his own, but he helps Drum show other pet owners what is possible.
"When you get cats to clicker train, you can get them to understand commands," Drum said. "Dogs want to please you, but cats aren't as much that way — but with the right patient, you can do all of those things. You have to be able to read some cat behavior to know what you can do to keep the patient as happy as possible and cooperating and participating as much as possible."
In addition to the idea that cats can be trained, Drum said many people don't know that cats can benefit from physical therapy. Cats tend to recover more quickly than dogs — and they're generally better at hiding their pain — so many people don't consider doing rehab for them after surgery or exercising them when they develop arthritis.
"I feel like a lot of people don't realize that their cats can have therapy," Drum said. "Everybody knows you have to socialize your puppy, but cats kind of get to do what they want."
For cats like Elmo, the benefits of aquatic therapy have been invaluable, but Drum said that even cats who cannot adjust to being in the water can benefit from other kinds of physical therapy. She regularly develops at-home programs for her feline patients, and she has seen dramatic results. She recently developed an at-home strength- training program for a three-legged cat, and it has helped greatly in his recovery from surgery.
"It's fun and interesting trying to create this program for kitties," Drum said. "Sometimes you have to be a little more creative, but when you have a great owner who's willing to dedicate time to getting them clicker trained or providing reward-based training and positive reinforcement, it's very fun, and it's very cute."
Read more from Angela Lutz:
About Angela: This not-crazy-at-all cat lady loves to lint-roll her favorite dress and go out dancing. She also frequents the gym, the vegan coffee joint, and the warm patch of sunlight on the living room floor. She enjoys a good cat rescue story about kindness and decency overcoming the odds, and she's an enthusiastic recipient of headbutts and purrs from her three cats, Bubba Lee Kinsey, Phoenix, and Salvador.