In March, Best Friends Animal Society introduced a new animal resource center in Bentonville, Arkansas, that changes the traditional sheltering model as we know it. The first-of-its-kind national destination for animal lovers, Best Friends Pet Resource Center showcases adoptable pets in a bright and airy facility that does not use cages or kennels, instead housing them in large, open rooms or utilizing their local foster network.
The center serves as a business model for the country intended to elevate and empower communities in saving homeless pets, while also serving as a lifesaving hub for Northwest Arkansas, supporting area shelters and providing long distance transport. The goal is to end the killing of cats and dogs in U.S. shelters by 2025, and the Pet Resource Center plays an important part in this strategy.
The center offers pets for adoption, while also helping people struggling to keep their existing pets by connecting them with humane and social services, offering on-site resources including a pet food and supplies pantry, veterinary care and training classes, just to name a few.
The center's playful design features installations from local artists and pet fixtures evoking the Ozarks. With people and pets in mind, the center partnered with Third Space Coffee to create an onsite vegan café and coffee shop that provides free WiFi and lounge area seating, allowing people to work in the company of adoptable cats and dogs. A variety of comfortable spaces for guests throughout the facility lets potential adopters, fosters or volunteers engage with the animals in a relaxed atmosphere.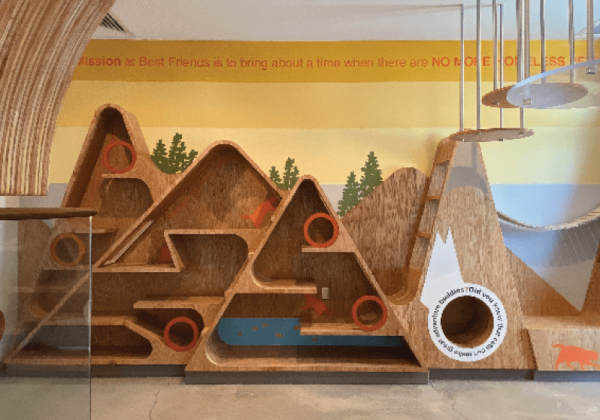 For more information, visit bestfriends.org/northwest-arkansas.