With a mischievous one-eyed snarl, a playful personality, and a name befitting a true captain of the high seas, it's no wonder Wesley the Dread Pirate Roberts has become an Instagram star. Wesley's human, Rheanne Taylor, adopted the two-year-old cat in March 2015 — though he showed up at Noah's Ark Animal Sanctuary in Fairfield, Iowa, nearly six months earlier, when Taylor first visited the shelter on her lunch break.
"He was the most unique kitten I'd ever seen, with a chocolate brown coat and the strangest little snarl," she says. "I thought when I saw him how he looked uncannily like a little pirate, and I was instantly smitten. Unfortunately, I wasn't in a good place to adopt a cat at that point, and I had no doubt that he would be snatched up by someone, and soon. After all, he was so unique."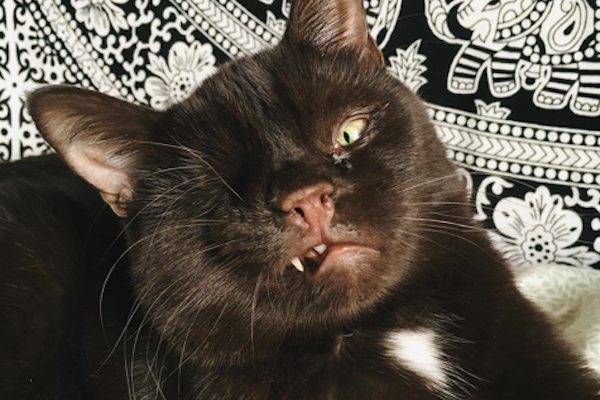 The kitten was missing an eye, and his lip curled permanently upward, leaving his fangs partially exposed, as though someone nearby had just farted or told a really bad joke. No one was exactly sure what caused the kitten's distinctive appearance.
"Some have suggested that he was born this way, and that his face is a simple deformity," Taylor says. "Others have said that he could have been stepped on as a kitten. A bystander found him wondering around a parking lot and took him to the animal shelter right away. He has sported his scallywag grin from the moment he was discovered."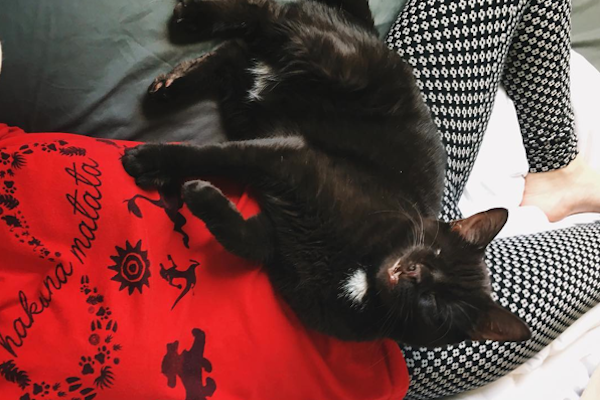 Over the next few months, Taylor couldn't stop thinking about the little pirate kitten, wondering whether he'd found a good home. She finally returned to Noah's Ark and ask where he had ended up.
"When I asked about the 'pirate kitten,' everybody in the shelter knew exactly whom I was referring to," she says. "But much to my surprise, he hadn't been adopted yet. Without really giving myself time to think about the decision, I adopted him, and before I knew it I was taking him home with me."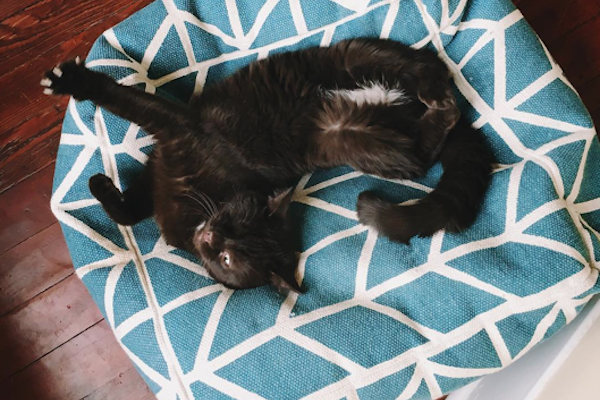 Believing she might find other animal lovers online who appreciated her purring plunderer as much as she did, Taylor created an Instagram page for Wesley, where she shares pictures of the cat napping, cuddling, playing with his feline brother, Ojas, and just plain snarling adorably for the camera.
To her surprise, Wesley had several hundred followers within just a few weeks, a number that's now climbed past 12,000. The cat's one-of-a-kind face has struck a chord with many people, who have sent Taylor many things including fan art and touching messages.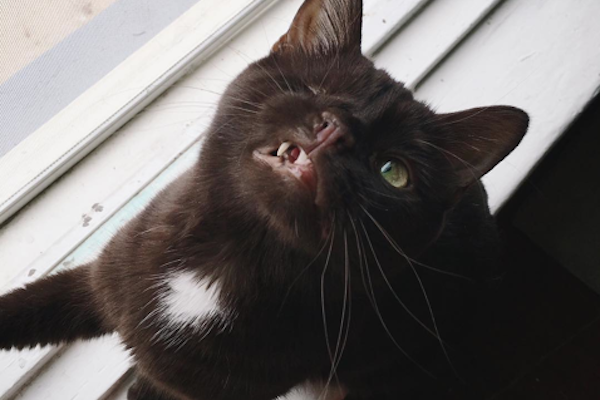 "One of my favorite messages actually came from a veteran," Taylor says. "She explained that she really connected with Wesley, because he seemed to have been through a lot, and that she had too. She said that seeing how happy and loving he was, and seeing how much support he had, was really encouraging for her. She said that Wesley's 'flaws' had made her more accepting of her own, and she appreciated him for it."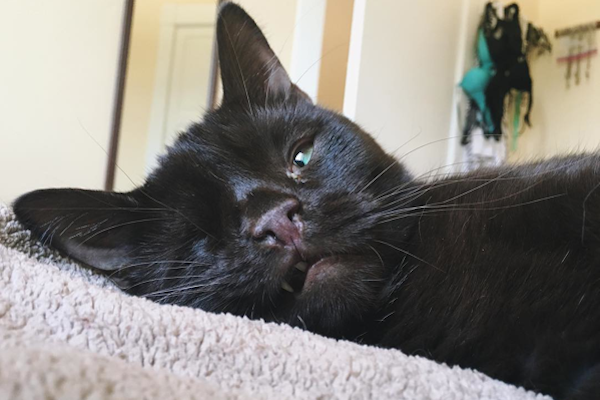 Like any badass pirate, Wesley loves to explore — and he often brings his brother, Ojas, along on his adventures. When Taylor moved into her new apartment, Wesley discovered a hole behind the shower, giving the dread pirate and his first mate access to previously unexplored regions of the floor.
Their search for buried treasure — or treats, perhaps — was cut short when Ojas, who Taylor admits is "much more chubby" than Wesley, fell through the roof of the business below her apartment and "horrified everyone involved." Thankfully, Ojas wasn't injured — and neither was Wesley, who crawled casually out of the hole unscathed.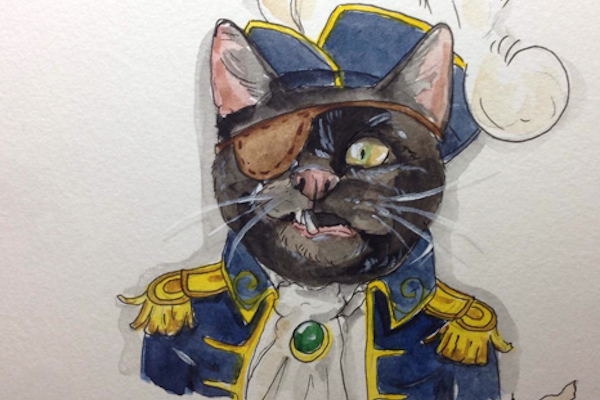 "I imagine that Wesley was probably the mastermind behind the whole adventure," Taylor says. "I had [the hole] patched up the very next day, but he has tried going back through ever since, like the little scoundrel he is."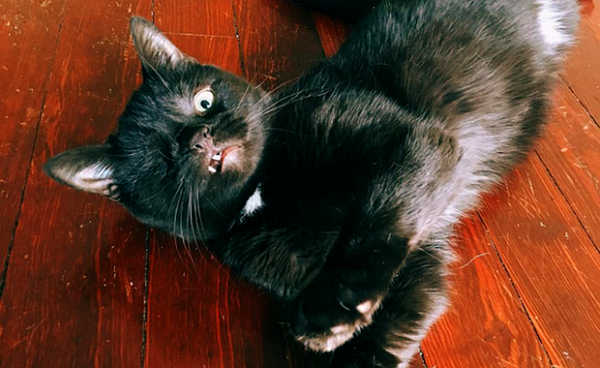 But even a mastermind's curiosity sometimes gets the better of him — like that time Wesley, who loves to sit on top of the trash can to watch Taylor cook or clean, jumped inside when Taylor accidentally left the lid open. Because he's so quiet, Taylor didn't discover his odd little face peering up at her until the next time she went to throw something away. Fortunately, Wesley is a nice guy for a pirate, and he doesn't hold grudges. He's also another example of the many ways different is good.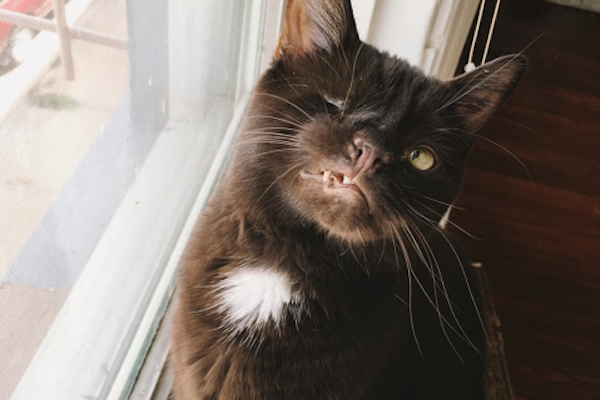 "I guess if he's taught me anything, it's that the things that make us beautiful are often the things that set us apart and make us different too," Taylor says. "In the end, Wesley has reminded me to have fun and to appreciate the little things in life, which is something we can all use a little more of now and then."
All photos courtesy of Wesley the Pirate Cat on Instagram. Follow him for more adorable updates.