Who says cats don't like to exercise? I have evidence to the contrary. By now you might have seen the video of the cute guy using his big orange cat as a workout partner. If you haven't seen it, here you go. And you're welcome.
Who is this adorable shirtless man with dreamy blue eyes and perfectly disheveled hair? More importantly, who is that fine specimen of a cat? It's your lucky day because I recently interviewed him — the human, not the cat — and can give you the 411 on man and cat.
Travis DesLaurier is a model, actor, and entrepreneur from Alberta, Canada. It's not a rocket-science situation to guess why he's in the modeling business. He's physically beautiful, obviously takes care of himself, and probably uses fancy hair product. Can I just stop right here and mention that I'd like to borrow his hair? I won't get greedy and say I'd like to own his tousled locks forever, but I would totally rock 'em on a dance floor or just out for coffee with friends.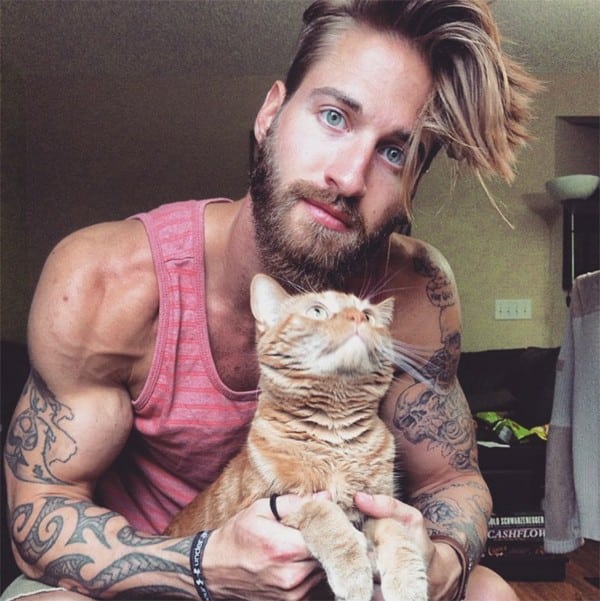 Before speaking with Travis, I'd read online articles about him and interviews with him, watched the infamous video about 2,215 times, and reviewed photos of him and his cat. I looked forward to engaging with this cat man in discussions that other interviewers hadn't considered. You know, important conversations about what kind of jeans cats would wear. But I'm getting ahead of myself. Don't worry — I'll get there.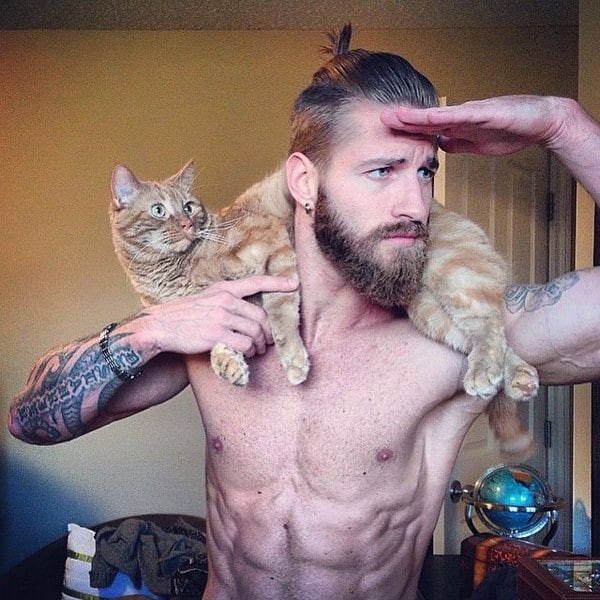 If you read any of my cat humor in books, on websites, or here on Catster, you know I veer slightly to the silly side of most subjects. Imagine my delight in learning, while talking with Travis, that his sense of humor veers right along with mine. Sometimes we travel in the same lane. I think we spent as much time laughing as we did talking. When we spoke, he'd just woken up in Las Vegas. I know it sounds like something out of The Hangover, but there was no tiger in his bathroom. There was, however, a smaller feline definitely on his mind. His little tiger, Jacob, was back home in Alberta, Travis was missing him something fierce, and the feeling was mutual. In fact, the cat had recently posted an "I miss my dad" photo on Instagram. That's right. The cat has his own social media. Also, he sometimes wears bow ties.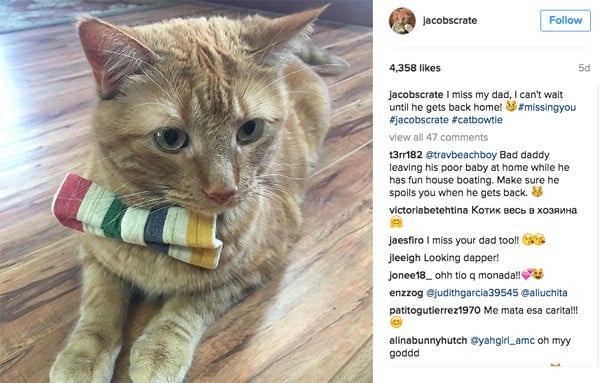 Travis adopted Jacob as a kitten and says the cat's name may or may not have been an effort to make fun of the Twilight movie series. He said he believed the kitten would be a perfect housemate because he "matched the floor." The name stuck, although Travis doesn't always call him by his given name. Like any normal cat lover, he has several nicknames for his kitty. Jacob is also lovingly known as "Fluffy Bastard" (often the social media hashtag #FluffyBastard) and "Mr. Soft Pants."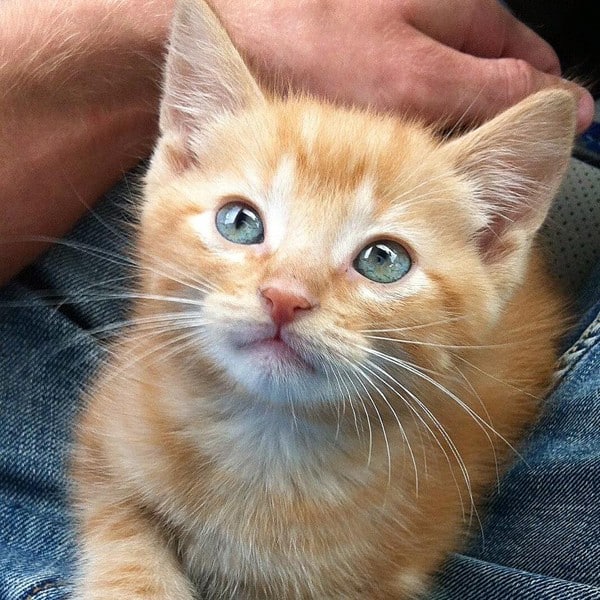 Then things got a little goofy, but goofy's my favorite. Travis told me that Jacob has the softest "pants" ever, which I totally got. I also call my cats' legs their "pants." Well, this whole conversation about cat pants led Travis to ask me a serious question: "If cats wore jeans, would they wear them only on their back legs, or would the jeans have four legs?" Without missing a beat, I responded with, "Back legs, only. Of course." We laughed and he said I answered like an authority on the subject. If only he were completely familiar with the inner machinations of my wild mind. "Cat jeans" was mere child's play, but our conversation revealed that Travis has a wicked sense of humor and I wish we could partner in the cat jeans business.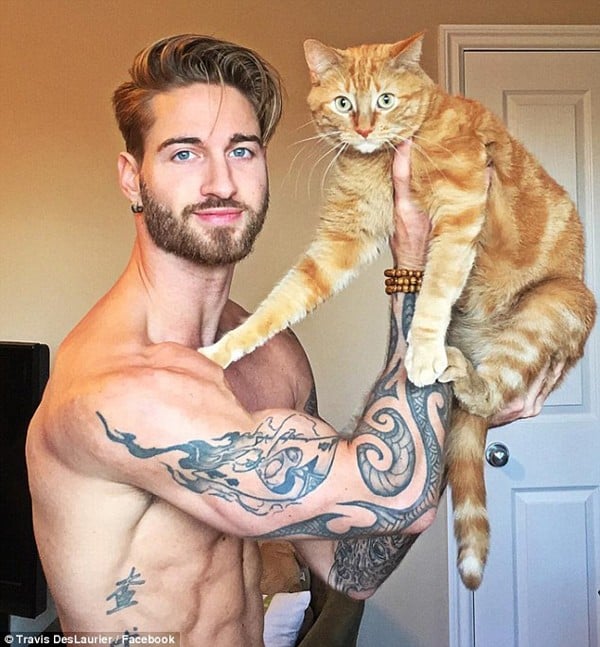 Speaking of business, Travis and Jacob launched Jacob's Crate, a subscription service that offers customers a monthly box of cat toys and treats tested by The CEO himself — of course I'm referring to Jacob. I have absolutely no evidence that Travis doesn't play with the toys or eats the treats, though. He just might. He hopes to make Jacob's Crate memorable by engaging followers in video contests and giveaways.
When Travis referred to the company's leadership, he always spoke with "we." He very much considers Jacob a major player in the business. He frequently referenced conversation he'd had with the CEO about his behavior.
"He's a total Diva," Travis noted. "He knows he's getting famous and does what he wants to do. He even walked off the set of a local TV interview. I followed him behind the wall and was like, 'Dude, you can't be doing this!'"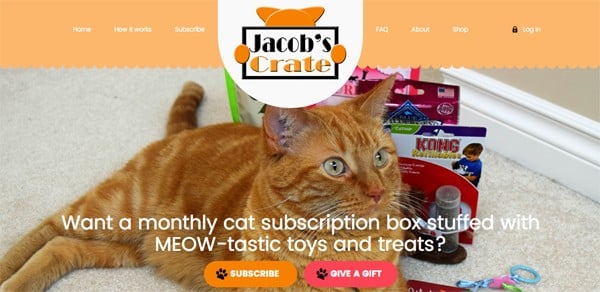 Travis hasn't always lived the life of a successful cat-man model. He had a tough start, left home at 15, and battled depression as well as other demons. When he adopted Jacob four years ago, his life shifted and things started looking up. Animal lovers know pets can be the best medicine, and that's just how it worked in the case of Travis and his new orange kitten. He started posting photos of Jacob on social media, and people went wild. Not only was Travis easy on the eyes and funny, now he had a cat. Total swoon, right? Travis says the response to Jacob was intense. The cat became so popular that he eventually scored his own Instagram, Twitter, and Facebook pages, which are all focused on his subscription business, but not short on adorable photos of cat and man.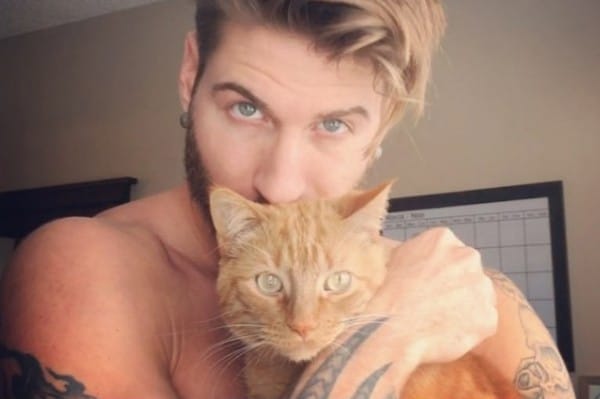 Travis made it clear he doesn't take himself too seriously and tries to poke fun at his online "model persona." This is why he decided the exercise video with Jacob would be a hoot, and he has since involved the cat in other fun videos. And guess what? Next year, Travis is set to be one of the featured speakers at CatConLA in 2017.
He feels grateful for all the good that's happened to him and doesn't take any of it for granted. This sweet humility came through in every part of our conversation. He happily accepts the role of showing the world that it's cool to be a cat guy and "socially acceptable to openly love your pets and not come off like a freak." Well, he's far from a freak in my book, although I definitely think there's a good kind of freak, and I'm proud to fly my freak flag alongside him. I see fabulous things in this cat-loving model's future, and he deserves every bit of it.
Photos courtesy of Travis DeLaurier's social media outlets.